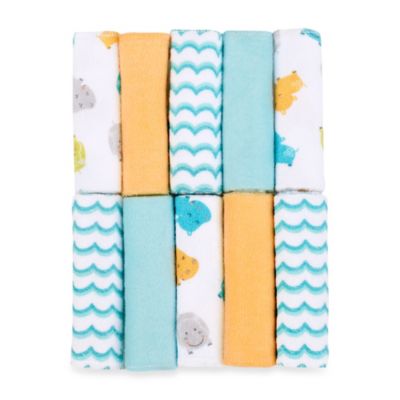 Just Bath by Just Born™ Love to Bathe 10-Pack Hippo Washcloth in Aqua/Orange
$7.99
Get 20% off your entire purchase with coupon!
Enroll Now
customer reviews
Showing 1 - 20 out of 20 reviews
Cute!
BB&B Customer . 2 years ago
Perfect for cleaning small areas like face and baby skin fold. Decent material
Strong smelling product
Rebecca . 2 years ago
I bought these because I had another print of the same brand and loved them. But this particular design smells VERY strong of chemicals, even after going through the wash 3x. Definitely don't recommend this particular design, what on earth could they have used for the color that smells that bad?
Fun for new baby
BB&B Customer . 2 years ago
These washcloths will be fun for new baby, soft to baby;s skin
Nice
Mary . 2 years ago
Should be less for the number of cloths - or come with more cloths... otherwise, great for baths, wiping drool & spit-ups, & handy to keep in diaper bag :)
Cheap, rough and sheds.
Kelly . 3 years ago
These washclothes shed tiny fuzzies after being washed on gentle cycle. They are not as soft as they should be for a baby. I bought these months ago before baby got here so I guess I'm stuck with them.
Not Really Soft
Annie . 3 years ago
While I'm sure these washcloths will clean my baby when he arrives, they are not soft. One side is "acceptable" but the other side is pretty rough. I was expecting a much softer washcloth. I am disappointed and will not be buy more of this style.
Soft but shed
LittlePsDiaperDojo . 3 years ago
I washed these before use and have now washed them multiple times after giving our daughter a bath and they still shed a bit. However, they are soft and get the job done during bath time
Thin
Yahyahk . 3 years ago
The towels are thin but they get the job done.
Love this carseat!
Jenna . 3 years ago
This carseat is so convenient! It clicks right into the car base and the stroller with no problems. It is lighter than some of the other infant carriers we were considering. It took a bit to figure out how to move all of the straps but now its a breeze to readjust.
Baby wash clothes
Sjb29 . 4 years ago
Bought as a gift on line and looked and felt great!
Soft, good value
Msemme . 4 years ago
I bought this set of wash clothes based entirely on the price point. You get ten wash clothes for cheaper than buying a towel/wash cloth set. Theyre soft, sturdy, and practical.

Originally posted on bedbathbeyond.com
Don't pay for gift wrapping!
Diane . 5 years ago
The merchandise was great but I was disappointed with the gift wrapping. I paid extra for it and all it was was a decorated cardboard box and one ribbon. I was expecting wrapping paper.
Stars5
Catania34 . 5 years ago
I love most buy buy baby
Washcloths
AS329 . 6 years ago
These washcloths are really soft and nice for using for a baby. I liked them so much I ordered a second set.
Product color is dull
Court . 6 years ago
The online picture shows the design colors to be bright and vibrant. The actual product colors are very dull
Perfect for baby
Bed Bath and Beyond Customer . 8 years ago
I started with the regular washcloths (thicker) but i quickly realized it was overkill for the baby and you use a lot more soap (i use aveeno) per bath. Totally worth it!
pointless
Megan . 8 years ago
These rags are EXTREMELY thin, and rough. We use the back side to wipe up small spit up spots on his face. Not worth the money, go for a thicker rag.
Excellent washcloths!
elena . 8 years ago
These washcloths are very soft and have very nice size, comfortable for wiping and rinsing it after using. I strongly recommend it!
Cute & soft
Yoashiaa . 9 years ago
I like them. They are cute, soft and don't get damage when used.
Soft and Versitile
GeorgesMom . 9 years ago
These washcloths are light and soft, we use them to bathe the baby, but also to burp and wipe during nursing. The colors are very pretty. They dry fast also!
Showing 1 - 20 out of 20 reviews