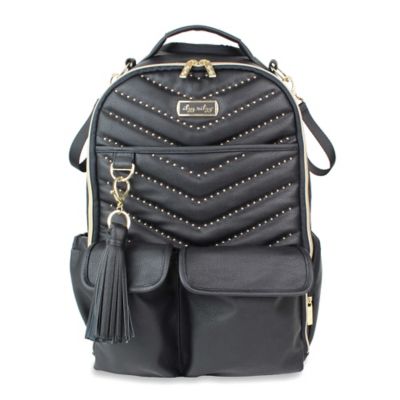 Itzy Ritzy® Stud Diaper Bag Backpack in Black/Gold
Unavailable
This item is no longer for sale online
Most Helpful Positive Review
100% recommended
Nina
.
3 years ago
I bought this diaper bag after one I received as a gift (different brand) and I can honestly say its been the best decision I've made! absolutely recommend
Most Helpful Critical Review
Be careful with this bag
Cheanne
.
3 years ago
I purchased this bag 02.06.2020 and returned it for another one 02.22.2020 due to the fact of the straps starting to tear at the seams.. I currently have two books, 3 onesies, a tag stuffed toy, 3 empty packing cubes and have only had it hanging in my closet (not even wearing it) and it's already ripping!! Thankfully Buy Buy Baby let me exchange for a new one but still .. I don't know if this is normal for this style bag but when paying 160 to 125 for a bag you at least expect the straps to hold up.
customer reviews
Showing 1 - 20 out of 365 reviews
Boss diaper bag
Amydlt . 5 months ago
I purchased my Boss diaper bag off but buy baby back in June. I was very excited to use it considering I'm a first time mom and the straps are already detaching the quality seems poor extremely dissatisfied. The handle to pickup the diaper bag is also detaching, I have pictures. I've only had the diaper bag 3 months supposedly itzy ritzy is a good brand. Very disappointed expected a good diaper bag for the price I paid for

Best diaper bag!
Joymom . 5 months ago
This is the most organized bag ever! This is my fifth baby and I have never had a diaper bag that came close to the quality and functionality this bag has. They thought of everything! Highly recommend!
Anita . 6 months ago
Love this! Giving as gift to daughter but I know she will like it. When we were at the store she had picked that one out as we were browsing.
Worth the Price
Lindsey . 7 months ago
I returned my $40 diaper backpack from Amazon and upgrade to this one. The old backpack had deep pockets and I was constantly digging searching for things, it wasn't comfortable to wear, and it didn't look as cute as it did in pictures when it was completely full. This bag opens up all the way and has lots of mesh pockets so you can see where everything is. It's pretty, it's comfortable to wear. I'm so happy I upgraded!
The BEST diaper bag!
Summer . 9 months ago
I am in love with this diaper bag! I bought this bag for my baby girl due in 5 weeks and have not used it yet, but have really enjoyed packing it due to the ease of convenience. It unzips all the way down so you can see everything and has so many pockets and compartments to keep all of your babies items super organized. I also really like the stroller straps and rubber bottom. I am super excited to put this bag to use and show off how beautiful it is!

The BEST Diaper bag!
Summer . 9 months ago
I am in love with this diaper bag! I purchased this bag for my baby due in about 5 weeks and after receiving it, it has really exceeded my expectations. The bag is big! I love how many pockets it has and you can really organize everything you need really well. I have started packing all the necessities for when baby arrives and it's been so easy to find a place for each item. Another feature I really like it the rubber bottom, that way if you have to sit it down in public or on a rough surface, the bag material is protected and can easily be wiped clean. I would highly recommend this bag to any moms or soon-to-be!
Perfect
BB&B Customer . 10 months ago
Beautiful, great size, good quality and very well organized. Highly recommended!
The Perfect Diaper Bag
ElaBruton . 10 months ago
I have the Boss Diaper bag in blush and I am so inlove with it. Material is great, easy to clean and the rubber bottom protector the bag from getting dirty. Lots of pockets to organize baby/mom stuffs. It hold everything we need. And a big zipper to open the whole front of the bag to access everything. So inlove with it. I just both the mini since I have a toddler now and I don't need to carry a big bag anymore. ❤️❤️
Zipper broke - don't buy
Stacie . 10 months ago
Beautiful bag but the zipper broke like many of these reviews say. I tried to fix it but the dry cleaners says it's not worth it. Too bad because I have the matching stroller organizer/coffee cup thing. I wish we hadn't spent the money.
perfect
Fabi . 10 months ago
My husband and I loved the bag! It is pretty , organized, comfortable and very light.
LOVE LOVE LOVE
Momof3girls . 12 months ago
I absolutely love this bag! I am an over packer and it fills all my hearts desires and needs. It holds everything I could need for 3 kids plus myself including my hands free breast pump. I was worried it would get dirty with it being such a light color and it still looks perfect!

Originally posted on bedbathbeyond.com
nice bag but not well designed
boymom . 1 year ago
yes, I like the bag. it's stylish and durable, but the way the compartments are placed in the bag make them useless. there are two insulated pockets on the outside and the one with the zipper can't hold any of my bottles. I don't know the thought process of how things are to be laid out on the inside, but I don't use half the pockets on the inside cause there not in a practical spot. once you put clothes and diapers in, there is no easy access to some of the pockets.
Poor Quality for the Price
Mallory . 1 year ago
I bought this backpack for myself before baby arrived. Although it's a beautiful bag, I didn't find the quality matched the price point. I had the bag for less than a year and had two of the zippers break. Disappointed in the quality and customer service I received from Itzy Ritzy on the issue.
I love this diaper bag!
Jenna . 1 year ago
I have tried so many different diaper bags and nothing compares to itzy ritzy. Especially having 2 children this bag gives me so much space and it's super cute!

Originally posted on bedbathbeyond.com
perfect diaper bag!
Marie . 1 year ago
I have a 1 year old and will be having another in March. This bag will be perfect to have all my things for my two kiddos! Super comfortable to wear!
Poor quality, zipper broke
BB&B Customer . 1 year ago
The zipper broke on two different parts of the main compartment. The right side it has come right off the track, making the bag unusable. There are literally 2 holes in 2 different spots along the zipper track. Expensive bag, didn't get to use it much because of the pandemic and since it is 2 months past the 1 year purchase date they won't do anything about it. Save your money. My skiphop has lasted 4 years without issue and was half the price… just for comparison.

Originally posted on bedbathbeyond.com
Broken zipper
Naty . 1 year ago
Loved the style of this bag. So upset the zipper broke after the first month of use. The bag is not cheap for the zipper to break off like it did. Very very disappointed
Broken zipper
Naty . 1 year ago
Loved the style of this bag. So upset the zipper broke after the first month of use. The bag is not cheap for the zipper to break off like it did. Very very disappointed
Best bag for a mom!!!
BB&B Customer . 1 year ago
Everyone complains about the storage and organization of this bag but if want it to function then you'll need to purchase the packing cubes if you don't then you'll never appreciate the bag the way it's meant to be used! Don't purchase if your not willing to spend the money on the extras! Over all great bag!!!

Originally posted on bedbathbeyond.com
not worth the price
babr419 . 1 year ago
My daughter is a month old and I've only used this a handful of times. The zipper on the side is already broken and I don't see the main zipper lasting much longer. It's hard to keep things organized as well. I wish the quality matched the price.
Showing 1 - 20 out of 365 reviews