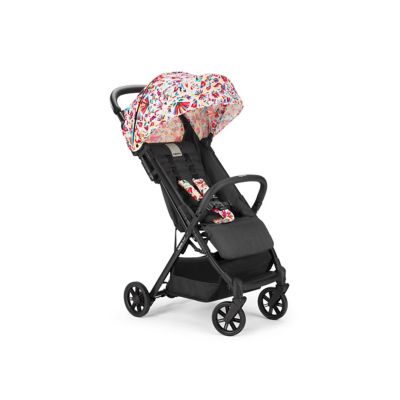 Inglesina Quid Compact Stroller
Most Helpful Positive Review
Great quality stroller worth the price
Pappalardo
.
2 years ago
I just recently purchased this stroller for my 4 month old and I absolutely love it it's is super easy to fold and such a lightweight stroller it is very smooth to maneuver with just one hand and my baby loves it, he cannot sit up himself very well just yet so the fact that it reclines keeps him comfortable and also the sun cover extends enough for the sun not to be in his face in any angle I would definitely purchase this stroller again and I'm also looking to purchase their high hair. Thanks so much inglesina !
Most Helpful Critical Review
Not quite as advertised
MRod
.
2 years ago
We bought this as a secondary stroller because we needed something lightweight and easy to load in the car. It definitely delivers on being lighter and compact when traveling, but the one-handed open feature they advertise is completely false. I have to shake it, step on it, and finally figured out which bar to manually click into place before putting my kid in without the whole thing folding up on her. Getting it into the compact position is extremely challenging as well. No matter how hard I tug on the two latches and jostle it, it takes me several tries to get it to fold. The whole experience leaves me red-faced and swearing, especially if I'm holding my 30lb kid at the same time. However, the actual ride is nice and it maneuvers well, has a nice canopy and a big enough storage basket, and my daughter likes holding onto the bar. The harness is effective, if not a little cumbersome to get on a feral toddler, but I don't fault them for that. It's also held up nicely so far on the gravel trail we like to walk on. Overall, I wish I had gone with a different model but it's still much better than the clunky stroller we've been using up until now.
customer reviews
Showing 1 - 20 out of 142 reviews
Great Travel Stroller
Alexandra . 3 weeks ago
We needed something lightweight and easy to fold and carry around. This is just what we were looking for: easy to fold and load into the car or on the plane, and great quality for the price!

Originally posted on Inglesina.us
Another brilliant product delivered by Inglesina
Li . 3 weeks ago
The trunk space this stroller frees up is just life changing. Very sturdy and agile and comfortable to ride on, our boy absolutely loves this.

Originally posted on Inglesina.us
Great travel Stroller
Katie . 1 month ago
Have a trip planned in December and needed to get a travel stroller. I did TONS of research and this stroller met the criteria. Big canopy, extended leg rest, lightweight, good recline for naps and easy to open/close. Great price as well. They also have such cute colors and prints. Highly recommend!

Originally posted on Inglesina.us
Everything you need in one stroller!
Lana . 1 month ago
This stroller is absolutely amazing! Super light, easy to fold and unfold, has a little peekaboo window that i can watch my daughter from! My baby loves riding in it! Every time she's fussy and I want to take her for a walk, as soon as I put her in the stroller she stops crying and she usually falls asleep! This is def our favorite stroller and I couldn't find anything I would add to it! Its perfect!


Originally posted on Inglesina.us
Great stroller I'm glad I had
Mommyloveswalking . 2 months ago
I've received this stroller as a gift but this is my true review about the stroller. I love the easiness and convenience of this stroller gives plus how light and smooth it is. I'd definitely recommend it to anyone.

Originally posted on Inglesina.us
We love our Quid Stroller!
Chelsea . 2 months ago
We got this stroller a month ago and we LOVE it! We have been looking for a stroller that is easy to travel with as so many are bulk and hard to maneuver. The Quid Stroller is exactly what we have been looking for. It's super lightweight and compact which makes it very convenient to use. It's also very comfortable for our son which I appreciate! There's so many details in this stroller that make it great especially for parents on the go! I would highly recommend for any parent looking for a premium stroller that is compact, lightweight and easy to take in the go!

Originally posted on Inglesina.us
Perfect for Travel!
Cherish . 2 months ago
My family loves to be on the go quite a lot. This stroller is so perfect for travel. I love that it's light weight and very compact. As a mom I often juggle the kids and all of their stuff alone and the one-handed opening action was really helpful. I also really like that the brake is set with one click with your foot. My other stroller requires two separate brakes to be tapped with your foot and it wasn't until I experienced this feature on my Quid that I realized how much more user friendly this is! The reclining seat feature is really great to help my daughter get more comfy for a nap, so that's also a great feature we've enjoyed. We got the Maya Black colorway and it's just gorgeous. Got a lot of compliments on how cute our stroller is.

Originally posted on Inglesina.us
Super convenient!
shannon . 3 months ago
This stroller is so lightweight and compact! It easily folds and doesn't take up much space. The shade also has an extended zipper that provides full coverage! 10/10 recommend!

Originally posted on Inglesina.us
Great stroller
Kelly . 3 months ago
My husband and I are loving this stroller! The quality is amazing! I'm impressed with how easy I can open it even while holding our daughter. It pushes easy on our street and love that the hood provides UV protection! Our daughter loves it too! The harness is so soft and she loves to look at me through the peek-a-boo hood!


Originally posted on Inglesina.us
The lightest stroller!
Ashley . 3 months ago
I am absolutely in love with how light this stroller is, and it's sooo easy to open and close with just one hand! The design is beautiful and it works for both my 4 year old and my 10 month old. We love it!


Originally posted on Inglesina.us
Easy compact!
Amina . 3 months ago
We love how this stroller is super lightweight and easy for traveling especially those places that do not have elevators the Quid Stroller makes it easy and manageable to move around!

Originally posted on Inglesina.us
So compact!
Lex7 . 3 months ago
We love so many things about the Quid stroller, but one of our most favorite things is how compact & light weight it is! Makes toddler life so much easier! Will definitely tell friends about this one.

Originally posted on Inglesina.us
a travelers must have!
girlsoft243 . 3 months ago
we are in love with out squid stroller, the fact that is so lightweight makes it so easy to take it in all of our adventures in the USA and internationally. totally recommended to all moms


Originally posted on Inglesina.us
Stylish & Easy to Store!
Bed Bath and Beyond Customer . 4 months ago
I absolutely love the Maya White design, it's so colorful! This stroller is lightweight and compacts easily to store it in your car or really anywhere. My daughter seems comfortable in it too which is really the most important aspect!


Originally posted on Inglesina.us
Lightweight and great handle
LauraD . 4 months ago
We received our stroller in Maya Black and it's perfect for our toddler. Most the time he wants to run around but there are so many times he tries out quickly and it's so good to have this stroller. It extends in a pinch and has such great handle. We love it.


Originally posted on Inglesina.us
So lightweight!
Brooke c . 4 months ago
So glad I snagged the quid stroller! We are always on the go and travelling, having this stroller be so compact has been a game changer for us! I love how lightweight and easy it is to fold up! The extra sun protection is a great feature if you plan on using on vacation or being out in about in the summer time! I also loved how easy it was to assemble out of the box, I added the two tires and was ready to go! Highly would recommend!

Originally posted on Inglesina.us
Amazing!
Miriam . 4 months ago
This is hands down the best stroller! It's so easy, so convenient and the best part it only weighs 13 pounds! I definitely recommend …you won't be disappointed!

Originally posted on Inglesina.us
Perfect!
Nikol . 5 months ago
We received the Quid stroller last weekend right before heading to the aquarium. My 7.5 month old is a bit tall and likes to see things around her so our infant stroller has been making her a bit fussy. Anyways, I was able to break down the Quid and unload it super easily...on the first try, which is pretty amazing for me. The straps are really sturdy and cushy which I like. I'm sure it's super comfortable for baby too. It maneuvers like a dream as well. We were in a crowded area and I was able to swoop in and out without any issues. The stroller also offers extra sun protection which is something really important to me. I highly reccoment this stroller!


Originally posted on Inglesina.us
Light weight
Haybernyay . 5 months ago
This stroller is amazing!! I love on the 3rd floor of my apartment complex and can easily carry my daughter and the stroller up and down the stairs


Originally posted on Inglesina.us
Compact and Light
Sally . 5 months ago
I have taken this stroller on the airplane and I have also taken it on roadtrips. Both times I have been super impressed with its smooth fold and one handed open. One of my favorite features is that it is lightweight at 13lbs and I was amazed at its compact fold, it fit on a overhead compartment on the plane

Originally posted on Inglesina.us
Showing 1 - 20 out of 142 reviews