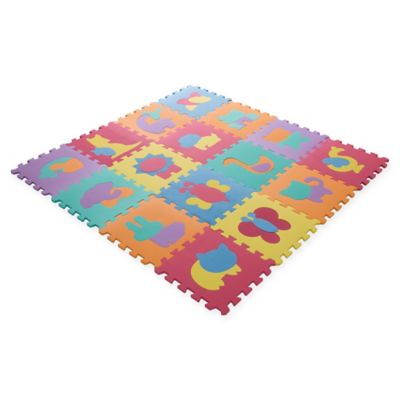 Hey! Play! Interlocking Foam Tile Play Mat with Animals
$23.99
Get 20% off & earn 5% back in points with Rewards™+
Enroll Now
customer reviews
Showing 1 - 6 out of 6 reviews
soft play mat
Zeldabear . 1 month ago
I use this as a base for my baby's play mat on the hardwood floor . The pieces fit great but the cute animal pieces in the middle do pop off easily if lifted or not flat . Love thé colours and it's soft cushiony. Good size for infant doing tummy time .
Skip it
Anna . 1 year ago
It's a decent size, and the pieces are cute, but the puzzle sides do not stay together at all. I'm constantly putting the mat back together after play time. We also have the larger version of this (the one where the puzzle pieces are larger) that one is better.
good purchase
Phyllis . 2 years ago
very nice and cushiony

Originally posted on bedbathbeyond.com
Great PlayMat
JB . 2 years ago
Very soft and strong with vibrant colors.

Originally posted on bedbathbeyond.com
lOoOovEEe
KJ . 2 years ago
love this mat! it fits aesthetically in our home. thank you buy buy baby!
Good material
Atiba . 3 years ago
I did end up buying two and putting together to cover more floor space.
Showing 1 - 6 out of 6 reviews