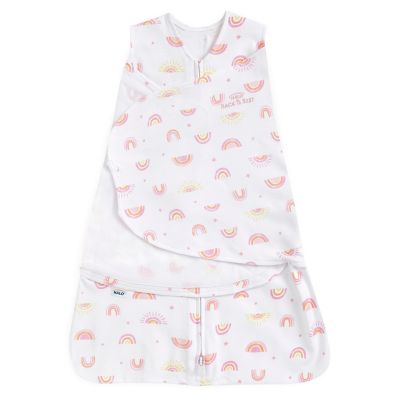 HALO® Small Sunshine Rainbow 2-in-1 SleepSack® Swaddle in Pink
customer reviews
Showing 1 - 20 out of 35 reviews
Halo swaddles are the BEST
Lindsay H. . 1 month ago
[This review was collected as part of a promotion.] I purchased 2 Halo swaddles for my newborn granddaughter, and my daughter told me they were the BEST ones she received. So I sent her 2 more. They're very SOFT, snug, easy to use, and have beautiful designs.

Originally posted on Halo Sleep
Simply the Best
Jessica M. . 2 months ago
[This review was collected as part of a promotion.] To be honest I have never used this, I bought it as a gift for an expecting friend. BUT before buying it I messaged my sister who now has a 3 year old. I asked what was one thing she had for her newborn daughter that she couldn't have lived without and she said this swaddle. She said she thinks this was the reason her baby was such a good sleeper and sleeping through the night so quickly. So I immediately got one for my friend and started to wander if they come in adult sizes.

Originally posted on Halo Sleep
Love these swaddles! They are
Lauren D. . 3 months ago
[This review was collected as part of a promotion.] Love these swaddles! They are the only thing that will keep our little one asleep. When we started using them her nighttime sleep went up to 6-8 hours and her daytime naps went from 20 min to 1.5 hours!

Originally posted on Halo Sleep
Excellent
Krista G. . 3 months ago
[This review was collected as part of a promotion.] I love this sleep sack for my daughter. It's perfect for transition from a Swaddle to sleep sack!

Originally posted on Halo Sleep
Best Swaddle
Amanda B. . 4 months ago
[This review was collected as part of a promotion.] My daughter constantly got out of regular blanket swaddles, then I switched to these and she slept more soundly. I've recommended to all my pregnant friends and will always swear by HALO products.

Originally posted on Halo Sleep
Doesn't Swaddle Tight
Sarah . 4 months ago
I want to start by saying that I was very excited by ordering this product for our baby. It seems to have consistently good reviews and be fairly highly regarded. Unfortunately, this was not our experience. The Sleep Sack Swaddle does have a few great parts of it's design going for it. This includes the zipper which zips from bottom to top to make diaper changes in the night easier, strong and secure Velcro, nice feeling and light-weight material, and featuring a cute design on the swaddle itself. The first flaw I will note about the product which I don't think affected our experience but definitely could for some, is the use of actual tags in the garment. Many companies have chosen to label their products using a more printed on fashion rather than a physical tag, but somehow Halo seems not to have kept current with this. The printed labels serve to prevent babies becoming upset because they can be overly sensitive to things such as labels in clothing. The biggest flaw for us and ultimately the reason we do not like the product is because the wings which are used to swaddle our baby are absolutely massive. They are far too long to swaddle our baby with properly. I have tried to Google solutions for this and have tried the very few suggestions out there to be able to swaddle our baby tighter without any success. Since the swaddle is not able to be done up snug enough, our baby is able to raise her arms up toward her face and with them, so comes the wings used to swaddle. This causes the fabric of the wings to gather around her face creating a very unsafe sleep environment. We bought this version because we wanted to be able to swaddle. This may work better as a sleep sack as there is no way we would be able to get the wings tight enough around our baby for a swaddling effect on either her arms or body when her arms are out. Our baby does like to be swaddled and we have had success with another brand of swaddle.

Originally posted on bedbathandbeyond.ca
Perfect for strong babies!!!!
BB&B Customer . 5 months ago
I NEVER leave reviews, but after a week of sleepless nights I went out and bought this because I figured out that my baby girl was not being swaddled tight enough, she always busted out of the blanket and other Velcro swaddles. This one is SO tight and makes her feel so cozy and safe. Not to mention it is so much easier to use than anything else on the market. GET THIS
Cozy and perfect for baby
Kk . 9 months ago
Love these sleep sacks. Wash well. Super comfortable
Great swaddle
Xin . 9 months ago
Bought this for my baby due in April. Good quality, soft and cute pattern.
Love it
Kevin . 9 months ago
Great for newborn ! Love it
Easy to use, baby loves it
Ashleyr91 . 9 months ago
Very easy to use. Puts my daughter to sleep instantly. Highly recommend this product.
Great sleep sack
Whitney . 9 months ago
My daughter loved sleeping in this sleep sack. Love the option that arms can be swaddled in or out.
Nice!
Chris . 9 months ago
This worked well for us. Nice fabric beautiful print. And can be used arms in or out. Only thing is I wish it had a double zipper
Easy to use and safe for night time swaddle
Sandy . 9 months ago
The Velcro swaddle makes it easy for anyone to swaddle baby, it doesn't come undone at night and there are options for self soothing positions and transition to one arm out or two. I highly recommend it. The only downside is noise the Velcro makes when you have to undo it at night, wakes up baby. However, It does have a zipper that goes from bottom to top for easy diaper changes.
Perfect for newborn
Nadz . 9 months ago
I bought this along with many other types of swaddles before our first baby. We gravitated towards placing our newborn in this to sleep because it had the ability to act as a sleep sack, the sizing was perfect the material breathable and easy to swaddle arms if we needed but could be used without it was also the least intimidating for a new parent not used to a flailing newborn
Super cute!
Sharonko . 9 months ago
Great when baby doesn't move too much! Once she started moving more, the velcro arm flaps would ride over her mouth/face which was scary. Love it for first 2-3 months though. And the pattern is adorable!
Best swaddle
Ange . 9 months ago
Used it for my daughter. Great quality and breathable. It does stick to other clothing and items in the dryer so be weary of the Velcro!
Pris . 9 months ago
I feel like the quality of Halo products went down. However, still the only swaddle that works great and so easy to use.
Perfection
Niknak . 9 months ago
I am a huge fan of the Halo swaddle sleep sacks!! Sooo easy to use and really make a huge difference with sleep!
Haven't used yet
Kay2022 . 9 months ago
Love the pattern and hoping my baby does well in it. Didn't really swaddle my first but planning to use it with this one!
Showing 1 - 20 out of 35 reviews