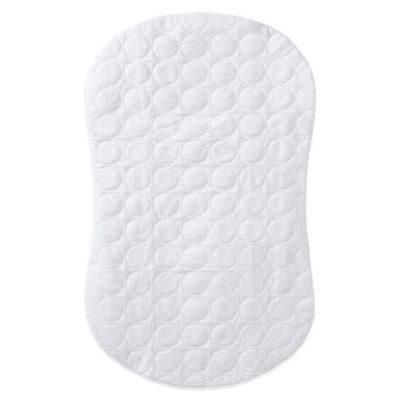 HALO® Bassinest® Mattress Pad Cover
customer reviews
Showing 1 - 20 out of 39 reviews
Solid product
Travis S. . 3 weeks ago
[This review was collected as part of a promotion.] Just as advertised. Fits the mattress perfectly and makes cleanup easy. Quick delivery too!

Originally posted on Halo Sleep
Poor Quality
Customer12 . 3 weeks ago
After the first washing, I noticed large clumps of lint all over! Makes me wonder how it will hold up to further washes and normal usage. I want to return however, I can not find another cover to fit well.

Way too big
Jamie . 3 weeks ago
Not quite sure why a product that is made for a specific item does not fit properly? I wish I read reviews first like many already said. It's too big and when you put it on the pad doesn't even sit flat on the bottom of the bassinet. Then when you put the sheet on, as recommend on the package, it's even worse. Very annoyed about this product.


Originally posted on bedbathbeyond.com
Fine
Louise C. . 2 months ago
Not particularly soft or comfortable looking or feeling but hopefully will be ok for baby.

Originally posted on Halo Sleep
Protection
Emily H. . 2 months ago
[This review was collected as part of a promotion.] Love this cover, perfect protection for our mattress underneath. Not too loud or crinkly. Easy to wash. Great piece! Worth it for those spit ups.

Originally posted on Halo Sleep
Love it!
Kendra W. . 3 months ago
[This review was collected as part of a promotion.] Keeps my pad safe for middle of the night blowouts, I can take it off, throw on my extra one (or not) and just go back to bed. So happy!

Originally posted on Halo Sleep
Too big for Halo Bassinest mattress
MSB . 5 months ago
We registered for these mattress pads to go with our Halo Bassinest and just went to put them on this weekend. They are too long and bunch up at the ends of the mattress and there is no way to put a sheet on top, it would create folds and not be safe for sleep.

Originally posted on bedbathbeyond.com
Great for her bassinet
VIckie . 7 months ago
Made it a little softer
cheap
cgen7 . 9 months ago
Very cheap material. Rips easily. It's never even been used and already looks like this. Also, it is lumpy and bunches up underneath the sheet.

does not fit graco bassinet
hellobaby . 11 months ago
Doesn't fit the graco portable bassinet because it's to big
Great for newborns
EET . 12 months ago
Our baby had a hard time adjusting to the Halo Bassinest at first, and many large spit up issues at night. This was a simple way to add the tiniest bit of extra comfort, but also keep the mattress clean.
Buying another one!
cheche . 2 years ago
Fits my halo replacement mattress perfectly with a little extra room (I preferred the replacement mattress because it was a little thicker and softer than the original). Not sure if maybe the reviews from others mentioning poor fit is based on using the original mattress that comes with the bassinet.
Creates Unsafe Sleep
MommaK . 2 years ago
Received as a gift along with our Halo Swivel. Washed it to get ready for baby's arrival and it doesn't fit. It bunches on the side and doesn't lay properly. Concerned that if I still went ahead and used it that it doesn't follow the safe sleep guidelines. Very very disappointed since this isn't a cheap item.
Was a gift
Cartie . 2 years ago
Everything that was bought was a gift
BB&B Customer . 2 years ago
Both thing I order Bassinet and Mattress pad cover are very nice.. ease of ordering.
???
Meredith . 2 years ago
Fit the swivel but could not fit the regular sheet over it. It does not seem to be meant for the swivel.
Perfect!
BB&B Customer . 3 years ago
Arrived in a timely matter.
Unsafe!
Lindsey . 3 years ago
This pad makes the mattress lumpy and not completely flat which is unsafe for baby sleeping. Very unhappy with this purchase. I wish I saved the packaging so I can return.
Very comfy!
Deb . 3 years ago
Bought this for my granddaughter's Halo bassinet. Washable and fits great!
Terrible
Misha . 3 years ago
Very disappointed in this product. The mattress pad does not fit it is too large and when used with the fitted sheet over it, it causes the mattress to not lay flat, I am concerned with a safety issue. I have thrown away the package as well which is disappointing or else I would def be returning this item!
Showing 1 - 20 out of 39 reviews