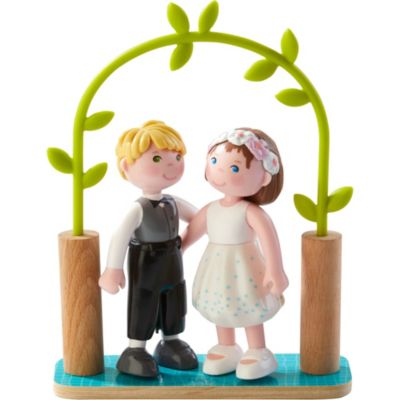 HABA Little Friends 4" Bride & Groom - Wedding Play Set
customer reviews
Showing 1 - 3 out of 3 reviews
My granddaughters love playing with
Kelley T. . 9 months ago
My granddaughters love playing with the Little Friends and the bride and groom are a fun addition to their growing collection.
Originally posted on HABAUSA.com
Wedding Fun
Terri R. . 10 months ago
We love the LITTLE FRIENDS. We have a doll to represent each member of our family and bought this set to complete our Little Friends family. My grandkids ages 18 months - 10 ( boys and girls) could hardly wait to get them out of the package and have a wedding.
Originally posted on HABAUSA.com
6 yr old and 1 yr old love!
Emilie H. . 12 months ago
My girls love haba little friends. They are the perfect size for our wooden doll house and the plan toys wooden furnuture. And they fit perfectly in their little hands. We have the whole family and the car.
Originally posted on HABAUSA.com
Showing 1 - 3 out of 3 reviews