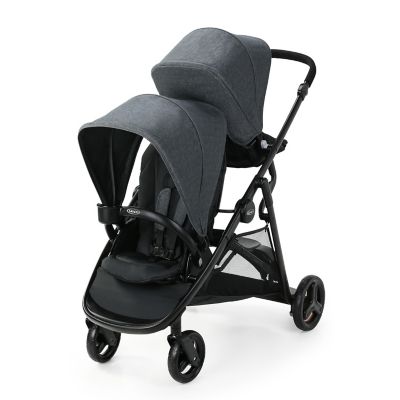 Graco® Ready2Grow 2.0 Double Stroller in Rafa
$167.99
was $239.99
(30% off)
Most Helpful Positive Review
Just Great!
cmayer11
.
7 years ago
I bought this stroller when I had my twins. The Click Connect feature was so easy to use and I loved the way the car seats clicked in so securely. The stroller is very easy to push and it turns corners great. I drive a Toyota Corolla which is super small already and when you add 2 newborns in the mix it is very cramped! The stroller was able to fit perfectly in the trunk of my car and it was very easy to fold and unfold. I feel like this is a very sturdy stroller even with two infant seats and diaper bag and whatever else i have in there. I love this stroller and I would recommend it to anyone. Also You should check out the click connect car seats!!
Most Helpful Critical Review
Lightweight
kpontarella
.
7 years ago
I have a 19 month old and a baby due in September. We purchased this stroller with the intention of having the newborn carrier in the front, and having my son utilize the bench seat so that he can get up walk when he wants, then sit when he gets tired. I am SUPER disappointed that when I set it up this way and put the carrier in the stroller, it overlaps the bench seat and there is NOT room for my son to sit. This was the whole purpose of us purchasing this stroller.
---
Thank you for your interest in our products. We apologize for the inconvenience you have experienced. You will be contacted shortly by a member of our Consumer Care Team.
customer reviews
Showing 1 - 20 out of 297 reviews
GET THIS STROLLER!
Makana . 2 months ago
Very convenient - especially with a toddler & newborn. Easy to setup by oneself. Also, it's not heavy to fold up and put away.
Originally posted on gracobaby.com
Convenient but heavy
Yasminnnn . 2 months ago
I really love this stroller the only thing that i dont mike is that it is heavy
Originally posted on gracobaby.com
This is solution for all your problems
Farrukh Khakimov . 2 months ago
My wife said it's SUPER! The storage underneath is also very spacious which is handy for the moms.
Originally posted on gracobaby.com
I want to love the stroller more..
BB&B Customer . 2 months ago
I really do like this stroller but it leaves something to be desired. the infant portion doesn't recline, the shades are very small. It however fold up pretty compact for a double stroller and I like the baby up close to me.
not intuitive
Emily . 3 months ago
I previously reviewed the stroller as one star for a false description but want to redact that review but can't find a way to. I wrote it in frustration. My Graco car seat does indeed fit on the stroller but it is not intuitive at all like with a single stroller. It would be much easier to remove the stroller seat and connect your car seat but instead you have to remove the stroller seat from its frame and then connect the car seat to that. I feel there should be a simple way. I'm not sure if it advertises itself as light weight or not but it is pretty hefty. All that said it fits two kids which is what I need it to do.
false description
Emily . 3 months ago
The online description says it is compatible with all Graco car seats. After we assembled it we tried fitting our Graco Snugride 35 lite dlx on it. We couldn't figure it out so we looked in the instruction manual and it says only compatible with click to connect seats. Hopefully we can return it because it is not at advertised. Now after that fact I've read some customer questions and even Graco support had given different (wrong) answers. Some say it accepts all Graco carriers and others specific the click to connect. I am beyond frustrated.
To Hard to Assemble
aramey0412 . 3 months ago
I just bought this stroller yesterday so I can tote my 2 year old and my newborn. For one, it's heavy. For two the assembly is absolutely frustrating. The pins that secure the back wheels are a pain, and it took me way too entirely long to put those in. I had to use needle nose pliers. Third, trying to figure Out all the configurations, with the terrible directions they provide you is also frustrating. We already had the graco car seat and the graco modes 3 lite, and loved it but this was a bummer.
Originally posted on gracobaby.com
Great!
Goosic . 3 months ago
Love this stroller! My only downfall is it does not push well on gravel and I live on a gravel road
Originally posted on gracobaby.com
Great Stroller for Infant and Toddler!
SarK . 4 months ago
We thought this stroller was going to be huge. It's big but not as big as we expected. It has great storage space and my son loves to stand/sit on the bench. When he gets tired, we can easily transition our infant up and create a seat for our toddler to sleep. The only thing I'd add to it is a shelf to put a phone and some additional items on the handlebar.
Originally posted on gracobaby.com
Not a great purchase
BB&B Customer . 4 months ago
I purchased this stroller a few months back when I was pregnant. I had my daughter a month ago when putting her in the base I thought there would be room for my 2 year old to sit in the "seat" but there is NO seat when my daughter is in the front! That was the purpose of buying this stroller so she could sit when she's tired of standing! I do not recommend if those are your expectations when buying a stroller!

Originally posted on bedbathbeyond.com
Broken and ripped
lauren . 4 months ago
I bought this stroller a little over two weeks ago, took it out of the box and used it a couple times to take the kids for a walk around the neighborhood and the grip on the handle has already torn and I've barely used it. In addition, I went to go try the top toddler seat and canopy seat even though I don't need it yet since baby doesn't fit and the plastic piece to connect the canopy is broken which is very disappointing. I was so hopeful for this product and the stroller itself seems nice but it hasn't held up and it's literally been used like 3 times around the neighborhood.
Ok indoors but missing useful items
Sal786 . 4 months ago
I was very excited that I found a double stroller for my two toddlers. However, the front seat canopy is too big for the seat. It doesn't connect with the front seat, when it is not being used it goes way behind the seat hitting my toddler who is seating in the back. I had to remove the canopy so both can sit. Also, the back seat has no cushion or back support. Would have preferred to have at least a seat cushion or cover so they can seat for a period of time. If not included - please assist where I can buy the additional parts to update this stroller.
Originally posted on gracobaby.com
Great for the price
1 Father of 2 . 6 months ago
Great for the price. Considered more expensive options that might have been better. This does the trick except it's a little small for our 4-year-old. Perfect for the 8-month-old. Folds easily. Fits into a Prius hatchback's rear.
Originally posted on gracobaby.com
Would not recommend
3littles . 7 months ago
Got this as a gift and would not recommend it. It's awkward to unfold, awkward to strap baby in and has no eating tray on the front for toddler. It handles nicely even with one hand and the brakes are good but I don't have much to say about it other than that.
Originally posted on gracobaby.com
Overall, not a fan
Mel C . 7 months ago
I bought this stroller about a year ago for my now 1 year old and 2.5 year old. When my 1 year old was really small, she didn't fit comfortably in the top seat but I figured that was because she was small but even now, she just never seems comfortable. I wish there was the ability to turn the seat around so they can both face forward. The bottom seat is more comfortable and both of my kids have no problem being in the bottom seat. Great storage in the bottom is the biggest plus. The canopies are a little awkward and never seem to fully cover them. This stroller is also super heavy and you get tired pushing it around after a while. I like the option of the standing/seat. For the price, overall I'd buy something more lightweight and more comfortable so that both kids can recline and it could last longer as they age.
Originally posted on gracobaby.com
Feels cheap and cramped
Hall2312 . 7 months ago
We used this stroller for the first time this weekend and after 2 minutes we realized we hated it. We have a 2 week old and a 1 year old. It feels like our infant is sitting right on our toddlers head. Our toddler can either sit up perfectly straight or recline all the way back, neither position looks comfortable for him. The front seat sun visor has a huge gap between the back of the seat and where it starts leaving the majority of our son's face uncovered. If you try to take it anywhere other than on a perfectly paved road/sidewalk it feels very unstable. Overall it is very disappointing and we are already looking into other stroller options.
Originally posted on gracobaby.com
Not what we were hoping it would be
Momvet55 . 7 months ago
We love our modes single stroller and when we went to have our second daughter we wanted something that was easy to fold, lift and push. Unfortunately it is not this stroller. When you fold it it falls almost every time. When pushing it, it feels heavy like a boat and the front seat is stationary so once you little one need it you can't turn it around to face you. The sun shade doesn't stay out and falls. We avoid bringing unless we think our 4 year old really needs a spot. If you walk faster you end up kicking the standing platform. The foam handle crank despite only using it a few times. Just didn't live up to my hopes.
Originally posted on gracobaby.com
Not what we thought it would help with
Leah . 7 months ago
We love our original single Graco Mode stroller and when we went to have our second daughter we wanted to find an similar stroller but double. Our oldest had just turned 3 so the sit and stand option sounded great. We were looking for lightweight, easy to fold. Overall not a bad product but folding it take two hand and it falls over whenever you get it folded. The base of the stroller it low(allowing children to stand) but that means the adult kicks it walking. It is much "heavier" to push and feels like you are stearing a boat. The form grip tore and we have only used it 5 times. We actually avoid bringing it places unless we know our oldest will for sure need a ride. Overall just was not what we were looking for.

Originally posted on bedbathbeyond.com
Unsatisfy
Kg Customer . 7 months ago
This stroller is not what I thought it's not comfortable and the top can not go back for my infant
Cannot find adapter for car seat
Jenna0420 . 8 months ago
This stroller does NOT come with a car seat adapter. I cannot find one online that fits this Stroller. I am very upset with the fact that the advertisement says it will work with any click connect car seat. If you don't have the adapter, it will not connect. Where do I buy the correct adapter???
Originally posted on gracobaby.com
Showing 1 - 20 out of 297 reviews