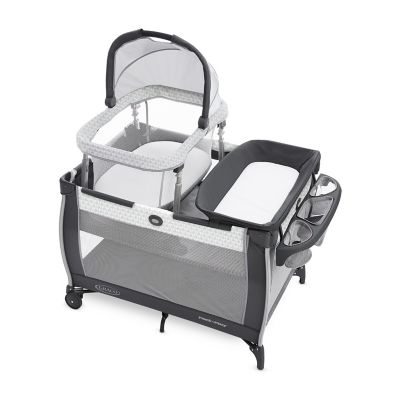 Graco® Pack 'n Play® Day2Dream™ Travel Playard Bassinet in Rainier
Most Helpful Positive Review
A versatile playard that grows with baby
Melissa5
.
2 years ago
[This review was collected as part of a promotion.] I am very impressed with this Pack 'n Play Day2Dream Travel Bassinet Playard. All of the features have the potential to eliminate several additional baby gear items, which is a must-have for couples living in small apartments looking to save space! It was very easy to setup, and didn't leave me frustrated like other playards have. I have a very long baby, so we weren't able to use the travel bassinet, but we were able to get great use out of the bassinet insert! My baby (4 months old) had already outgrown bassinets that ran width-wise in another playard, so I appreciated that this one ran length-wise and that it used the full-sized mattress! He isn't rolling over yet, so I'm glad that were able to use the bassinet for much longer than our other playard. He also fit comfortably in the diaper changing attachment, which was surprising to me. It's also very attractive and fits in well in our home. The quality is top-notch and it feels very sturdy. Overall this is a solid contender for my favorite and most-recommended playard! Big thanks to the Stellar Product Testing Panel for sending me this playard to use and review.
Most Helpful Critical Review
No sheets made for bassinet
nothappy
.
2 years ago
DO NOT BUY. The free standing bassinet cannot be used functionally as Graco does not make any sheets for it. They said to just wash the pad. I asked what do you do if the baby pees, vomits or otherwise on the pad in the middle of the night and you have to wash it and they just said to put the baby somewhere else to sleep. When I purchased it it didn't say that there are no sheets. Not easy to assemble. Graco not helpful.
---
Thank you for your review of our Graco product. We apologize the experience you've had with our product. We value all customer feedback and will pass your comments to our Brand Development Team.<!--[if ReviewResponse]><![endif]-->
customer reviews
Showing 1 - 20 out of 116 reviews
Almost a worthwhile purchase
Bob27point2 . 2 weeks ago
My wife looked for a quality pack and play and, since we also wanted a bassinet, thought this would be a great fit. It does a lot of stuff well, like having a changing table or being easy to put together, but the bassinet is rendered useless with any fitted sheets or extra mattresses. Somehow, Graco didn't realize that babies stain things often, so 1 mattress won't work at all. Had we known this would be the case, we would not have purchased this. Going forward, I'm going to give all graco products a thorough scrutinizing before even entertaining the idea of purchasing.
Originally posted on gracobaby.com
love it
desday . 3 weeks ago
We keep it in our living room to have somewhere for my son to be when I'm getting things done around the house. It is perfect. Love the changing table on it. We didn't use the bassinet much, but it was a nice addition to have.
So happy!
JenF . 3 weeks ago
The bassinet feature on this model is a game changer. We are on our 2nd child and have owned pack n plays in the past, but my first kiddo hated the elevated feature on a pack n play. Fast forward to 2nd kid and this model and we are using the bassinet by itself for our newborn. She seems nice and comfy, has mesh all around and a canopy to block out light. it is lightweight and portable and I move it all around the house as needed, even just post c-section. Would absolutely recommend this model because of yhe bassinet!
Great buy
MS Pie . 1 month ago
I love this product from when I first saw it. It's really nice and great for short stays and visits. And for a small space. It's nice for the growing stages. It folds away and packs away so nicely. Assembling it together was easy. I did look a YouTube video to make sure all Was well.
Grayco products are super reliable!
BB&B Customer . 3 months ago
The Playard Day to Dream has quick assemble videos online. Everything snaps and clicks together for setup and storage. Easy.
All in one perfect for first time parent!
Eunice . 3 months ago
I purchase this 3 months in advance since it was always sold out and when i got it and used it for the first time for my baby it was perfect to take the bassinet with me down stairs or near my bed and use the play pen as his day bed to sleep in his bed room once my baby started sleeping longer. Everything is perfect. use the bassinet to go when i went to park park. Easy to pack and use.

Great size pack and play
BB&B Customer . 3 months ago
Sturdy and good size for babies But small enough for travel and light enough for carrying My daughter loves it!! Thanks!
Mayra . 4 months ago
It was easy to assemble, sturdy. I like that comes with a portable bassinet. Will use it when my baby is Born in the next couple weeks
Must have
Hayden . 4 months ago
We use this daily for my newborn! Bassinet in the living room & pack n play while she sleeps in our room. One of the best purchases we made for a baby!

Originally posted on bedbathbeyond.com
Bassinet pad not convenient
Lo7202 . 5 months ago
This has the potential to be a great product. The pack and play itself is fine. The changing table is good. My issue is with the bassinet. I loved the idea of a free standing bassinet which is the whole reason I purchased this set, BUT be aware the bassinet mattress pad velcros into the bassinet, does not come with sheets, and there are no sheets that will fit it safely and properly. My baby spits up a lot—and the only way to fully clean this pad is to put it in the wash on delicate cycle and then let it air dry. Which is a huge hassle and very time consuming to have to do every single day. If your baby poops or pees through the diaper in the middle of the night, there'd be no way to quickly clean the pad. So we barely use the bassinet now. Graco did not get back to me when I contacted them asking if I could purchase additional mattress pads. This product would be amazing if Graco either sold additional separate mattress pads so we had extras or if they made the pad wipeable or create fitted sheets for it.
Originally posted on gracobaby.com
Love it
Bed Bath and Beyond Customer . 9 months ago
I love how this comes with a bassinet that we can travel with instead of taking the whole pack n play. It's easy to build but I did notice the side sectional to store diapers and misc baby items seems a little weak, it may need sturdy handles.
The. Best.
Pamela R . 9 months ago
I'm amazed by this pack n' play! The bassinet is HUGE and definitely bed height, the colors are minimal and fabulous, and it's so well made! I bought this for my 3rd baby and it's literally all you need!
Originally posted on gracobaby.com
great overall but should include 2 bassinet pads
Michelle . 9 months ago
We have had this products for 6 months and love it. Our baby slept in the travel bassinet when we brought him home from the hospital and then to the pack n play once he outgrew the bassinet. I wish they had 2 pads for the bassinet for accidents, especially since they have more accidents when they are infants then older. I was able to purchase more bassinet pads on their website which were cheap but shipping cost more then the pads. It would be a better product if they just included 2 pads or sold the pad in stores since that is the number one complaint of the product.
Great, versatile product
Calikatie . 10 months ago
Great product that was easy to assemble and transport for vacations. I wish they sold extra bassinet mattress pads to switch out when cleaning.
Originally posted on gracobaby.com
Great features and easy to put together
Karen808 . 10 months ago
I got this crib as a gift and I love it tremendously! Easy to build and put together. The only issue I wish all your crib needs is a baby night light on the bassinet or crib… if Graco could implement that in the future it would help at night to see the baby in the crib or bassinet… I got your Alaska model… but other then that it's an awesome bassinet and crib.
Originally posted on gracobaby.com
Bassinet
Jam12 . 11 months ago
Make sure you have your babies hands and feet covered. The netting on the sides can cause open wounds if they kick at it.
Originally posted on gracobaby.com
Best purchase
Jasmine . 1 year ago
I highly recommend purchasing this pack and play. Can't beat all stages in one package plus a small storage caddy. Best of all it's all portable. You can't move a wooden crib to other parts of the house.
Great purchase!
Jessie . 1 year ago
I purchased this for our bedroom when bringing the baby home. I was so happy to have it. I used the bassinet as a bed side bassinet for the first few weeks and then transitioned the baby to the pack n play in the room. Perfect for the first few months of life with a newborn!
our main crib
HappyMama . 1 year ago
I'm so glad we purchased this particular pack'n play. We live in a city apartment and really didn't want to buy tons and tons of large baby gear (limited storage), so we decided to use this as our daughter's main crib and bassinet. We agreed we'd try it out and if she didn't like it, we'd get a traditional crib. This has worked out so well for us! Not having to buy a separate bassinet was so helpful, after all they're not in them for long. Overall this whole thing is easy to assemble if you thoroughly read the instructions, which for the main crib are also included on the floor where the mattress goes. Very easy to pack both up for out of town trips, though taking the changing pad and storage attachment isn't really an option. I do wish the bassinet stood a little taller…our bed frame is pretty low and the top of the rim sat at our mattress height. I had an unplanned c-section, and while in the beginning I couldn't even sit up by myself and my husband had to pick her up for me, I had to stand up to get her out of it even when I recovered. Once she hit 6 weeks, she didn't like sleeping in the bassinet. It does tend to wobble when they move a lot and she started to get really strong around that point, so we switched her to the larger crib and she seems to love it. The wobbling wasn't an issue until then. We bought Graco sheets for that and I made her sheets for the bassinet to fit really snug. I'd recommend doing SOMETHING for the bassinet, the pad is a fleecy material and was too hot for our baby without a cotton sheet. The changing attachment is our main changing table and works great for us. Despite a couple annoying things, we're still very glad we chose this product and it suits our lifestyle so well.
Love the separate infant bassinet!
tanyav . 1 year ago
I spend hours comparing Pack n Plays and this seemed to hit most of my requirements, most importantly a separate bassinet for infant and a travel design with a travel bag. The infant bassinet is great and I chose this one because the height is adjustable. I'm 7 months pregnant so I haven't used it with the baby yet, but it's all assembled and ready to go, assembly wasn't hard, and all in all, I love the versatility of this Pack n Play. I know we'll get a lot of use out of it. I wish sheets were sold together, or at least as a suggestion, as now I need to spend a while looking for the right fit sheets. Otherwise, all is perfect!
Originally posted on gracobaby.com
Showing 1 - 20 out of 116 reviews