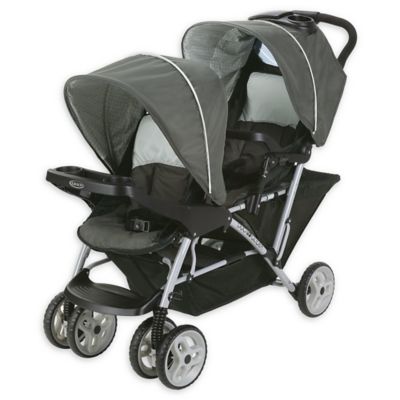 Graco® DuoGlider™ Click Connect™ Double Stroller in Glacier™
Most Helpful Positive Review
Great Value
laurenh
.
4 years ago
After doing exhaustive research on double strollers, I ended up purchasing this one. I made this choice because I wasn't sure how much use the stroller was going to get so I didn't want to spend an arm and a leg. There were plenty of negative reviews for all the double strollers I looked at which made the decision very difficult. I ended up with this one because I have a Graco click connect carseat, it was one of the cheapest of their double strollers and had enough good reviews, so I thought I'd give it a try and just return it if necessary. After using the stroller a few times, I am very happy with my purchase. A lot of the complaints in other reviews seem awful nit picky to me. Yes, it is big and a bit heavy, it's a double stroller. But I'll say this, it is actually narrower and only slightly longer than my Graco jogging stroller and weighs about the same. Yes, it's kind of big when folded up and won't fit well in many cars I'd imagine but if fits perfectly standing up in the back of my Chrysler Pacifica, leaving all of my seats open and half of the "trunk" open for other items. I don't know what people are complaining about with squeaky wheels, maybe that's a defect on only some of them. Also, my almost two year old that is in the 50th percentile all around fits just fine in the front seat and will clearly fit there just fine for a long time to come. It may not be the most comfortable thing he's ever sat in but I guarantee he doesn't care at all. He just likes going places and experiencing new things. The one complaint people had that I'll give credence to is that there doesn't seem to be any way to actually click the carseat into place. Apparently there is some additional piece you need to buy to accomplish this, although that is not stated anywhere in the manual or in the description of the product on Graco's website. For this I docked the stroller one star, but my Graco carseat nestles just fine in the back seat when it's in the fully reclined position (which I love, because my almost 3 month old loves to get out of the carseat and lay and kick and stretch) and I have no worries about it not being secure. I hope someone finds this review helpful and lets you spend less time researching. Like we don't have enough going on with two kiddos!
Most Helpful Critical Review
Not what I expected
caitrm
.
4 years ago
I am a first time mom to twins and just received this stroller. I read reviews and shopped around before deciding on the perfect stroller. Apparently I didn't do a good enough job. Reading the descriptions and reviews all say they can support two car seats and yes this is true. What is not mentioned is that you have to spend even more money to receive arm bars in order to fit the two car seats in properly. So now I have two newborns and a stroller with no use to me until I buy these products. Good way to get more money out of me now, thank you!
---
Thank you for your interest in our products. We apologize for the inconvenience you have experienced. You will be contacted shortly by a member of our Consumer Care Team.
customer reviews
Showing 1 - 20 out of 216 reviews
Wish I would've bought a wagon.
Emilymariern . 2 months ago
This is hard to close and not a fan of the parent tray. Wished it was bigger so two cup holders were there. Also our canopy has a small hole in it and I can't find replacement Cana pots anywhere.
Originally posted on gracobaby.com
Great for Twins!
Chrisanne . 3 months ago
This is great for our twins - the car seats click right in, and I know without a doubt they are secure. Easy steering & maneuverability in tight spaces, and smooth riding.
Not twin friendly
HopeSWW . 3 months ago
I got this as a present as first time mom with twins. However... no arm bars for me to use the compatible infant car seats and since its not a 5 point harness, I wont be able to use this till my twins are around 2 years old! The booklet doesn't even say when you can put a child into the stroller without the car seat or what model of arm bar needed to even make the appropriate order or I'd have done so already.
Originally posted on gracobaby.com
difficult to fold and very big
Cassy Charan . 3 months ago
I just received this and put it together. it was easy to put together but i cannot get it to fold up and stay folded. for some reason it will not latch to stay folded up. i even re read instructions and everything seems to be done correctly. my husband can't figure out why it can't fold either. the basket at the bottom is huge but you can't access it is back seat is reclined. it also will not fit in the trunk of my car.
Originally posted on gracobaby.com
Stroller Review
JSanchez . 4 months ago
It's hard to shut it, I try to close it and I never can it is too hard.
Originally posted on gracobaby.com
cheap
kate . 4 months ago
Heavy, hard to turn, wobbly, and doesn't Latch when folded.
Love!
vanessamarie1091 . 5 months ago
Love this stroller!! I have 3 kids and this is the nicest stroller I've had. It's a little hard to push, I wish the wheels were more smooth.
Originally posted on influenster.com
Fits 2 car seats!
Baby Tots . 6 months ago
Just bought this with 2 snap in car seats and reading reviews we got super concerned because we couldn't get the back car seat to fit. We thought we needed to purchase an arm bar to get it to connect but after some fangling, we realized the second arm bar is actually included and is connected to the cup holders. Lol.
Originally posted on gracobaby.com
Easy to use
Bed Bath and Beyond Customer . 6 months ago
I love this stroller. So easy to click my graco car seat in and then have my toddler in the front. So glad I got this!!
Originally posted on gracobaby.com
Good quality product
JOfelle . 6 months ago
Good quality product-but it is just to long for car trunk storage
Originally posted on gracobaby.com
great car seat, no extra parts needed
Edna . 7 months ago
we got this stroller as a gift for our new born and 18month old its easy to build and to close, i saw alot of reviews talking about needing to buy an extra part to put the car seat in, it comes with the bar for the car seat you just have to remove the cup holder top and it becomes the base for the car seat. no extra parts needed, of course it is a little big compare to the single stroller we had but it any double stroller will be, but we gotten use to it an dont notice anymore and its so easy to maneuver an control
A must for twins
christinasantoconote . 7 months ago
I used this when i had my twin boys an it is a lifesaver I don't know what I would of had done without it. Only thing I wish was better is how heavy it is .. I struggled taking it in and out my car.
Originally posted on influenster.com
Not so great
Shaynes . 7 months ago
We have used this stroller a few times for our baby and toddler and get frustrated with something every time. As others have said, it's near impossible to get to the storage compartment if you have a car seat attached, which is very frustrating as parents seem to constantly need to get into the diaper bag for something! I also don't like how the top of the stroller (the cup holders) sticks out over the car seat, making it difficult to get baby in/out. I couldn't even push the stroller over a small hose the other day and had to tilt it back to get over. It's also hard to get the stroller to latch shut when we close it. Hoping to find a much better option!
Originally posted on gracobaby.com
No lo he recibido aún
Ericka Belén . 8 months ago
No me ha llegado mi coche todavía, desde el 23 de marzo no tiene actualizaciones yo necesito saber el status ya.
Originally posted on gracobaby.com
No 5-point harness. Safety concern.
Dissatisfied customers123 . 8 months ago
For a company that prides itself on product safety I was very surprised to find out this stroller was not designed with 5-point harness. Highly concerned with using this product for an infant from a safety perspective. Also, the ability to remove the wheels from this product cannot easily be done from a user-friendly perspective. This currently hinders the ability to exchange this product for another model.
Originally posted on gracobaby.com
Amazing for all ages!
Courtney123 . 8 months ago
I bought this for a trip to Disneyland! I love how easy it is to control and that the back seat lays completely flat! I wish I found this stroller sooner! I have a 4, 6, & 9 year old and they all went in it!
Originally posted on gracobaby.com
Great, affordable two-child stroller.
Cthulu . 9 months ago
Easy assembly. Folds right up and stows as easily as a single stroller. Fold flat rear seat back great for infants.
Originally posted on gracobaby.com
False advertising-No 5 point harness
Michelle . 9 months ago
This stroller is advertised as having a 5 point harness but it does not have for either seat making it very unsafe for babies. So frustrating since I threw out the box before noticing this as I figured it said it had it online.


Originally posted on bedbathbeyond.com
No storage space, more cons thans pros
Nery . 9 months ago
To get my thoughts out, this is going to be semi list style. Cons: difficult to close, lies about the space (the back seat is not that high like "stadium seating" and you can barely fit a darn thing in the storage under the stroller), if both are toddlers they can never face each other, difficult to open as well, parenr cup holder on the side is not user friendly. Pros: it's a duo with 2 seats and not one where the older has to stand, when toddler is in back seat you can click the baby in the front and they can face each other (BUT then the toddler gets stuck). That's it. As you can see there are more cons for this stroller which sucks because it's Graco and you expect the best, sadly this is not it.
Originally posted on gracobaby.com
No harness
Michelleeee . 9 months ago
Just bought this stroller and it doesn't have a 5 point harness which is a necessity for babies & toddlers so this stroller is only for older kids but by that time they wont fit in the seats. Don't recommend this one.
Originally posted on gracobaby.com
Showing 1 - 20 out of 216 reviews