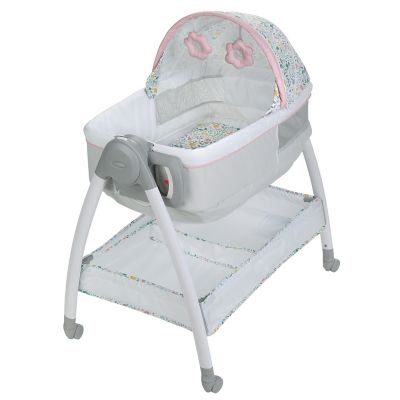 Graco® Dream Suite™ Bassinet in Tasha
Most Helpful Positive Review
Perfect bassinet
Cjroach
.
3 years ago
Very easy to move from room to room. The height of the bassinet is also perfect. It is just the right height for beside the bed so when I hear the baby, I can look right over and see him through the mesh fabric.
Most Helpful Critical Review
Nice features poor matress
Cooter
.
3 years ago
We received the bassinet as a shower gift. We loved it at the beginning but after 2 months of use we will no longer be using it. The mattress has completed dished out in the center and our baby will no longer sleep in it. She is still a long ways from the weight limit. I feel the mattress needs a lot of improving, but the features are great.
---
Thank you for your interest in our products. We apologize for the inconvenience you have experienced. You will be contacted shortly by a member of our Graco Consumer Care Team.
customer reviews
Showing 1 - 20 out of 169 reviews
Bassinet
sherrie . 4 weeks ago
It is a pretty light green on the borders very sturdy and cute.
Nice gift
Nancy . 1 month ago
My son & his wife requested this item. They loved it.
GARBAGE** DO NOT BUY
Katie . 2 months ago
I ordered this bassinet and when the time got closer for us to put it together the bassinet would lean and if you touched it, it fell over. This issue was that one of the legs didn't lock in place and just swung all the way around. We thought maybe we were doing something wrong and tried several times to take it apart and put it back together but each time the same thing happened. I would recommend the Halo Swivel 3.0 though. I put the halo together in less than 10 minutes and really love it!
Nice bassinet
KelliT03 . 3 months ago
I love the idea and concept of the bassinet/changing table. However when we recieved it, there was no mat included with it. Now I dont know what to do as my baby has nothing to sleep on. If there is a way to get a mat to match our bassinet that would be wonderful. For now I have to use her crib and not the bassinet we purchased.
Originally posted on gracobaby.com
Works fine
Fajitas . 5 months ago
It works fine. We used it for our first son and now our second. I remember now with the second what my problem was the first time. There seems to be next to nowhere to find new sheets for it. Our newborn is not up long enough for us to do laundry if his diaper leaks or he spits up, so backups would be nice.
Originally posted on gracobaby.com
Graco dream suite in mint
evguenia . 6 months ago
It was perfect as first "grib" for our son! And it vibrates. I could have it in the living room or bedroom and it's super easy to move, so babies bed is always where it needs to be

Originally posted on influenster.com
Great for our little one
QueenBee . 6 months ago
There are pros and cons to this bassinet. The cons are that it was a pain to assemble, the wheels lock on their own somehow which makes it hard to move, and the vibrate function didn't really do anything for my infant. But despite those issues, it really has been an important part of life as new parents. Our little girl has been in this bassinet since she was about 4 weeks old and sleeps like a dream. We have another bassinet and she outgrew it within a month and a half and was turning herself around while she slept. She managed to flip herself over in her sleep in the other bassinet which was scary, but in this Dream Suite bassinet she sleeps so safe and peacefully. Would definitely recommend this, or another similar model without the vibration function.
Assembly nightmare
19TB . 7 months ago
I've built cars that were easier to put together than this crap. Disassembly was equally as frustrating and it got thrown in the trash.
Originally posted on gracobaby.com
Not easy to assemble,
shureethanngbabee . 8 months ago
Not easy to assemble, bulky to move on carpet. Great space for baby. Nice storage area underneath.
Originally posted on influenster.com
Worried about safety
Shannon1112 . 10 months ago
We have been using this bassinet for our baby and have noticed that when in bassinet mode the bed is not level so our baby is either at an angle on his back or on his side due to this defect.
Originally posted on gracobaby.com
used mostly for diaper changes
Kymil . 11 months ago
We used this for our newborn until they could roll over it was the be at night to change diapers. Baby never cared for rocking or the vibrating but that's just because my child doesn't like that not the products fault lol
Ignore the complaints - BUY IT!!!
HappyFTMinCT . 1 year ago
Literally the MOST used item in our house as first time parents. My baby boy loves his bassinet for naps and night sleeps, and we love it too!! We roll it everywhere and everyday, from bedroom to office to kitchen to living room. The quality is superb. Beautiful and easy to clean fabric, washable sheets (or case I should say). The mattress is meant to be firm, plush wouldn't be safe for SIDS. My baby boy is chunky and already weights 15 pounds at 3 and a half months, so maybe this bassinet will be shortlived but it's worth every penny!! We did not use it as a changer, only for sleeping. Oh and did I mention my baby sleeps though the night ALREADY without waking up at 3 months? Yeah, this bassinet gets five stars from us!
Just Ok
ds1221 . 1 year ago
This bassinet it's flimsy and squeaky. The vibration and sound does not work in mine. The only thing I like it's the storage underneath.
nice . 1 year ago

good
jenniffer . 2 years ago
I bought this product I loved it super cute and very convenient!!
Originally posted on gracobaby.com
Weight capacity incorrect in specifications
Jskaf021491 . 2 years ago
We selected this product for our twins because it said in the specifications on this website that the capacity was 30 pounds. Now that our girls have gotten bigger but still only about 14 pounds I took another look at the warning label and was surprised to see it have a 15 pound weight limit!
Does the job
Michellemama . 2 years ago
We love the multi function of this bassinet. The mattress and changing flipper are my only complaints. Mattress is a bit harder than I'd like so extra cushioning is needed in my opinion. Also, I did find the flipper tough to handle in general although I did use it. Great for baby changer for living room or bedroom after bassinet use.
Great product
Elizabeth . 2 years ago
My son slept great in this, Vibrates strong and soothing for him. Cool feature to flip it and use the changing table. This was used up until my son showed signs of rolling. Definitely recommend this.
Decent
RaeJay . 2 years ago
Loved it at first but, didn't like how the vibration part wasn't working consistently. It was skipping the very first time I used it and it's very loud . All in all it's comfortable for my baby though.
A little defective but it's put together
2021 Mommy . 2 years ago
It's a nice idea. The put together process was a little unorthodox. Got a defective bassinet that won't allow me to use the changing table
Originally posted on gracobaby.com
Showing 1 - 20 out of 169 reviews