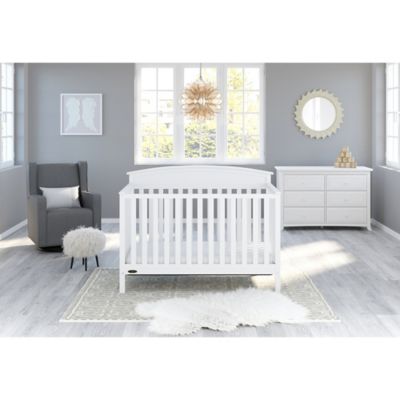 Graco® Benton Nursery Furniture Collection
Most Helpful Positive Review
Sturdy, affordable, beautiful!
MacMom
.
3 years ago
Great crib. We wanted a crib that fit a simple style in neutral tones, something strong and safe for the baby. Within a certain budget but still fit the above. And didn't drive us nuts trying to put it together! This crib was easy to assemble. It is strong and sturdy Light enough to move in necessary Single structure and safe for baby. Very happy with the item and extremely Happy with the price- as it was well below budget.
Most Helpful Critical Review
Not as high up as other cribs. That's my only issu
Bryleex4
.
3 years ago
Looking at it now and after having my baby sleep in it, the highest adjustable level is still low. I think if I were any shorter (I'm 5'6") I would have a problem laying my baby down in it. I do like the finish and how strong and sturdy it is. Hubby and I put it up together in about an hour. There was no way I could have done this pregnant because someone has to hold the pieces while another one screws in the nails. Not as easy as thy make it seem to be honest. Look at other convertible cribs compared to the Benton and you will see some that have a higher first adjustable level. You can see in pictures but I never paid attention to that until after using it.
customer reviews
Showing 1 - 20 out of 177 reviews
Beautiful crib BUT dissapointing
Mtmaz . 2 weeks ago
The description is misleading. Like many other parents I too believed I would have received the whole conversion kit, I did not. And now it is impossible to find the matching toddler rail! It's a shame since graco has a great reputation but this is just disheartening.
Originally posted on gracobaby.com
Useless Product
VAnnoyed . 2 weeks ago
Let's try this again, since Graco seems to censor honest reviews that point out their flaws. I'll echo all of the other comments that this "4-in-1 Convertible" crib is extremely misleading. Especially since the piece to convert it into a toddler bed does NOT exist. Since I can't convert this bed, I now have to buy an entirely new one.
Originally posted on gracobaby.com
Misled
Red914 . 3 weeks ago
This was great as a crib but now my son is at the point for conversion to toddler and the pieces are no where to be found. Bought this crib because of the 4 in 1 conversion but that is not the case. Upset and disappointed at what was at first great but now a unnecessary headache.
Originally posted on gracobaby.com
Not actually convertible.
Done . 3 weeks ago
Just like everyone else, purchased this with the intent that it would grow with my son. It does not convert to a safe toddler bed, there is no bottom rail to attach the safety rails to. This is a crib and a daybed, but certainly not a toddler bed.
Originally posted on gracobaby.com
Ugh!
shartsley . 3 weeks ago
Love this as a crib, but like many of the other reviews as soon as I went to convert it everything changed. I ordered the roll guards or whatever you want to call them and when I went to attach them I realized that the lower support bar comes off and there's no way to replace it and no way to attach anything to keep my toddler from rolling out onto the floor. I have multiples and the other version I have converted easily because the frame appears to be totally different. I absolutely cannot just leave my 2-year-olds with an open side to his bed, he will roll right off. Certainly do not purchase this if you are hoping to have this grow with your child.
Originally posted on gracobaby.com
Terrible smell, even worse customer service
BB&B Customer . 1 month ago
The product was difficult to put together, but overall as described. Terrible smell that won't air out after 3 months. Therefore did not feel comfortable with keeping it with our baby in the same room. Customer service extremely difficult to deal with.

Originally posted on bedbathbeyond.com
Came with use chunks missing
BB&B Customer . 2 months ago
Not sure why bath and beyond doesn't inspect their products before sending it off I'm about to give birth and this is very annoying that it came with pieces of chips and paint missing shame on u

Originally posted on bedbathbeyond.com
Disappointed
Sbmr . 2 months ago
As everyone else has connected, the crib was fine until we needed to covert it to the toddler bed. The packaging was very misleading and the crib does NOT include the necessary toddler rail. Not only does it not include it, as the packaging indicates, but I can't find the rail to purchase anywhere! The few Graco universal toddler rails that I have found specifically state that they are not compatible with the regular Benton crib. I'm really not sure what to do at this point, as my son is exceeding the height limit, but I need a safety rail on the front.
Originally posted on gracobaby.com
Damaged product provided
Ekta . 2 months ago
Spring support was delivered damaged

Good crib but not convertible.
DurhamDad . 2 months ago
Good crib but cannot figure how to convert to a toddler bed. As other reviewers mentioned, there isn't a conversion kit available that we can find. This worked fine as a crib, but we would not have bought it if we knew it couldn't convert as advertised.
Originally posted on gracobaby.com
Should've read these reviews first!
Diana G . 3 months ago
I was getting ready to convert this crib into a toddler bed for my daughter and came here to get the instructions on how to do that only to find out that it doesn't actually turn into a toddler bed! This is so incredibly misleading smh.
Originally posted on gracobaby.com
Chipped Paint
Paige and Brooks . 3 months ago
Paint chipped easily and disappointed that the transition pieces are not included. Very misleading.

Originally posted on gracobaby.com
Not what it says it is
Benton Graco Crib . 4 months ago
This was ok as a crib but when it comes to being a toddler bed it says in the instructions that the stretcher bar is used like it is included… it's not included.. I actually don't even see holes for where you could secure it in…… what am I to do now? It's very flimsy and just an open front… graco this is not what I ordered
Originally posted on gracobaby.com
Annoyed
Kkppmm . 4 months ago
Highly annoyed with this product, now that it's time to covert to toddler bed I can not find a conversion kit and the rail is not included. Truly disappoint
Originally posted on gracobaby.com
Misleading
Sydney10 . 4 months ago
For one the paint chips really easily. It was chipping just from leaning over the sides to put my son it it and now I find him with paint chips around his mouth. But the most misleading part is advertised as a 4 in 1 but doesn't come with any of the parts to make it such nor can you buy the parts anywhere. I 100% would never buy this crib again.
Originally posted on gracobaby.com
Does not come with toddler rail
Tiffany13131313 . 4 months ago
This crib does not come with a toddler rail. There is no rail that is compatible
Originally posted on gracobaby.com
Conversion Kit Nonexistent
RobW . 4 months ago
As the other reviews stated, Graco falsely claims that the crib will grow with your baby, when its does no such thing. The conversion kits are non-existant. We had 2 babies in a row and our youngest is now ready for a toddler bed, but Graco left is high and dry. i wish I would have checked the reviews prior to my purchase.
Originally posted on gracobaby.com
Ok for price
Maria 3 . 4 months ago
It looks nice for the price but very flimsy and directions not very clear for assembly. The panel on the tall piece is very thin, slides in on sides. I would have rather spent a little more and got a better product. Railings are thin and a couple had small chips. Overall quality is why I gave it 3 stars.
Originally posted on gracobaby.com
Too loud for my child
Evan keellyy . 5 months ago
I was expecting a little more from this company and will certainly be expecting a refund. This bed is more creaky and loud than your grandma's back porch door. Any amount of weight shifting on it results in my daughter waking up.
Originally posted on gracobaby.com
Damaged Part Sent
BB&B Customer . 5 months ago
One of the rails is broken
Showing 1 - 20 out of 177 reviews