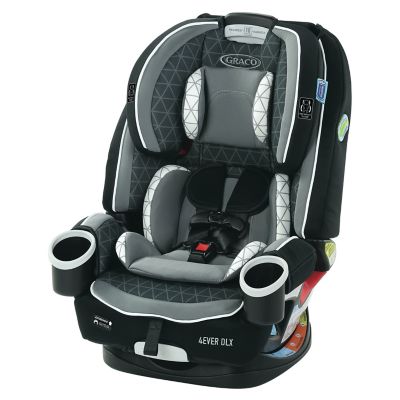 Graco® 4-in-1 Convertible Car Seat 4Ever® DLX in Drew
Most Helpful Positive Review
My thoughts
purplelove
.
8 years ago
I bought these 4 months ago and I love it Great seat for extended rear-facing, will fit my daughter until at least 4 year old, and will then be able to use all the way through her booster Easy installation with LATCH and seat belt.Only reason it is a 4 instead of a 5 star rating is that the adjustable head rest sticks out farther than the rest of the seat. In rear-facing position, if you use the extra bottom cushion, it helps out positioning a lot so that their head doesn't fall forward when they are sleeping. I hope they fix this in later versions of this seat.saving up to purchase another one for my parents so when they have my little one
Most Helpful Critical Review
Cadilac of car seats
Jessie
.
8 years ago
This is a really nice, reliable, sturdy, safe car seat. HOWEVER, i wish it was actually a car seat you can take out of the car. This is more of a take the baby in and out of the car without the seat going with you.
customer reviews
Showing 1 - 20 out of 3519 reviews
Great features total comfort
Amberlynn2000000000000000 . 4 weeks ago
I bought this a few months ago and I'm glad I did my kiddo has enjoyed car rides alot more and keeps saying thank you and saying how comfortable it is Definitely recommend
Originally posted on gracobaby.com
Not at all happy with this purchase
BuckeyeJames . 4 weeks ago
This does not work in a rear facing position. I read the book and watched a video on how to properly install this. I have two other seats that are excellent from Graco. This is by far my worst purchase yet. It will not secure tightly. It moves 4-6 inches up and 2-3 inches side to side.
Originally posted on gracobaby.com
Snuglock is the best!
JMtz . 4 weeks ago
The snuglock feature makes installation easier. We tried other car seats but they didn't have it. We kept this one because of that.

Originally posted on gracobaby.com
Great car seat, just a touch big.
Grateful Dad . 1 month ago
This is an excellent car seat and its versatility for use as our child gets bigger/older is fantastic. Right now it is being used rear-facing and it was very easy to install. We've also had to wash the cover after a carsick incident and they came off and went back on easily, which is a huge plus. The only reason I'm not giving 5 stars is because it is a large seat and will only fit in our Hyundai Elantra and Toyota Corolla (we bought 2 seats to put 1 in each car) if it is in recline position 1-- the bubble is in the safe line-- and made me adjust my driver's seat so that I have to sit in a uncomfortable upright position when I drive. It's not the car seat's fault that it is a little too big for our cars, so overall we are very happy and would buy this again, but want to let other parents and would-be buyers know that it's a tight fit in a normal sedan when rear-facing.
Originally posted on gracobaby.com
Would not secure. Disappointed.
CCD1234 . 1 month ago
Would not tighten at all in the car. Best way I can describe is imagine a zip line that's 5 ft long, and you string along a 3 ft "car seat." The other 2 ft of slack allow the car seat to move from side to side. That is what occurred with both this seat as well as the slim. No matter how tight I had it installed, it still slipped from side to side. It also lifted on the back end that was closest to the front seat where adults sits. Meaning, if I were to accelerate rapidly (unrealistically, but not so much if I were rear ended at high speeds), the seat would lift off at it's rear and the child's face would launch towards the actual vehicle seat. I know this is hard to describe via text and not seeing it, but hopefully this makes sense. Very disappointed, as we totaled our car years ago and our daughter walked away with a minor abrasion because of her amazing Graco. Wish this would've worked.
Originally posted on gracobaby.com
Amazing l!
MP2022 . 1 month ago
[This review was collected as part of a promotion.] I have two of these one in my husbands car and one in my car. Since it is convertible we are able to adjust the seat to the child that needs it. We have a two month old and a two year old. At times we have to go separate places so we will never be left without a car seat for one or the other child. If one of us taking both kids it is easy to move both seats to the same car with how easy it is to install in the car.
Originally posted on gracobaby.com
Great transaction easy and smooth
BB&B Customer . 1 month ago
It was a very smooth transaction and a fast delivery.
Great 4 in 1 carseat
Maryellen . 1 month ago
Perfect carseat made to last many years from infant through booster seat needs. Easy to clean. Sturdy construction. Safety features.
Never fails
Jennifer . 1 month ago
Been using this exact car seat style/brand version for all my kids. I recommend it forsure. My friends have purchased and love it! Will be purchasing for our son too.
Carseat must have
Maryellen . 1 month ago
This carseat is well constructed to last for many years as the child grows. It transforms easily from rear facing to forward. Easy to clean. Great value.
Awesome
Motor101 . 2 months ago
Very safe and worth every cent. Safety first and maximum efficiency.
Originally posted on gracobaby.com
Deluxe car seat
Kelson . 2 months ago
Pricey but a very reliable Car seat that allows for growth
Originally posted on gracobaby.com
Awesome seat veru comfy
Dude mike . 2 months ago
Love it! This is the second one of this model ive baught.
Originally posted on gracobaby.com
great car seat
camila . 2 months ago
I love it! It has a lot of space for my 18months old. It allows him to stay confortable during our trips. I definitely recommend this seat.
Graco family great brand
Goforth . 2 months ago
WE bought our 1st graco 5 yrs ago- for our second son we bought Graco again !! I have had this carseat for 3 years now. We just transitioned from back booster to backless booster! Great value,great safety rating overall this is a wonderful product. I recommend to any new family.
Originally posted on gracobaby.com
LiTom . 2 months ago
we loved this car seat , baby friendly and has everything i wanted
DO NOT BUY
Alexa . 2 months ago
This car seat is extremely difficult to tigthen. It is not user friendly at all. It is a major safety hazard. I have used a few other car seats and definitley do NOT reccomend this one!!!
Great car seat
Vicki0004 . 2 months ago
Cat stay is great material doesn't hold up well though been over a year teying to get replacement covers never have them in stock.
Originally posted on gracobaby.com
Worth it!
Kbaldi . 3 months ago
My friends recommended this over the Nuna and we're very happy with the purchase!
Originally posted on gracobaby.com
Worth the money
KBini . 3 months ago
Super easy to set up and get the baby into/out of seat.
Originally posted on gracobaby.com
Showing 1 - 20 out of 3519 reviews