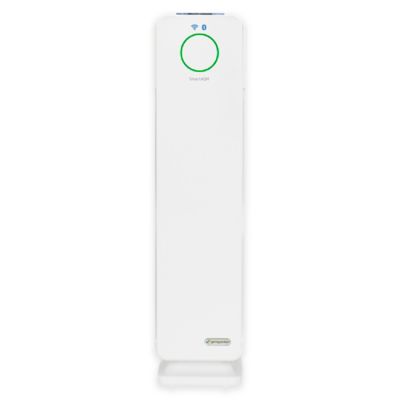 GermGuardian® CDAP5500WSP Smart Air Purifier 28-Inch Tower with True HEPA Filter and UVC
$215.99
Get 20% off your entire purchase with coupon!
Enroll Now
customer reviews
Showing 1 - 8 out of 8 reviews
BB&B Customer . 2 years ago
Very quiet, automatic setting works great. Easy to clean back of filter. Lightweight.

Originally posted on bedbathbeyond.com
Very happy
Kenyagirl . 3 years ago
The most quiet air purifier I have ever owned. Does exactly as stated.

Originally posted on bedbathbeyond.com
Meh.
Heather . 3 years ago
Not sure if it really does anything. Would be nice if it was a humidifier too. Also, it say you must by filters from their customers care so goodness knows what that will cost. Also, has trouble being controlled on my phone when I am out of the house. No alerts happened when it was reading 397 parts per million... seems like it should have told me before I noticed it.

Originally posted on bedbathbeyond.com
Good air purifier - can add some improvement
Kums . 4 years ago
Overall seems like a good air purifier. I am not sure how much it is helping my allergies, as I always see good air quality (green ring) in my house. I think it will definitely help if air quality is bad. When you install the app I HAVE TO ALLOW TURNING ON LOCATION or it won't connect to purifier. Once connected, app works good for me. Since it is in tower shape (not wide) it will fit in tighter space. It also looks good. Some suggestions for improvements... * support automatic scheduling (including fan speed setting, uvc light) based turning on/off purifier * App can get notification whenever air quality is bad (even when turned off) * When in Auto mode, it should turn off/on the device and not just the fan speed only. * Unit sucks air from back and blows out on side, after filtering. This is good for winter. If there is an option (like knob) to close side outlet and open outlet in front, it can serve as fan also in summer. * support oscillation

Originally posted on bedbathbeyond.com
Cleans the air quickly!
LakeGirl12 . 4 years ago
This product fulfills all promises. I thought I could control it remotely but must be in my house for the BT connection to work.

Originally posted on bedbathbeyond.com
Great features
doll . 5 years ago
This GermGuardian HEPA air purifier was an excellent purchase. I recommend purchasing it for quality air in your home.

Originally posted on bedbathbeyond.com
Johns2 . 5 years ago
This exceeded my expectations!!

Originally posted on bedbathbeyond.com
Works great, needs a couple of design tweaks
TB49 . 5 years ago
This air purifier is easy to set up (I connected it to my wi-fi) and easy to use. The highest setting is noisy, but the lowest setting is super quiet, which is perfect for nighttime or a baby's room. I like that it visually displays the level of particles passing through it as it filters the air, both in number (on top of unit display) and in color (of the ring on front of unit). I definitely feel like it's cleaning the air in my home. The only changes I would suggest to the manufacturer for the next model are 1) provide an option to dim all lights on the unit, as the very bright lights are disturbing to light sleepers like myself who need a dark bedroom and especially want to run the unit at night, and 2) make the unit oscillate, so as to filter a broader range of air without needing to move the unit around the room.

Originally posted on bedbathbeyond.com
Showing 1 - 8 out of 8 reviews