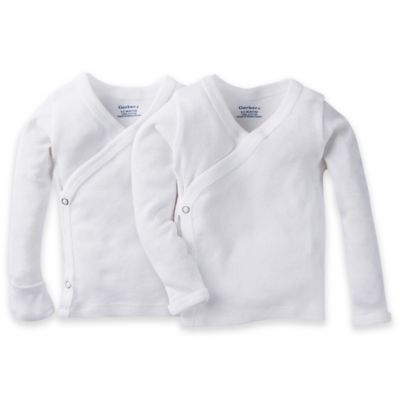 Gerber® Newborn 2-Pack Side Snap Long Sleeve Shirts in White
$13.50
was $18.00
(25% off)
$10.80
Get 20% off your entire purchase with coupon!
Enroll Now
customer reviews
Showing 1 - 16 out of 16 reviews
runs way too small
MMOm . 9 months ago
Got a similar item by Carters for 0-3 months and the fit is much better. Similar length but arms are way too skinny to get baby in and fold over cuffs are miniature.
Shrunk
Kelsey . 3 years ago
Love the style, but shrunk after washing and drying. I would recommend going a size up.
Disappointed
Ani . 3 years ago
No fit on 1 month baby
Shrunk in dryer.
BabyTaeMom . 3 years ago
Like these for the included mittens only due to my baby not keeping regular mittens on his hand. I got a size larger & they shrunk in the dryer, he can barely fit them anymore.
Great for newborns
SallyE . 4 years ago
These are terrific for the first few weeks home with a newborn, especially since they have the built in mittens. They do run rather small, but you can stretch them out a tad if they're too snug.
Size issue
Dj123 . 4 years ago
Became too small with one washing

Originally posted on bedbathandbeyond.ca
Great quality!
Debbie . 4 years ago
Wonderful product, well made and super value!
Great
Jody . 4 years ago
Happy with it bought this awhile Now
nice design
Sakal123 . 5 years ago
The material was soft and the design was convenient and comfortable. Giving 3 stars only because one of the shirt had flaw. It had a hole in it. May be that was the only defective piece.

Originally posted on bedbathandbeyond.ca
Just like what the hospital has
SamanthaL . 5 years ago
We were in love with the simplicity of the shirts that the hospital had during our stay after our baby was born. They are so easy to get on, are not tight up against the bellybutton area while the umbilical cord stump is there so that's nice and the bonus is that they have the built-in mittens which are so essential when newborns are constantly scratching themselves. I was so happy to find these. Our newborn lived in them for the first several weeks.
CHEY7891 . 5 years ago
I bought these in the 0-3 month size to make taking care of my newborn easier... I ended up putting them away because they weren't practical as I expected. The sleeves were too tight and long, which meant I had to try stretch the material and it wasn't working for us. The shirts also could have benefitted from better placed studs. I ended up going with another brand.
HNML . 7 years ago
GREAT for easy and quick changes with only 2 buttons. The arms are very long though.
Awesome for sleeping
kately9999 . 8 years ago
I only wish they made these in bigger sizes. My little one has been wearing these under his sleep sack or swaddle from the beginning. They make diaper changes a breeze, keep his tiny arms warm, and ensure he's not wearing too many layers for sleeping in our warm climate. Love these!
Like others have mentioned...quite small for size
MAN24 . 8 years ago
I have washed these once and am still awaiting the birth our little one so am unsure if they will actually fit. I bought 0-3 months and they do not seem true to size for a newborn. They are quite small and seem even smaller with one washing. (I did not even put them in the dryer.) I would go with Carter's undershirts instead as they seem higher quality and more true to size.
Best Clothing for New Born Baby
NewMommy08033 . 11 years ago
As a new mom, I find these cross-over shirts priceless! For my little boy, he's extra long so he doesn't come close to fitting into the little body suits. Plus the t-shirts do not rub against this umbilical cord and I don't have to pull a shirt over his head! If only these shirts came in different colors / prints and could be found in the stores!
Must Have
Megs098 . 12 years ago
I loved these when my little one was a newborn! Very nice!
Showing 1 - 16 out of 16 reviews