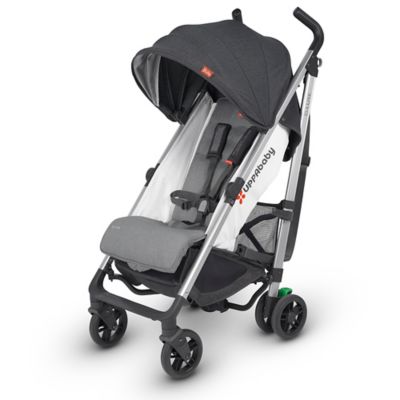 G-LUXE® Stroller by UPPAbaby® in Jordan
Most Helpful Positive Review
Lightweight and quality made
Tinytopaz
.
4 years ago
Just purchased as we needed a light weight stroller now that our son is older (15 months) and I've always wanted to try uppababy... you won't be disappointed! We love everything about it, from self standing, one hand recline, one push lock, and the sun visor. Everything we wished our full size Chicco Viaro had... next stroller will definitely be the Vista!
Most Helpful Critical Review
Wish I had waited to open
Kimberly
.
4 years ago
I received this umbrella stroller as a gift when my daughter was first born. I didn't have the intention of opening it till she got older because I wasn't sure ultimately if this was the stroller I wanted for her. I unfortunately had to open it early and lend to my sister-in-law for my 18-month-old niece while they were visiting from California as their stroller was lost in transit. At that time my daughter was not even six months old. We also own uppa baby vista so while I was hesitant to open the glux I figured at the end of the day I would end up loving it as much as I love the vista. I am saddened to say I was wrong. My daughter is nearly a year old now and there are definitely some things about the stroller that I don't love and wish I could return it. There is no snack tray to purchase as an add-on attachment, while we love the recline that the stroller offers I wish the canopy extend it further to help shade her while she is both Sitting up and laying down. I wish the handle bars were adjustable to reflect my and my husbands height difference. The open and close mechanism sticks when I try to use the stroller and I need my husband to help me open it which defeats the purpose of having a lightweight stroller for "easy use". Overall while it is a fine stroller that is sturdy and safe it might not be worth the money when there are other brands that offer more for a bit less.
customer reviews
Showing 1 - 20 out of 37 reviews
Incredibly hard to fold
Sarah . 5 days ago
I hate this stroller if I'm being honest and being nice by giving it 2 stars and that's only because my son is comfortable and loves to take naps in it. It is so, so, so incredibly hard to collapse and is incredibly frustrating. I wish I looked into a stroller that collapses more easily. On top of that it's still, so big when it folds and is very heavy to move around. I should've known better because I don't love how my Uppa Baby Vista folds and that is also incredibly heavy. I wish I avoided Uppa Baby all together!

Originally posted on bedbathbeyond.com
Diane . 2 weeks ago
Great light weight stroller's
Not easy to travel with!
Traveling mama . 4 months ago
I have the mesa and the vista and love them. So I figured I'd try this for a travel stroller option so I don't have to take my vista to the airport. The g-luxe is NOT easy to take on airport travel. The opening takes some effort. And to close, it 100% requires 2 hands and to bend over to fold up. Which, when flying alone with an infant is impossible unless you're putting your child down on the ground or a chair. It was really challenging and really makes me regret not doing more research in airport friendly strollers. It's also not light. And the under storage basket area is a joke. Sooo small, and you can't fit anything if the seat is reclined. In fact, if your basket is being used for storage it impedes it from reclining. When folded up it is al long as the vista folded up, so it's not much if a space saver. It Does feel well made and I do like the recline option. But My advice, save yourself the headache and try something else!
very convenient
MJMK . 5 months ago
At first it's a bit hard to fold but after a while you get the hang of it and it gets easier. I like the fact that you could fit almost everywhere you go. The only thing that will make it a five star is the wheels, they are okay but but it would have been great if the wheels were more resistant like bicycle wheels.

Great for a nana
Nana . 5 months ago
I bought this stroller when my first granddaughter was born. It didn't get much use with her as I worked and she was in daycare. I would use it if I picked her up as she was too heavy for me to carry. I retired and now watch my second granddaughter full time. I can not even express how much I love this light weight sturdy powerhouse of a stroller. I use it daily! It is easy to bring everywhere and she loves to ride in it. The basket is perfect for a diaper bag and snacks and the cup holder carries my extra large cup of coffee. It rides smoothly and tackles bumps and I brought it to the beach and it made it over packed sand. I love that I can buckle her in and I can recline it for a rest. Now for what I don't like, it is a bit difficult to open, I really have to step hard and exert pressure on the pedal you step on to open it. And closing it requires 2 hands and a bit of coordination, once it clicks it folds easily and locks when closed, making it easy to carry with the attached strap.. I wish I could attach the little step on rider for my five year old granddaughter when she doesn't want to walk. Even a foot rest made of the heavy rubber in the front, one on the back to stand on? All and all, I love it!
Cute & Sleek Looking
Crystal . 6 months ago
Super Cute! Easy to fold and put away. Glides, love the strap incase you need to carry. Rides super smooth. My daughters has 5 strollers and more expensive then this one and this one is her favorite. 2yr old approved. Keep in mind it is smaller with less storage space but an awesome every day stroller
Love it!
Reyes . 7 months ago
I love this stroller - lightweight and easy to carry!
Lightweight stroller
Gina . 7 months ago
This is the perfect second stroller to have for quick uses. It is very lightweight and very easy to manage.
Liked until the Pin Popped Out
BB&B Customer . 7 months ago
I really was loving how sleep this travel stroller was. I have the vista and wanted something for Disney . I was bummed it didn't come with a travel bag but the biggest issue is the trigger pin popping out. I'm going to have to contact the manufacturer but the pin to collapse the stroller on the handle came loose and it won't work without it. Fell short of expectations. I like how it drove but for $200 I'm not impressed.
Love it
Mrs. C . 8 months ago
We brought this as a lightweight option for our little, her other stroller is heavy and we will be going on some family vacations this summer and need a stroller. We love this stroller and so does our daughter, we've taken walks in it and she enjoys the ride not to mention its super stylish. The denim is gorgeous and its easy to use and maneuver

Perfect for older kids!
BB&B Customer . 9 months ago
We purchased this stroller for our 4 year old who has mild cerebral palsy. She had outgrown her bugaboo bee but still needs a stroller as she can't walk long distances (theme parks, zoo, etc) due to her CP. This stroller is perfect! Sturdy, yet not too large. Weight goes up to 55lbs (she's only 36lbs right now), easy to push, reclines if she needs to nap, large canopy, pocket on back of hood is perfect to hold my phone and keys, and a cup holder! We are so happy with this purchase! It's exactly what we needed for this next phase with our older toddler!
Perfect transition stroller for baby
CarinaLoAn . 10 months ago
This lightweight stroller is awesome! It has a friendly height, so I don't feel like I'm hunching over to push. It's easy to fold and carry. The seat lays down further than I expected. The wheels glide nicely too! I love this stroller!
Good stroller for small baby
BB&B Customer . 1 year ago
It's well made and I love it till that moment I cannot put my kid in because the harness is so short and not too much space to adjust. That's the only problem keep me from keeping this stroller but return. I would still keep it if they give me a longer harness but they don't have it.
Impossible to fold up
BB&B Customer . 1 year ago
This is a very comfortable, well made stroller with a fatal design flaw. To collapse the stroller you have pull up using these finger loops on the back of each handle. It's impossible. Because you're essentially only using your hand strength to pull the tiny loops up it is very difficult to do. My husband could eventually do it, but it was hard for him. I was never able to do it. I returned.
Great inexpensive stroller!
Sue . 1 year ago
We bought this stroller to use at our beach house and on the beach! It is easy to put up and down, the seat lays down for a young baby, lightweight and has a shoulder strap.
Great Lightweight stroller for taller parents
BB&B Customer . 1 year ago
My husband and I went to the store to look for an umbrella stroller that was sturdy and not so low. We also wanted something that reclined all the way back and had a good sun canopy. This one was perfect and it has met our expectations.
A happy camper . 1 year ago
A great everyday and travel stroller for toddlers. The wheels glide along the surface for a smooth ride and easy to push experience. Only negative is that the stroller can be hard to collapse with the release mechanism for easy storage.
Closing
Lynn . 2 years ago
This is the most frustrating stroller to close! I don't use it because it's a nightmare to close!
Best Stroller
Janet . 2 years ago
Super lightweight and very nice. My son loves it. Should've bought it earlier.
Pros and Cons
Valor's Mama . 2 years ago
Pros: Seat width 14" Back rest length 20" vs 17" like majority of others 2 Year warranty vs 1 year or less for other strollers Handles are tall enough for persons 6'3" Wheels are easily detachable Seat can be laundered Cons: Must push stroller with extended arms or you will constantly kick wheels (may be the same for all small strollers) Black Jake is not available anywhere and the grays and whites are likely to get dirty easily No peek a boo hole Canopy is thin and not waterproof ($20 rain cover only covers front of stroller, not back) No stroller bag for traveling (extra $70 but includes stroller protection) No snack holder (I attached a Munchkin Brica Deluxe Snack Pod) My son was 26 months old when he outgrew his Graco Travel System stroller and we currently use a Graco jogger. But the jogger is quite large and now we need a smaller stroller for flight travel and may possibly even become our main stroller for theme parks, zoos, errands, etc. The main reason I decided on this convenience stroller was because of the back rest length. My son is in the 80th percentile in height and there is plenty of head room and was in my budget of around $200. I sat my son in the $400 Minu and the back rest length is only 17" and has a strap to adjust the seat up and down vs a handle. Though this is significantly bigger than the Minu when closed, my son is comfortable and will last me 2 years.
Showing 1 - 20 out of 37 reviews