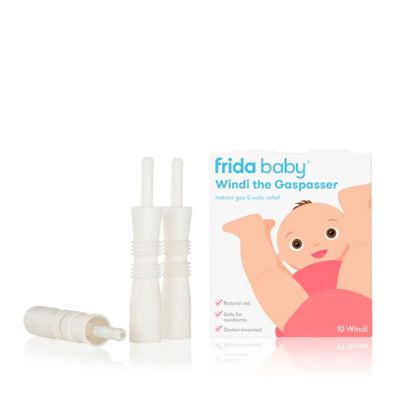 fridababy® The Windi® Gas & Colic Relief
Most Helpful Positive Review
I'm a believer now
Acuna Mama
.
6 years ago
Clearly the idea sounds like torture, as I thought especially since my 6 wk old baby girl screams bloody murder while getting a recital temperature taken at the pediatrician office. I didn't feel comfortable with thr idea of this product. But I tried everything....drop, tablets, rubs, colic holds, bicycling legs, additional and frequent burping. Yet she still curled up her legs and screamed in agony from a hard tummy. The second I inserted the Windi...the whistle! And a long whistle I heard reliving so much air. She is a different baby now. My gosh, I am a different new mom bc I don't know what to do with more sleep.
Most Helpful Critical Review
Pricey for little relief
DRDR
.
6 years ago
These worked, but very temporarily. You'd have to leave this in place for 20+ minutes for full effect. Aren't supposed to reuse these, so could easily spend a lot on these.
customer reviews
Showing 1 - 20 out of 147 reviews
I love this product!!!
Alyssa24 . 2 weeks ago
My two month old was on her fourth day of not pooping and I tried literally everything! I was told about this and went and bought it this morning and used it. It works amazing she finally pooped with the help of the gas passer!

Originally posted on fridababy.com
Waste of money
Milab . 1 month ago
I've used this on my baby twice and nothing happened, no whistle, no gas, no poop. Disappointed that I spent money on this and it didn't relieve my babies gas. I had high hopes because I've purchased a lot of products from this brand and pretty much everything else has been great so far.

Originally posted on fridababy.com
A lifesaver!
Kk1121 . 2 months ago
I was desperate to relieve my baby's pain from constipation and this was my last resort. After almost 3 days with no poop we finally had a big poop come out. He feels so much better and this momma can breathe. I'm very happy with this product.

Originally posted on fridababy.com
Instant relief
ziggy_starr . 2 months ago
I have been up since 3 in the morning with an inconsolable, gassy 6 week old. For whatever reason I had been avoiding using this product, but had tried everything else. Feeling desperate I decided to try this out and I am relieved to say it worked instantly! He seemed to be not only gassy, but also constipated and this helped pass his gas and poop. We listened to the suggestion of another reviewer to put a towel down instead of relying on just a diaper for the mess. I think the diaper would have been cumbersome. I had to insert it a few times to get everything out, but it really did work. We are all relieved, especially the baby!

Originally posted on fridababy.com
MUST HAVE
Alee . 3 months ago
This is a life saver. Must have. It helps a lot when your baby is colic or is having trouble pooping. I have a colic baby and modified my diet a millón ways trying to figure out what made him colic and this helped a lot while I was figuring out what was upsetting his stomach. ******** Before using it, press your babies knees again chest 10 times, then one knees each side and then move their leg bicycle motion before using the gas passer. It won't work if you don't. ********
This is a life saver!
Mayrow . 3 months ago
My 7 month old daughter has been crying for hours at night, arching back and rarely do I hear gas, the cries were so bad that I thought there was no way this is gas. After trying every medicine to soothe her nothing worked I look in my cabinet and saw where I had purchased this item a little while back and thought I would try it, after inserting it I could hear whistle but I was a bit discouraged because it didint seem like much but apparently it was enough because when I put her diaper back on she was playing happy again and I put it to the test and tried to put her to sleep because normally it's when I lay her down she arches and screams and none of that this time!!! She later down closed her eyes and went right to sleep, I'm honestly so surprised how well this works and honestly saved us a trip to the ER, so if your baby is having some of the same symptoms I recommend this!!!! And even if you think nothing is happening silent air can also move and she still had relief!!

Originally posted on fridababy.com
Instant Relief
VCohen88 . 4 months ago
Highly recommend this amazing product. I received this as a gift and it came so handy for my 6 week old baby. She was so clogged up and looked so irritated. The product was easy to use and she had INSTANT relief! Worth every penny. I literally recommend to all moms on BabyCenter app as well.

Originally posted on fridababy.com
BUY THESE!
Mama1922 . 5 months ago
If you've made it this far in your research of these, just stop what you're doing and buy them. I had my dad run to the pharmacy yesterday evening and get me some because my 5 week old was screaming in pain for an hour and refused to eat. It did take a few belly massages and insertions to get it to work, but WOW what a difference! He passed gas, pooped, and went to sleep. I just used another one with the same result. He's a CMPA baby in the process of switching to soy, so his belly is confused and upset, but these suckers work like a charm! I will always have them on hand from now on!

Originally posted on fridababy.com
Frida's Windi Gaspasser
Cree . 5 months ago
Let me just say this…. To this invention thank you. My LO is 7 weeks old going through colic, hadn't passed a bowel movement in 3 days. We tried everything the doctor was saying nothing was working. So a little more research on my own and found this product. I was skeptical at first but it was worth the try to relieve my LO. Definitely have a towel not a diaper (depending on how backed up your lo is) ready to go. It was a huge relief for him and definitely dad and I. He's smiling and moving like his normal self. Definitely worth buying.

Originally posted on fridababy.com
WORTH EVERY PENNY!!
NewMomOnTheBlock . 6 months ago
My 7 week old has been dealing with colic/gas issues since birth but this is by far the worst he's ever been. He continued to straitened his legs out and his stomach was as tough as a board. I've never heard him scream like this from gas pain. I remove red that I had recently bought the Windis as a last resort and I'm so glad I had them with me! I inserted the windi and it was unbelievable how much gas was released. My baby immediately quit crying and was able to nurse without difficulty. I will ALWAYS have this item stocked in my house! 10 out of 10 HIGHLY recommend. Your baby and your sanity will thank you later for making the purchase!

Originally posted on fridababy.com
Amazing product!!!
brena20 . 6 months ago
Take all my money!! I was skeptical of this product at first but after watching my colicky son suffer with some constipation and gas pain, I decided to give it a try and thank god I did! Within seconds of inserting the tube so much gas and poo came out and kept coming for a couple of minutes and my son was relieved and able to fall asleep. I will be buying tons more to have on hand and will be buying for any mom's to be ! Thank you for making my son feel better!

Originally posted on fridababy.com
Highly Recommend!!!!!!
LeeBee . 6 months ago
My LO is 6 weeks and he was fussing and grunting all night. His little belly was hard and didn't care to eat. Haven't had a bowel movement all day. I grab the Windi I brought over a week ago. Follow the direction step by step inserted the Windi didn't hear a whistle the first time just as I was going to try again, could pull the diaper up fast enough. Yes I was squirted on. Nasty.....yes.....Happy Baby.....YES!!!!!!!!

Originally posted on fridababy.com
It actually works!!!!
Dayna518 . 7 months ago
I hated the idea of this product for so long someone bought me a few of them for my baby shower and I never used them but my daughter is 2 months now and she has really bad colic problems nothing I did ever helped but one night she was in so much pain I decided to give it a try and it INSTANTLY worked and my baby was able to go to sleep so relived ! I will be using this product on my future kids too I absolutely love it

Originally posted on fridababy.com
Works great, better than all the drops and waters
JoeS . 7 months ago
Our little man gets really gassy sometimes, and the fussiness just won't stop. So glad a friend bought us some of these, they work great, and it's really, really fast. Just make sure you put down a pad, we've been using puppy training pads to catch the mess. Definitely recommend.

Originally posted on fridababy.com
I love the Windi.
Nickname1993 . 7 months ago
My son is a little over a month old and has colic and is lactose intolerant. I used the Windi to help with his trapped gas and it also helped with his constipation.


Originally posted on fridababy.com
Ten out of Ten
Jerastina . 7 months ago
Buy it. My husband and I swear by these! We don't go anywhere without them!

Originally posted on fridababy.com
The best for Gas Relief
Nivetha . 7 months ago
I am a first time mom and I did not have anyone to help me due to covid. My baby started screaming when he was 1 months told/ we tried everything possible to make him stop him but he was crying for an hour. That is when we decided to use The gaspasser. It gave my baby instant relief.I would recommend this to everyone

Originally posted on fridababy.com
JUST GET IT. YOUR LITTLE ONE WILL THANK YOU.
Happy Mama . 8 months ago
I bought this months ago when my daughter was first born. She was constipated; we hadn't found the right formula for her yet. My husband drove an hour to the closest store that had them. And let me tell you, it was well worth the drive. She had been constipated for 2 days and as soon as I inserted the Windi, heard the whistle, then took it out, it was like the flood gates opened. She was able to poop instantly. Ever since then I've used this product when she is constipated and it works like a charm every time. Luckily, it's finally in my local store. No more driving an hour when we run low!

Originally posted on fridababy.com
Last resort turned holy grail!!
Lane . 8 months ago
My baby is 10 weeks old and we had to use a different formula than usual to supplement with. After about 3 days worth of half said formula and half breastmilk bottles, he became stopped up pretty bad. I tried everything from bicycle legs to a warm bath and nothing seemed to help my baby. I finally gave up and decided to use a Windi even though the idea made me nervous. Flash forward about 10 minutes I heard a whistle (sounds kind of like a tea kettle) and IT WORKED. You could see the second it relieved him and within 5 minutes he was sound asleep. We will definitely use these again if the situation arises!

Originally posted on fridababy.com
Awful didn't work
Stefaniea1 . 8 months ago
I just tried it with my son. Did nothing. Such a waste of money!!!

Originally posted on fridababy.com
Showing 1 - 20 out of 147 reviews