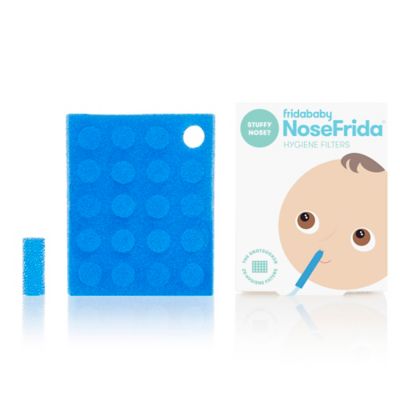 Fridababy® NoseFrida® 20-Count Snotsucker Nasal Aspirator Replacement Filters
Most Helpful Positive Review
A literal life sacer
Moonmovingsoul
.
6 years ago
As a registered nurse I would like to talk about how important it is to clear the nasal passage of a young baby. Babies are nasal breathers. If the passage is blocked up with mucus a baby will usually refuse to eat because the natural instinct to breathe through the nose is being challenged. This can cause dehydration and thickening of the mucus. Both can be detrimental to a young baby/child. The nose frida is the only suction device that I've found to actually create a safe seal around the nostril without injuring the interior nasal passage. You can get the excretions further back than you would be able to with a typical bulb. Getting more mucus out=better breathing through nose. This allows baby to eat and avoid dehydration. So like I said this device is a life saver!
Most Helpful Critical Review
Pretty disappointed
Lisa289
.
6 years ago
Got this aspirater for my second baby and loved it. However, I've only used it twice and upon cleaning it the second time, the Nostril cover does not fit back on the mouth piece. It's as if it has shrunk and now just falls off, rendering it useless, unless you're able to hold all the pieces together and try to clear your infants nose. I had high hopes for this and am so disappointed.
customer reviews
Showing 1 - 20 out of 439 reviews
Saved my baby's life
Sandra M . 4 weeks ago
My little one has severe GERD and spits up excessively. When she was a month old, she spit up in her sleep and sucked it back into her mouth mid throw up. Her spit up came out of her nose and got stuck in her nose. She stopped breathing and turned colors while choking on her spit up. After a call to 911 and some hard back pats the get her to stop choking it dawned on me that baby's can only breathe through their nose at this age. I ran and got the nose frida in her nursery and sucked out the spit up from her nose and she immediately began breathing and her normal color returned. I will ALWAYS have this on hand now. I'm so grateful for this product for saving my daughters life.

Originally posted on fridababy.com
Nose Part doesn't fit after washing
Bonnie b . 1 month ago
This product was amazing but only after one use I took the nose part off to clean with warm water and dawn it didn't fit it afterwards it weirdly shrunk smaller and just falls right out of the part it belongs in. I'm thinking it was either the soap or warm water I am going to exchange for a new one and next time just rinse with cool water .

Originally posted on fridababy.com
DO NOT BUY
DontBuy . 2 months ago
This thing is a piece of garbage. They changed something so now all it does is fall apart. The first one I had was fine, hence all the ravings reviews. My two month old has RSV and I can't even suction her nose properly because this thing is trash. Extremely poor quality. Bring back how it used to be made.

Originally posted on fridababy.com
RSV 3 week old
MommaBearBeth . 2 months ago
I bought this at the recommendation of the ER doctor when I found out she had RSV. She was 3 weeks old and the best thing I could do was watch her and make sure she kept up with diapers and help with congestion. The nose frida baby works so amazingly well! She could get cleared out in no time to eat and sleep soundly. She is better now and largely with your help. Thank you.

Originally posted on fridababy.com
Not worth it
Natalie . 3 months ago
I finally caved in and bought this already regret it. Does not work well and not the easiest to do with a squirming screaming child ! Save your money and get battery powered !

Originally posted on fridababy.com
Works amazing
savalexish . 3 months ago
I've been using this since my daughter was born and she doesn't even mind it! It's so easy & effective.

Originally posted on fridababy.com
Useless after one use
MeganM . 3 months ago
I used the NoseFrida ONCE and after taking it apart to wash and replace the filter, the snot collecting tube does not fit back together with the filter/hose section. A serious design flaw. Not worth the money.

Originally posted on fridababy.com
Frida mom nose sucker
KiaJ . 5 months ago
I've had this product since my child was born and I've never used it until now. My child has RSV & I've now contracted an infection from sucking her nose with this product and I feel absolutely horrible . Even though it has re-changeable filters this is still very unsanitary. Thanks a lot frida mom!

Originally posted on fridababy.com
Great concept. Poorly updated design
Kelsey . 5 months ago
I used this with my now 5 year old as a baby (all the way up to 3 and I still have hers) so when I was expecting a new baby, I ordered a new one. Now that he's here and has his first cold I can say how disappointed I am in the new design. The nose frida used to be 2 pieces. Now the mouth piece comes off, the tubing comes off the lid. They don't stay together that well. When you get flying baby hands, it comes right apart. I swaddle him up but by the end he's out and flailing hands. When it was just 2 pieces this wasn't an issue. Even sometimes if he's not throwing hands, it just falls apart! I'm glad I have my old one but so sad because I used to recommend this to moms all the time when I worked in the hospital.

Originally posted on fridababy.com
Useless
Linka . 5 months ago
This product is so cheaply made and useless. My baby does not like nose clearing so she moves while I do it and frida snorter just disintegrates so I was not able to use it even once.

Originally posted on fridababy.com
Garbage
Oksana . 6 months ago
Falling apart impossible to use. To big for baby nose. It's so hard and if baby moves it's hurting. My baby cried so bad when I tried to use. Hate this product. Threw it in the trash. Just one more garbage polluting the planet.
Works well would buy again
BradleeIAMYOURFATHER . 6 months ago
I love this thing.. my baby not so much.. it works but I do wish the tip was made out of some rubber or silicone.. it would make my baby and me feel a little bit better.

Originally posted on fridababy.com
I don't recommend
McKenna . 6 months ago
It didn't come with 4 hygiene filters I don't recommend


Originally posted on fridababy.com
Lifesaver!
Lisa R . 6 months ago
Absolutely amazing! Our 4 week old baby had COVID, and this was the best way to get his congestion out of his nose. He was able to breath freely after each use. Thank you!

Originally posted on fridababy.com
Falls apart
LB2022 . 7 months ago
I originally purchased a nose frida in 2019. It worked amazingly well for as long as I needed it with my first baby. For baby #2 I purchased a new one because of hygienic reasons recently. The hose on my new nose frida pops off every time I use it and sometimes the mouth piece falls off too. This makes it very difficult to use with a squirmy baby.

Originally posted on fridababy.com
So glad I had this
Mummy of2 . 9 months ago
My daughter was born in 2020 and we were sent home from the hospital with a beautiful healthy baby, or so we thought. Freya was full of mucus and it was bubbling from her nose and mouth constantly we kept calling the hospital but kept getting the same response which was she was born very fast so the mucus will take a couple of days to clear just keep using the nasal spray she is fine. Freya was actually born without a throat connection she is Tof Oa we found this out on day four. So for four days we used the sucker not only for her nose but her mouth as well, this device helped us save our daughters life so I just wanted to say thank you sooooo much to who ever created this. I was given a nose Friday for my son in 2018 and I thought it was fantastic so I had brought one for my daughter just before she was born and I still use it to this day. I also make sure when I go to a baby shower I always put one in as a gift

Originally posted on fridababy.com
Love it!
CSSMom . 9 months ago
This product works amazing!!! At first I was like this is going to be weird using this, but, I'm so glad I did!!! Tried using the nasal aspiration and it done absolutely nothing, used this along with saline drops and got everything that was causing my baby to be congested out !!! Highly recommend!!!!

Originally posted on fridababy.com
Want to love but..
Twinmom . 9 months ago
This is a good snot sucker. I like the design of the sucker and its comfy in baby's nose. But! The thing as a whole is garbage. It is constantly coming apart, the tube does not stay attached to the mouth piece nor the sucker, and the tube is also very stiff. This is extremely frustrating when you have a crying baby because they are stuffy and your trying to suck out their booger, but it keeps falling apart, or popping apart because of how your manoeuvring the tube. You need to make better quality product for it to last and be completely functional.

Originally posted on fridababy.com
Used it for almost a year and it failed :(
Sadmom . 9 months ago
I used this since my daughter was born and have loved it- she's 11 months now. Last night I was using it and somehow snot and spit got into the tubing. I feel so gross! I don't know if something went wrong with the tubing or the filter but I'm so upset about it

Originally posted on fridababy.com
It Works but is Extremely Frustrating!!!!!
bwill . 10 months ago
Bought our first NoseFrida 4 years ago for our daughter and it worked great! Recently purchased a new one for our newborn and have been greatly disappointed. The hose does not stay attached to the tube or the mouth piece. When your baby is kicking and scream you want it to work right every time, not fall apart. I got so frustrated that I superglued the tube on both ends. Now it works perfectly!

Originally posted on fridababy.com
Showing 1 - 20 out of 439 reviews