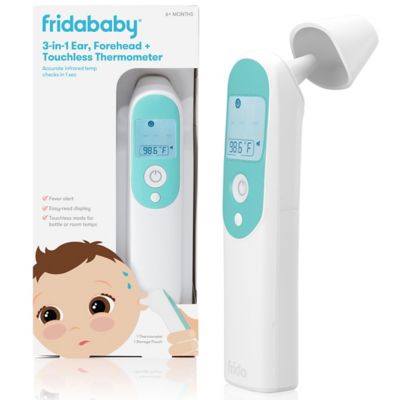 Fridababy® 3-in-1 Infrared Digital Ear and Temporal Thermometer
customer reviews
Showing 1 - 20 out of 86 reviews
part missing
kajal . 3 weeks ago
I received this product with missing items inside the product. The box is already open they taped, broken box and send it to me. I was unhappy with the product.
Disappointed
Katiem123 . 4 weeks ago
I purchased this to have ready before my son was born. Every time I use it, it's 5 degrees different than when I confirm with rectal. I had to go buy a rectal thermometer the first time my baby got sick because this said he didn't have a temperature but I knew he did because he was very warm. This has happened at least 5 times so I had to stop using it because it doesn't work.

Originally posted on fridababy.com
Not accurtate
Ange . 1 month ago
Consistently get varied results when using this thermometer. Temperature readings range from 97-101. Will be replacing with another thermometer as this is highly unreliable for infants!
stay away from this product
lizzy . 1 month ago
I don't even know why this is still on the market putting children safety at a high risk, it gives very bad inaccurate reading when your baby has high fevers DO NOT BUY THIS THERMOMETER inaccurate reading if left untreated can cause seizures, brain damage, and even death. my baby had a fever of 103 and this product kept saying it was 98.0
I threw it away
Kennedy . 2 months ago
This thermometer has quite literally never given me an accurate temp. My baby was running a 104.4 degree fever and it read her as 98 and 97 for both forehead and ear. Unreliable.
don't buy
Tina . 2 months ago
Mine worked about ten times and now will not read, always gives an error message
Temperature not accurate
Kim . 2 months ago
Took my baby's temperature on forehead before going in to her pediatrician visit because she was vomiting and having low fevers. The thermometer read 99.9. In the office just a few minutes later, the nurse took her temperature as 103.3! Threw away this thermometer as soon as I got home.
inaccurate
Brianna . 2 months ago
This is the most inaccurate thermometer I've ever owned. I generally like Fridababy and their products, but this is an outlier. My son can have a temperature of almost 103 and this will still read 98.3. I have never seen it register a temperature. I'm just tossing it in the garbage because it is the biggest waste of money. I recently just bought another forehead thermometer that works much better so I don't have to subject my son to a rectal temp everytime I suspect a fever. Don't waste you're money on this. There's cheaper options which are way more accurate.
Inaccurate thermometer
Lolocky . 2 months ago
This thermometer shows always absolutely different temperature at the same forehead spot! This is unacceptable! Waist of money, however it's absolutely not cheap!

Originally posted on fridababy.com
Don't waste your money like I did...
Becca91 . 3 months ago
I thought purchasing a well known brand would ensure a thermometer that was accurate...I was seriously mistaken! I can't get a single reading that matches the previous reading that was taken in the exact same place. I've taken my own temp to test it, it is NEVER ACCURATE! It will go from a very high temperature, to a normal temperature, to a temp that's in between, then back up to a ridiculously high temperature. I'm really upset that I spent so much money on a thermometer that is literally useless.

Originally posted on fridababy.com
Inaccurate
Robin42 . 3 months ago
My baby is only 2 months and has a fever. Every time I check his temperature, I get a different reading from 98-101.4

Originally posted on fridababy.com
False readings
Charlie . 4 months ago
Always reads around 98. Checked against different thermometer when wife was running a fever of 103. Still 98. I figured this was a good product and trusted it. I cleaned the lens sensor thing. Still reads around 98. Seems to be accurate for the room temperature mode, but who knows.

Originally posted on fridababy.com
Inconcsistent
BB&B Customer . 4 months ago
You have to scan it along the forehead instead of just touching the forehead as it says in the directions. The temperature readings are different each time. Not worth the price.
Inaccurate temp readings
Sara . 4 months ago
This thermometer was a baby shower gift that I was very excited about. To get an accurate temp reading with a click of a button would be so helpful. Unfortunately, this thermometer gives inaccurate readings every time. One minute my son has a temp of 101.5 the next it's 98.5. If I didn't have common sense, I'd have taken my child to the ER on multiple occasions just based on his temp reading a scary number. Do not purchase this device! It isn't worth the money at all.

Originally posted on fridababy.com
inaccurate reading
PinaG . 4 months ago
My daughter had a fever of 103 with a rectal thermometer and this one kept saying her temperature was 98 (both the forehead and ear reading). I thought it was a good thermometer but unfortunately disappointed with how inaccurate it was.
Fridababy 3 in 1 ear,forehead,touchless thermomete
Grandma Bee . 5 months ago
Our neighbor gave us this 3 in 1 thermometer as a gift. We were excited to have such an easy way to get information. But it didn't function properly. I changed batteries and still followed directions but it only gave me a reading "Lo". I emailed the company and they sent a replacement immediately. I think it arrived 3 days after I contacted them!! And this one worked immediately! I was so pleased with such good customer service. In looking at your store, today, I see some items we likely will buy in the next few months, now that I know you stand behind your products.

Originally posted on fridababy.com
Temperature is way off. Don't waste your money
Girlmama55 . 6 months ago
Temperature constantly reading lower than it actually was. Do not trust this device whatsoever. Tried measuring my daughters temp on the forehead and ear and the ear temp was lower than forehead and at 95 which is not what it should be reading. I tried new batteries and everything.

Originally posted on fridababy.com
Great thermometer…even better customer service!
wvugrad . 6 months ago
I purchased this when my son was a newborn and still love it 19 months later! I was upset when my son got a hold of it last week and lost the cap. I searched everywhere and could not find it! I contacted Frida via email and asked if I could purchase a new cap. I received a reply within a few hours stating they would sent it out. Just two days later it showed up—-and not just a cap…a brand new thermometer! This has made me love this company and their products even more! Exceptional customer service and they really went above and beyond by replacing the whole product. Thank you FridaBaby for designing a thermometer I love and for the great customer service!

Originally posted on fridababy.com
Wanted to love it…
Willasmom . 6 months ago
I love lots of Frida products but not this one. Each time I've used it I get different readings with each scan and the readings I get from the hospital rectal thermometer are different from the Frida thermometer as well. This has led to unnecessary anxiety. Our pediatrician told us to trust the old fashioned, cheap, hospital rectal thermometer over this product.

Originally posted on fridababy.com
Inaccurate
Carol . 8 months ago
Very inaccurate. I get a different reading every time, even if taking temperature seconds apart. Wasn't able to tell if my baby had a fever or not bc sometimes it would read high temp, then seconds later normal temp.

Originally posted on fridababy.com
Showing 1 - 20 out of 86 reviews