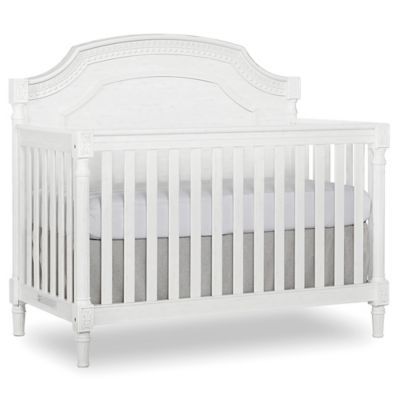 evolur™ Julienne 5-in-1 Convertible Crib in White
customer reviews
Showing 1 - 20 out of 41 reviews
Beautiful crib
hdan . 2 months ago
We bought this crib back in 2016 and we are so happy with it! It's beautifully made, high quality and durable. We've converted it to the full size bed and it has held up really well over the years!

Originally posted on evolurbaby.com
Beautiful bed
sk . 2 months ago
We have loved this bed, we used it as both a crib and toddler bed. We basically planned our nursery around it and plan to let our daughter grow into it as a full bed. I love that you have so many options with it. It is beautiful!

Originally posted on evolurbaby.com
Great quality and Beautiful
Melinda . 2 months ago
I bought this for my 1st grandchild. It's is beautiful. The quality is 10x better then others I had seen. I'm extremely happy I chose this one.


Originally posted on evolurbaby.com
Great Service & Product!
Marilyn . 3 months ago
I first bought the toddler rail kit and I was so happy with the service and product I received that then I immediately bought the full size bed conversion kit too! I LOVE my baby's crib - it's great quality and beautiful - and now we can keep it for longer since it can adapt as the baby grows!! I'm very happy with my purchases!


Originally posted on evolurbaby.com
Great Crib
aray . 3 months ago
We've had our Julienne Crib for over a year. It looks great, is built very solidly, and was easy to assemble. Our little one has been safe in it and loves it. We're starting the transition to a toddler bed now and the change to a toddler rail was easy to do.

Originally posted on evolurbaby.com
Great bed
Nancy . 3 months ago
The crib as a headboard and foot board look so stunning.


Originally posted on evolurbaby.com
Love the look!
DanaB . 3 months ago
We love the way the bed looks. The bed is also sturdy - which makes it even better.

Originally posted on evolurbaby.com
Amazing furniture and service!
Jmcobb123 . 3 months ago
I absolutely fell in love with our Julienne Crib for our daughter and have enjoyed watching her grow through all the stages. We now have converted it to a full size and actually misplaced bolts while in transition from crib to toddler bed. Their customer support is phenomenal and able to take care of me! I recommend this product to anyone looking for a well made product and great service!

Originally posted on evolurbaby.com
Great Customer Service
BoatDock90 . 5 months ago
After not finding the conversion kit to full size bed for our Julienne crib, I reached out to the company directly for help. They were very prompt with their responses, and I was able to secure a kit directly from them. The process was easy and I'd recommend their services. We love our Julienne set. Thank you!!

Originally posted on evolurbaby.com
Perfect Crib!
Maddie . 6 months ago
I bought this crib years ago and put it away in storage when we were done with it at the time, but recently needed it again. I thought I had saved all the bolts and things but somehow a few were misplaced. I contacted customer support and they promptly sent me the correct parts. I can't say enough good things about this company and crib. It's so very beautiful and well-made.


Originally posted on evolurbaby.com
julienne crib full size bed conversion kit
gennaro219 . 8 months ago
crib is gorgeous, very happy with purchase. just having a hard time trying to find conversion kit in antique grey mist. SHILPA, went above and beyond answering all my questions. love this crib. very sturdy and great craftmanship

Originally posted on evolurbaby.com
Rachel . 11 months ago
Looks great. Easy to put together

Originally posted on bedbathbeyond.com
Beautiful but NOT A GREY COLOR
Bri . 1 year ago
This crib is made well and easy to assemble. The crib is beautiful but the color is Not grey it is more of a off white with a tint of gray going through the color

Gorgeous, High Quality crib
OptimisticMegan . 1 year ago
This crib was easy for me to put together by myself at 4 months pregnant. I did have to take it out of the box piece by piece as the box was too big and heavy to carry alone. It's very high quality and in my opinion looks very classy. Can't wait to add the matching dresser put into the nursery!


Originally posted on evolurbaby.com
Crib
Lyss . 1 year ago
Beautiful crib! Very easy to assemble. No damage when delivered. The only thing there's this very sharp nail sticking out on the side of the crib that shouldn't be there. There was no nail use to put it together so i am not sure why it's there. Also the mist grey color is not grey like the photos. It's more of an off white.

Don't buy from Buybuybaby. Go to Amazon.
They Lost A Customer . 1 year ago
Was listed as in stock. Gave a shipping date of three weeks out. Never was delivered. Two weeks after the "delivery date" passed and after talking to two people with fake American names from somewhere in Asia that told me that the crib was in-transit, I called the shipping company. Shipping company stated they never were given the crib to even ship to us and could only tell us there was some kind of "exception." I once again have to go through the horrible customer service to try to get a refund and have yet to get a refund as I have to wait to hear back from them. We have ordered the crib instead from Amazon for about $30 more, free shipping, and free return, with a delivery date set for 3 days from when I ordered it. I'd say that's $30 well spent.
Beautiful crib
Somer . 1 year ago
I love this crib. My parents bought us this crib and I was not expecting it to be this beautiful. We looked in the stores and could not find anything we liked. I saw this one online and from what I could tell it was cute. My husband and brother put it together no problems. I love it.

Exudes Luxury and Sophistication
M-Teriors Style & Design . 2 years ago
The product truly made my vision of French Country Floral Fantasy come to life.

Originally posted on evolurbaby.com
Gorgeous!
Shana . 2 years ago
I have been using this crib for a year and it still looks brand new. It is very solid and sturdy. I would purchase again and purchase from this company again as well!

Originally posted on evolurbaby.com
Too long coming
Charlene Neal . 3 years ago
I still do not have my grandbabies crib she will be here before her bed.
Showing 1 - 20 out of 41 reviews