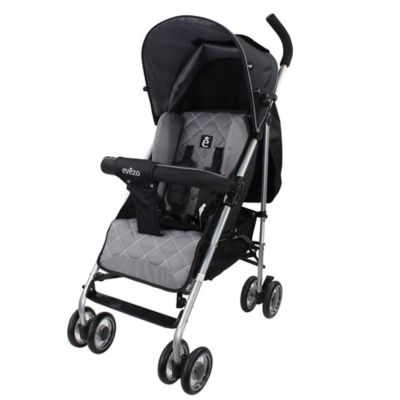 Evezo Travis Luxury Lightweight Umbrella Stroller
$79.99
Get 20% off & earn 5% back in points with Rewards™+
Enroll Now
customer reviews
Showing 1 - 5 out of 5 reviews
Perfect
Santos95 . 1 year ago
Dont know why stroller reviews are low. But it's a lovely sturdy stroller. The strap for the back rest, are not cheap material, that how it is in most baby strollers. The stoller suppose to be light weight, but it heavy to me. But other than that, it's a really good stoller.

Originally posted on bedbathbeyond.com
Crap stroller
BB&B Customer . 1 year ago
Stroller broke with in a few days the wheel fell off

Originally posted on bedbathandbeyond.ca
Wish I could return it!
janice . 1 year ago
What a horrible stroller! The sun bonnet part doesn't reach down far enough to provide shade and when the entire thing is down, the baby can't see out at all. Putting the back down is just terrible - you squeeze the clips together and then there is a "rope" (for lack of better term) that you have to adjust - I'm absolutely position that will be breaking soon. And to clip the straps in (to hold the baby in) is ridiculous - you have to put the top and bottom together like a puzzle and then fit them in. There is no room for a diaper bag - even hanging it off the handles is a struggle. The little compartment they give you underneath holds next to nothing. And folding it up is a nightmare - nothing easily about it! There is nothing I like about this stroller but unfortunately we got rid of the box - otherwise it would be returned immediately. Do yourself a favor and buy a better designed stroller - this one is terrible! If I could give it zero stars I definitely would!

Originally posted on bedbathbeyond.com
Only a little above average
BB&B Customer . 1 year ago
The manufacturers could really stand to improve the translation of the manual. Incorrect word choice ans poor grammar make it difficult to understand. Pictures aren't great either. The stroller is ok, although there are two straps that we still don't know where they go or what they're supposed to be used for… again, manual is of no help.

Originally posted on bedbathbeyond.com
Decent stroller for price
Nicole . 1 year ago
This stroller works fine, but there are a few things I don't like. There is no fastener or Velcro to hold the opening on the shade so it usually blows closed. I wish the shade had an in-between setting because most of the time I don't need it to go so far down unless it's raining. Also, it can be hard to steer. I do like how the leg rest raises and the seat goes all the way down for naps. As far as folding up, it is compact, just make sure to lift both locks on the back basket (I really struggled with this at first). I also added a cup holder because the only storage is the bottom basket, which is small and hard to get stuff in, and a pocket on the back flap.
Showing 1 - 5 out of 5 reviews