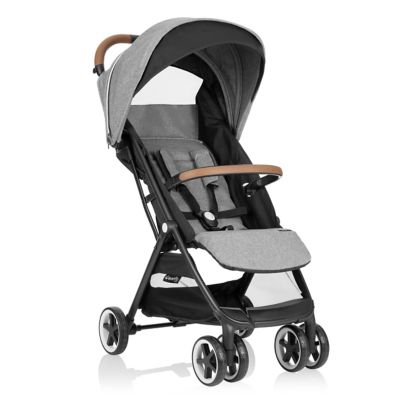 Evenflo® Gold Otto™ Self-Folding Lightweight Stroller in Grey
customer reviews
Showing 1 - 20 out of 102 reviews
Lightweight and Portable
VespRick . 2 weeks ago
Expecting my first child and as a single father, I will mostly be babybjorning. That said, I wanted a stroller that on odd occasions when I wanted to give my back a break, and something lightweight to stay in the car's trunk. This fits the bill.


Originally posted on Evenflo.com
Just what we needed.
DorothyF . 2 months ago
We love this stroller! The wheels squeak a little but we don't care because the one button fold up and down is amazing.

Originally posted on Evenflo.com
BB&B Customer . 2 months ago
Returned it. Wheels are very squeaky and one of the wheels didn't even roll! Really weird.
Nice travel stroller/Squeaky
AngelaR . 2 months ago
The stroller is great for travel and lightweight! The wheels feel cheap and not sturdy! I've been using it for 3 days and it's so squeaky! It's loud! Need to find a remedy for that

Originally posted on Evenflo.com
the wheels squeak when turning
yessi . 2 months ago
Don't get me wrong this stroller is beautiful, but not worth it because it squeaks too much. Had to buy the Chicco presto instead and loved it
One handed folding
SimSima . 2 months ago
It is one handed folding. Not very small. Only compatible w one car seat. Uses a lot of space in trunk. But easy to fold, with one hand.

Originally posted on Evenflo.com
Love this for travel!
LaurenC . 3 months ago
Love this stroller! I bought it initially for travel. We have the Evenflo Pivot as well, but that was just too large to fly with being that I didn't want to also check a car seat. This stroller is so compact & it connected with our evenflo infant seat as well! So we were able to gate check both the stroller & carseat. It's super light weight too! It's so easy to collapse and load into your car with one hand. I also love the style and how you can extend the sunshade. I highly recommend if you're looking for something easy and lightweight. It doesn't work super great on rough terrain but it's also not meant for that either.

Originally posted on Evenflo.com
JulietJ . 3 months ago
Extremely lightweight, folds with absolute ease and I can use it with my nuna Pipa even though it technically isn't compatible with it. I gave it 4 stars because the wheels are not very sturdy and feel cheap.

Originally posted on Evenflo.com
Compact and easy to use
CandiceH . 3 months ago
Overall, I highly recommend stroller based on its ease of use and compact size when folded down. Pros: SUPER easy to open and close one-handed, little one loves the comfort and foot rest feature, can fit in SO MANY more places than our last stroller, easy navigation even with one hand available, visor is a great size with the large peek-a-boo zipper, great visibility for little one to look around (the tray/cup holder blocked a lot of view with our last stroller), decent size storage on bottom (my backpack diaper bag fits with some maneuvering) Cons: peek-a-boo area is not waterproof when it's raining (but it does zip up.. you just can't see baby), wheels wear out WAY too fast from concrete, only one cup holder,

Originally posted on Evenflo.com
YolianaJ . 3 months ago
very comfortable and light, perfect to use with a newborn. compatible with any evenflo carseat

Originally posted on Evenflo.com
ShannonS . 3 months ago
After buying this stroller, I don't recommend it. It's very lightweight which is nice but the wheels always feel like they are coming undone.

Originally posted on Evenflo.com
We love this stroller
Norey . 4 months ago
I love that for how small it folds up that the infant seat still securely clips in and you can fold and open with one hand. It is cute and still has good storage in the basket. The cup holder works great also. Has been a great travel stroller for us.
not so great!
Ana . 4 months ago
its true, read the reviews before buying. the wheels makes squeaky sounds and its annoying, I dont recommend.
Wheels fall off
RominaM . 5 months ago
This is a very compact stroller and was very excited to use it. However, the front wheels fall off and as I continued to use it the front wheel completely fell off and I lost it and now have to order a replacement wheel and I've only had it for four months. I think for the price, the quality of the stroller should be much more efficient. If it wasn't for the wheels and the fact that it also squeaks I would give this stroller a five, however I can't do that it's been a pain to just find the replacements, and even the fact that I have to replace it after only a few months of having it.

Originally posted on Evenflo.com
Wheels Makes noise and hard to push
Genesis . 5 months ago
I wanted to love this stroller and ordered it really to travel with it, but believe the reviews when. You read them. The wheels have some squeaky sound when pushing the stroller and when you try to push at a corner to turn, it make it quite difficult and will stop. For the pricing of this stroller; I would definitely rather have chosen another one instead.

Originally posted on bedbathbeyond.com
Overall good but issues
kourtneycay . 5 months ago
Overall the stroller is great quality and really nice. It's tall so works great for my 6'4" husband. It folds so easily but sometimes takes a little effort to get it to lock upon unfolding. The handle is nice and feels great. The seat doesn't lay flat or sit fully up which is somewhat annoying. The bottom basket doesn't really allow my diaper bag to be put in from the back, just the front. My main complaint is the squeaky front wheels that don't get any traction and when the canopy isn't down, it is fully in the way of the handle. You have to move it to get to the buttons to open/close the stroller. It also rubs your hands which gets frustrating. With the canopy opened, you also can't see the baby unless you unzip to allow a big mesh window which creates too much light and sun in Texas. I probably wouldn't recommend it, maybe if it was like $100-$150 it would be worth it. $200 is too much in my opinion.
Amazing choice
Patricia . 6 months ago
Evenflo gold line is just perfect. It is compact without compromising all the great functions. Easy to install car seat and easy to store stroller, being perfect for apartment or clean speces.

Originally posted on Evenflo.com
Love this stroller!
Erika . 6 months ago
We bought this to use as a travel stroller. My husband and I both love the stroller--it is lightweight, easy to push, and easy to fold. My 1-year old daughter seems very comfortable in it. I love the one hand fold / unfold, so that I can easily fold it while holding my child. It's easy to carry as well. We have not experienced any issues with the wheels squeaking or breaking. The stroller seems sturdy and has so far held up to several long days of walking, and 2 plane trips.

Originally posted on bedbathbeyond.com
Squeaky Wheels
MommyOfBoys . 6 months ago
We bought this stroller with high hopes. It definitely takes up way less room than our travel system. The biggest con is the squeaky front tires. I tried exchanging for a new one, as a Buy Buy Baby rep said I could but when I went into the store I was told no with the stroller being used (only 3 times) and no box. So we are out $200 and left to fix the issue on our own. Horrible policy.
almost perfect
OlliesMama . 7 months ago
I don't own this stroller, but strongly considered purchasing and wanted to leave a review and beg evenflo to fix one thing! I tested this with my almost two year old in store and it folds like a dream, the basket fits my diaper bag, it's slightly wider than most compact strollers so is super comfy for a toddler, the canopy is large, and the material is nice for the price. My one complaint is the wheels are awful. Just cruising around the stroller department you can tell how flimsy they are and they are annoyingly squeaky. Evenflo, please fix the wheels, even if you have to charge slightly more! You almost have the perfect lightweight stroller IMO.
Showing 1 - 20 out of 102 reviews