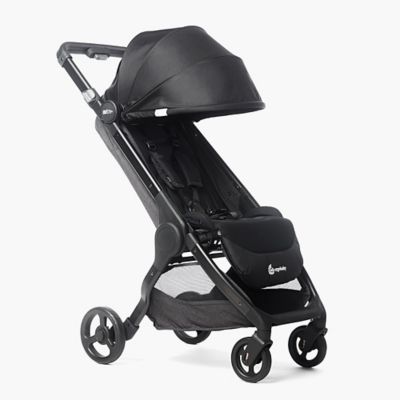 Ergobaby™ Metro+ Compact City Lightweight Stroller
customer reviews
Showing 1 - 20 out of 53 reviews
Very happy
Bed Bath and Beyond Customer . 6 days ago
Very happy with this stroller. Bought as a travel stroller for my less than 6 month old and I love that it fully reclines since she can't sit up unassisted yet. If you're hesitating - the quality is worth the price! I also highly recommend the travel bag if you are planning on flying with the stroller.

Originally posted on Ergobaby
We love the Metro Stroller!
Lisa R. . 3 weeks ago
We love the Metro Stroller! It's so durable & easy to use.

Originally posted on Ergobaby
Not perfect, but still pretty great!
Sally S. . 4 weeks ago
For the price point, this stroller is awesome. Lots of padding in the seat for your little one, adjustable handlebar is great, seems like it's made well and will last. I love the fact that the back can recline all the way down and that it can convert into the newborn nest. Some things I don't love: 1) that the support bar doesn't come with it, 2) that it doesn't stand in it's own when folded, 3) that the fold/unfold is a little awkward


Originally posted on Ergobaby
Best compact travel stroller
Luz H. . 1 month ago
My Husband and I loved it! It fit in the overhead compartment on United and jet blue airlines. It was such a great feeling knowing that my stroller was safe and won't be damaged. It was easy to fold and open. The steering was so easy. The only thing the storage under the stroller is too small and things fall out! Bummer because I love the stroller.

Originally posted on Ergobaby
Outstanding Compact Stroller
DisneyFam . 1 month ago
We bought this stroller for our 11 year old who has mobility needs. We had planned a trip to Disney, but didn't want to deal with having to gate-check his bulky, expensive wheelchair which has been both damaged and left behind in previous flying experiences. After much research, we chose the Ergobaby Metro Plus because of its padded seat, overall seat height, canopy, and weight limit (our son is tall but very light). We first used it while on a beach holiday for a week to ensure that he would be comfortable and that it could handle moderate terrain. It kept our son comfortable, was easy to wash and clean, and the basket was surprisingly accommodating and accessible for an umbrella stroller. It handled sidewalks and grass well, the suspension was surprisingly good for its size, and the handle adjustment was very useful. The height of the seat and flat recline were also excellent as it provided enough length to completely support our son from head to the bottom of his torso when reclined flat to allow for diaper changing when out (a huge plus as fold out diaper stations are not long or strong enough for him); the shade also adds privacy for changing. However, for our use, the very best part was how easily the stroller went down the aisle on the plane and how quickly and easily it folded up and fit into the overhead compartment on the plane. Even the flight attendant commented that it was the best in-flight stroller she had ever seen. Our son was very comfortable and happy in the stroller. We added a Diono stroller caddy and Disney Baby "Mommy Hooks" (smaller than the traditional ones, but they attach with a strap, which was ideal; one was used for his feed pump bag and the other was an extra for a light bag, hat, etc). This chair has made travelling with our son so much easier!

Originally posted on bedbathandbeyond.ca
Good travel stroller
Stacy C. . 2 months ago
Bought this for my five month old - very easy to place her in. But, there are a lot of loose straps! And, it's hard to collapse/open it with one hand. The button on the handle requires you to push one button to the side and then push a bigger button. I have to use two hands for this. It also doesn't open up super quick - gotta make sure you do it right or it'll collapse.

Originally posted on Ergobaby
Amazing stroller
Victoria . 2 months ago
I purchased this and I can say this is my absolute favorite stroller. I have 4 previous strollers and this one tops them all. My son loves to sleep especially when we're out on vacation and the lay flat is worth every penny. It folds nice and easy, we've brought it on our trips and I get so many complements on it at Disneyworld not struggling to close my stroller boarding the buses. It has a great air vent near his head I never worry about him overheating and the footrest comes up so his legs don't hang off the front. I bought a second one for my parents to have. Customer service was great too I had an issue with the clasp and they sent me a replacement asap

Originally posted on Ergobaby
LOVE IT!
Janelle M. . 2 months ago
I love this stroller! I love that it reclines and has the newborn option that goes into a bassinet style (which was mainly the reason that I purchased it)! I also have a bugaboo donkey stroller and it has a very similar smooth push/ride as that one. It is very convenient for our walks around the neighborhood and to the local coffee shop when I don't want to breakout the other stroller. The breakdown is easy as well.. I can do it with one hand while holding my baby at the same time! My only wish is that it was lighter, that the peekaboo flap on the shade could stay open, and have the option for the seat to face front and back towards me while pushing. Other than that, it really is a great stroller!

Originally posted on Ergobaby
Very good quality very smooth
Emmanuel V. . 2 months ago
Very good quality very smooth ride and very light weight love it

Originally posted on Ergobaby
The most compact daily use stroller
Margaret G. . 2 months ago
We were looking for a compact stroller with adjustable push bar because my partner and I are very different heights. We needed good storage and sun coverage. Most of all we needed a narrow stroller that folded small enough for planes, trains, and busses (or the car trunk with lots of groceries, but fit our tall kids. This stroller delivers on every one of those points. It even has an infant configuration for our (gigantic) 4 month old. My 38" toddler has also comfortably taken a ride in this stroller. The strap adjust is the easiest I've ever encountered, no re-threading. This stroller has a smooth ride and let's us sneak through tight spaces and crowded places. Our toddler loves to hold the back of the carriage and push her baby brother with me. It's so slight I can hold her hand in the crosswalk and still maneuver the stroller with one hand. We're selling our Uppababy Vista now that we found the Metro+. Our vision of two kids in one stroller just never materialized. The toddler is too independent. This is a much better solution, especially as we move into a smaller space this year. Metro+ is the best compact everyday/travel stroller for this family of 3 giants and 1 average height mom.

Originally posted on Ergobaby
Great for infants to see babies
Aubree G. . 3 months ago
Love this for my now 6 month old, she's been using since she was a couple months old while we travel and we love how it reclines fully for her to take naps on the go. It's much more padded than the travel stroller we had with our son and couldn't be happier with it!

Originally posted on Ergobaby
My favorite baby purchase
Megan H. . 3 months ago
I'm obsessed with this stroller!! I wish I had bought this stroller right off the bat. It took some practice, but it's so easy to fold and unfold with one hand. It's so light weight! I live on the second floor of my apartment building with no elevator so I can easily carry it up and down the stairs with one hand and baby in the other. I took this on the airplane and it fit in the overhead bin no problem. I flew for the first time by myself with my 9 month old and it was such a breeze. I also got the carrying case for the stroller and I don't feel like it was necessary since I put it in the overhead bin rather than gate checked it. The bag was an extra step to pack and unpack it when getting off the plane that made it hard to do with a baby in hand. The stroller is so compact but still has a nice basket underneath. My diaper bag could fit with a little push. The handle is really comfortable and you can tell it's quality. The canopy is really big and shades baby well. It doesn't quite cover the legs but I was able to put a cover over and recline the back to give my baby a nap in the airport before the flight. My only con is that the canopy is the canopy is not the best quality. The material is nice and the window is great but it's snaps loud when you open it rather than a smooth glide that other strollers have. It doesn't bug me enough to effect a 5 star review though. Overall I'm super obsessed with this stroller. I went with this one over others that I researched because of the slim compact when folded, the large canopy, and the one handed fold. I would recommend this to everyone. Can't wait to try this at Disneyland in a few weeks!


Originally posted on Ergobaby
Love this stroller
Elaine P. . 3 months ago
I absolutely love this stroller. Initially bought this to bring to Mexico because we could bring it as a carry on and not have to worry about checking it. We were able to bring it onto Air Transat. In addition I love this stroller for everyday use. I actually find it has better maneuverability than my UPPABaby Cruz (2018 or 2019?) and actually feels smoother I think because it has suspension. Our Cruz doesn't have any wheel suspension, the year after it does. I'm also pregnant so getting this stroller in and out of my trunk is WAY easier and my toddler loves riding in the stroller so we take it everywhere.

Originally posted on bedbathandbeyond.ca
Worth the money
Kay . 3 months ago
This is a pretty pricy stroller. I bought this for our first flying trip to see my family. It is compact and fits in an overhead flight bin, any parent can open this with one hand while holding a child. It converts and grows with your kiddo. We bought this for my daughter at 6 months and intend to use it until she's 3. It also came with a twin cover which we've used! The only flaw if you'll need to buy a cup holder and carrier attachment bag. If you're tall no worries the handle adjusts. I'm 5'2" and my husband is way taller than me so he just adjusts the handle when he uses it.
Good value for your money
Aldo M. . 3 months ago
The stroller is missing some features, a bar at the bottom to help lift the stroller to get into the sidewalk for example. A cup holder would be also a nice to have. My real reason I'm not giving it 5 stars is the Chicco car seat adapter is really bulky and difficult to detach. Whenever the adapter is attached, folding the stroller is easy but is no longer compact.

Originally posted on Ergobaby
Perfect travel stroller! Takes up
Aymen A. . 3 months ago
Perfect travel stroller! Takes up such little space.

Originally posted on Ergobaby
Great and Easy Stoller for Grandma
Andrea C. . 3 months ago
I'm digging it. So easy and light weight. I'm in love with it'

Originally posted on Ergobaby
Excellent choice!
BB&B Customer . 4 months ago
This has been an excellent choice. Material look and feel long-lasting and sturdy, plus it is extremely compact and easy to use and fold. (The unfolding can be a bit tricky at starters, but its a matter of getting used to it.) It does have a couple of misses, being the space underneath is not very spaciuos, and is not as easy to get to,; though this is something I would expect of such compact strollers. We have used it in grass, dirt, cobblestone, pavement, etc.. and has worked great! Would definitely recommend it!
Love how compact it is.
Sarah J. . 4 months ago
Love how compact it is. It fits behind the seat and her infant car seat. She was comfortable and the straps were secure and more like a harness. I also like how she can lay flat and take a nap. I wish I would have purchased this sooner.

Originally posted on Ergobaby
Loved the stroller it saved
Bruna S. . 4 months ago
Loved the stroller it saved us on our trip to the beach

Originally posted on Ergobaby
Showing 1 - 20 out of 53 reviews