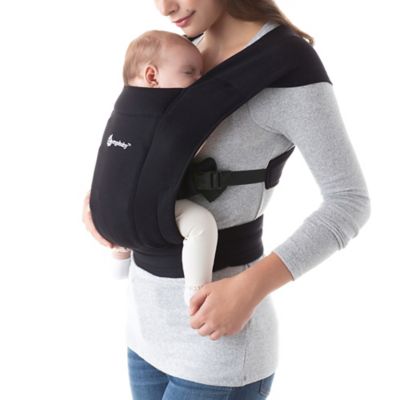 Ergobaby™ Embrace Newborn Carrier
Most Helpful Positive Review
So soft and comfortable!
Arbar
.
2 years ago
I love this carrier, I have a 2 month old, about 11lbs and we've been using it in infant mode. He usually falls asleep after about 5 min in it. The fabric is very soft. This provides more support than a fabric wrap and is much more comfortable/less bulky than the Lillebaby or other Ergo Baby carriers. My only complaint is the lack of head support. There is no head support! This makes it difficult to get things done, like laundry, dishes, etc. while baby is napping in the carrier. Once he has better control over his head this won't matter much, but for the carrier to be specific to newborns, they should really add something for head support.
Most Helpful Critical Review
returned
Chelsea
.
2 years ago
This was super complicated to get on and nearly impossible without help from another person. I wanted something a little easier that I could slide on and had more support on my daughters booty. This wasn't for me, but the quality was great, the material is very nice
customer reviews
Showing 1 - 20 out of 361 reviews
Soft, structured, weird waist belt (default setting can't tell if it needs to be rolled over or writing facing out)
Chelsea S. . 1 week ago
I have a 360 at home. Bought this one to make it a quicker and more comfy use with my newborn. I really like the knit fabric. It's very soft. But my baby is over 21 inches now and the next setting is just weird to put on. then once she's in it I have to clip each side on opposite buckles so that's been a learning process haha! I have a short torso so I like there is less bulkiness. Also the shoulder straps want to go inwards which covers my babies air space. I think I'll like it more when I use it more often getting used to it.

Originally posted on Ergobaby
Worth it
Momna G. . 3 weeks ago
Really like it. It's a nice and comfortable carrier

Originally posted on Ergobaby
Very comfortable!
Alyssa B. . 4 weeks ago
For little ones, this is great! As my baby has gained weight. It gets harder to keep him at the recommended carrying height.

Originally posted on Ergobaby
I thought I was getting
Therese M. . 4 weeks ago
I thought I was getting another one for free. What happened with that?

Originally posted on Ergobaby
Necessity
Emily W. . 4 weeks ago
Love love love this. Just buy it now. Saves me everyday. Supportive everyday carrier!

Originally posted on Ergobaby
Perfect
Joshua R. . 4 weeks ago
Absolutely love this carrier for my newborn! Secure and cozy. Thank you Ergo!

Originally posted on Ergobaby
Game changer!
Sulwa L. . 4 weeks ago
I was finding myself stuck to the chair all day. My shoulder killed from lugging her around. I tried a wrap with her but I couldn't get the hang of it. This has 3 simple easy to adjust buckles and she's right in there! Hanging out with me while I cook, clean, and adventure. Here's a picture of her with dad in it!


Originally posted on Ergobaby
Bonus carrier
Kayla H. . 1 month ago
I recieved the newborn carrier as a gift with my omni breeze but would buy alone for newvorn days. The newborn carrier works great for my 2 month old. It has soft fabric that is comfortable to wear around the house and secure enough to chase around another kid. The carrier fits a petite frame too. It is compact in sizeand i pack it in my diaper bag for a back up. I even can nurse my little one without much hassle.

Originally posted on Ergobaby
Perfect for my newborn
Kassidy D. . 1 month ago
This carrier is so soft and comfortable. It has great lumbar support-I never feel achey after wearing it. My babe loves it too!

Originally posted on Ergobaby
Helps me with fussy evenings!
Sophia E. . 1 month ago
I'm a first time mom, I bought this So i could get some stuff done during the day. Then we found out our baby has a tongue tie - we got it released and the recovery has been VERY fussy. I wear her from about 5-8 and she sleeps better, is calm, and naps in there. It also helps us get out of the house. I was nervous putting it on a couple times bc she gets mad at first, bur once she's all strapped in she immediately gets super calm. Highly recommend. Really has saved me!!!!

Originally posted on Ergobaby
Best Infant Carrier
MedicMama . 1 month ago
Lightweight- Comfortable- and most importantly EASY to use! Would buy again!
Must buy.
Mary B. . 2 months ago
This is my third carrier. I was on the hunt for a carrier that was easy for me to use and adjust by myself. This is it! It's very easy to use solo. The material is so soft and breathable which helps both myself and my baby from getting too hot. The color is also gorgeous! Most importantly, it is supportive and I feel like my baby is very secure whether we are out on a walk with our two dogs or just bopping around the house trying to get things done. It has been an excellent way for us to decorate our Christmas tree together! Don't hesitate to buy this one.

Originally posted on Ergobaby
I LOVE THIS
Angela . 2 months ago
I tried MANY carriers and this was the winner by FAR! first of all it fit me and I am a size 14, it is soft yet supportive, it does not wear bulky at all and my baby falls asleep in it EVERY TIME. I absolutely love this carrier
Not suitable for over 10 pounds
Indira . 2 months ago
This carrier becomes uncomfortable for both baby and parent once baby is over 10 pounds.
So good
Lily S. . 3 months ago
I already own 2 ergo Omni 360s but wanted a soft stretchy fabric carrier to use at home. However, after buying 3 different types of fabric carriers (baby ktaan, a linen sling ring, and a long fabric wrap), I still never could get the hang of using them at home. I'd always struggle to get the baby's positioning "just right" and be paranoid about bad positioning. By babies also hated being in them for some reason. A friend made me aware of this carrier and it was a miracle! Since it's a belt/buckle style, it was so much more intuitive for me to use and I didn't have to worry about whether or not they were in an "ergonomic M leg positioning" all the time. The material is super soft and stretchy and my baby has been taking so many of her naps in this (currently she's still doing all her naps on me). Lifesaver

Originally posted on Ergobaby
Easy to use and baby loves it
Brianne . 3 months ago
User friendly design with lots of stability. Great for walking, hiking or just bringing baby around the house while you do things.

Originally posted on bedbathbeyond.com
I got my life back
Brittany A. . 4 months ago
My baby will only sleep on me and wants to be held 24/7. The embrace carrier gave me my hands back so baby can still be close but I'm able to play with my toddler, cook meals, vacuum, etc! It's truly the best thing I got!

Originally posted on Ergobaby
Easy to use
Kelsi C. . 4 months ago
I like the embrace because it's quick to get on/off, easy to do with 1 hand while the other holds the baby, and it seems to be very comfortable for her. Having 3 straps to manage is great; I'd been using a wrap, but it was taking too long to don/doff when I just needed to get it on quickly. It's a great fit for my small baby, and I'm thinking I'll get another ergo as she grows out of this one. The only missing piece is a small pocket or sleeve for my cell phone, and we'd be set!

Originally posted on Ergobaby
Cozy and easy to use
Charlotte C. . 4 months ago
I already had the ergo Omni 360 with my first, but I wanted something more cozy and soft for this baby. I could never figure out the wraps, so I figured I'd give this a try. It is cozy like a wrap, but it's easy to put on by yourself and easy to take off if you need to feed. The only issue I have is that her head bounces around when we're walking, so sometimes I will add a light blanket to support her head. I thought it would be a waste of money since I already had an Ergo, but I have used it every day since I bought it. I highly recommend this!!

Originally posted on Ergobaby
LOVE
Madeline J. . 5 months ago
I've used many types of wraps/carriers and I never really loved them. They always ended up being too hot, not supportive enough, or difficult to use. I decided to try this one and low and behold I actually love it! It's so easy to use and so comfortable to wear! My baby falls asleep almost immediately and I love that I can use it with a newborn up to a year! Definitely recommend!

Originally posted on Ergobaby
Showing 1 - 20 out of 361 reviews