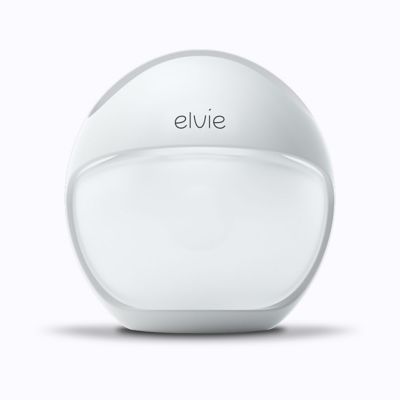 Elvie® Curve Wearable Breast Pump
Most Helpful Positive Review
Easy to set up and use.
Sami
.
2 years ago
Really easy to use. I could set this up and then let it do its thing! Super easy to put on and then i didnt need to faff around with it unlike manual pumps. It really does express discreetly as it is silent and doesnt require me to be manually pumping it. So i could wear it infront of others and cook clean or feed without having to worry about peolple knowing. It allowed me to pump and store so that other family members can feed my baby and i can go out. I can also get on with the chores while she sleeps and pump all at the same time. Its really comfortable too and fits into my maternity bra!
Most Helpful Critical Review
Some amazing features but some disappointments
undefined
.
2 years ago
I was so excited to use the curve as I love the electric pump from Elvie, and although some there are some great features, it didn't live up to expectations sadly. I love that it fits in the bra so comfortably. I love that it doesn't spill unlike other silicon pumps. However, it was frustrating to use sometimes because I couldn't tell if it was working or not. Sometimes after 15 minutes of pressing to get the suction and adjusting the position, the pouch would still be empty. Sometimes I would get 40ml or 50ml but the inconsistency was too frustrating. I don't know if it was my boob shape or not but other silicon pumps work more consistently.
customer reviews
Showing 1 - 20 out of 420 reviews
Easy to use
Eaura822 . 2 weeks ago
Only 2 weeks in, but I have found having 2 of these (they are sold as singles) for going back to work/being away from home are a great compliment to my Spectra 2 pump at home. I keep finding myself using them more and more in place of the Spectra (though def still need that for more complete pumping sessions) while I do chores at home and haven't noticed a drop in production. Or if I'm out and about and lose track of time they are an easy relief/save milk from being wasted. They gently pump and relieve when a letdown is needed, and have stayed secure in multiple different nursing bras. Not super spill prone or hard to finagle (I had a bit of trouble with the manual pumping, drips, and top heaviness with the Medela manual pump while I waited for these in the mail) h Haven't had trouble with production but, wow they seem to catch a lot of milk while baby feeds off other side, so these are a great easy way to capture and store more milk, in many ways! Easier way to pump at work (not as intensive as battery/plug in options, but so far so good). I've been using them once a a shift, or twice for longer shifts(but am able to keep them sealed in a cooler bag in the freezer to not have to wash in between). Easy to wear them during computer tasks. Fairly discreet, as they blend okay under baggier or thicker clothes (even slightly loose sweatshirts disguise them well, though I'm only a B to C cup to begin with). Nice there is no movment is needed other than maybe lightly pressing to ensure suction every few minutes, which isn't required but I try to do it to avoid tempting fate with big leaks. But I haven't noticed any leaks so far, just super slight splashing if they are getting full! Easy to clean (only 2 pieces), and pour very accurately into bags, love how they lay flat on the counter while I mess with other stuff like opening bags, etc. A great investment, though maybe get the actual battery powered pumps if you need stronger pumping/more results?? I'm Curious to try that, but I'm very satisfied to stick with these because they are much more affordable.

Originally posted on elvie.com
No Suction
ZT . 1 month ago
I was so excited to purchase this because i was looking for a portable breast pump as my supply went down due to large gaps in between pumping sessions and using a manual pump is very inconvenient for me as i'm back to work now. This pump has no suction and you can't even tell whether or not you are getting something or not.
Elvie curve
TarA . 1 month ago
I tried the Elvie curve for the first time today and it did exactly what it was supposed to do. I kept it on while and after I pumped on one side. The amount I expressed was minimal, but all milk counts. I own the regular Elvie breast pumps and I love them. So versatile and adaptable. The Elvie curve is more compact and is very comfortable when on. I forgot I had it on. There was no spillage as mentioned in the other reviews. Packaging was great and customer was impeccable. The customer service will keep me coming back.

Originally posted on elvie.com
Pointless expenditure
Ewa33 . 1 month ago
Doesn't work, can't return. Even though it is not broken I haven't managed to express/collect any milk. I have two different ones from other suppliers which collect every time

Originally posted on elvie.com
Convenient!
Echaichana . 1 month ago
I like having the convenience of having it in my bra while I feed on the other side. It is a gently suction in my opinion but still gets the job done!

Originally posted on elvie.com
It worked!
MMJ3 . 2 months ago
I used it to collect milk on the other breast while breastfeeding on one. It silently collected a good amount of milk for less than 15 mins, hand free as well!

Originally posted on elvie.com
Haaka has better suction
Kma . 2 months ago
When I bought two of these I didn't realize that it was just manual pumps like the Haaka. Once I tried them, I wore them for over 30 mins and never even got 1ml out. With the Haaka I would get usually 0.5oz or so but these are crap compared to the Haaka. The suction is horrible as they fall off or get moved easily, and when it says "one size fits all" I don't think that's true because the holes don't seem big enough for my whole nipple… very disappointed in this product and I'm now really mad that I can't return them because I obviously tried to use them…

Originally posted on bedbathbeyond.com
Great silent option!
KAB234 . 2 months ago
I'm all for the new trend of in-bra milk collection. This is a silent, easy option. Great because it won't get kicked like other products. Con: I wish there was an easier way to pour the milk out. Note only 1 pump comes with the purchase (I just bought a second for silent pumping option at work).

Originally posted on elvie.com
Discrete, easy and handy for in the go
BK123 . 2 months ago
I bought this to use on the opposite side when feeding as an alternative to me Elvie pump. It's fantastic and discrete and does the job perfectly! Really pleased with my purchase and would recommend!

Originally posted on elvie.com
Looks great but leaks!
Ddeana91 . 3 months ago
I bought the Elvie Curve a month ago and was very pleased with the price and quick delivery (next day) on arrival the product had a lovely design and seemed perfect for my needs. However, even though the design is lovely and I've had no issues with the suction, it does leak quite badly, a design flaw for sure. I've given up using it for now because the hassle of wasted milk and cleaning up leakage just became too mundane.

Originally posted on elvie.com
Disappointed to say the least
Gemmab . 4 months ago
I read into a lot of reviews before buying and despite negative reviews I still purchased with high hope but sadly I feel as though I have wasted my money. I have come to agree with lot's of the negative comments about its weak suction, I find it does not draw out a lot of milk compared to the haaka and it takes up to 45 minutes to really get anything good and even then I'm only getting about 30ml I had hoped it would work well because I have a large milk supply and the haaka always gets knocked off. It's a good idea, only if it had actually worked.

Originally posted on elvie.com
Breastfeeding mums best friend
Victoriaonthego . 4 months ago
I had silicone manual pumps x 2 types and uncomfortably holding them on then inevitably dropping one and spilling milk all over my bed for very old very fast. A soft nursing bra is all I need to feed baby and express extra milk from the other breast at the same time. I have a stash of milk in the freezer and enough in the fridge for dad to give one bottle a day which works for us. It's easy to decant the milk (handy measurement on the inside) and quick to clean and drain dry. I have recommended it to all my breasfeeding friends.

Originally posted on elvie.com
It's handy
Mama P . 4 months ago
i bought it to support my electric pump.Altho it doesn't give me as much as that but I like how convenient it is .I can wear it in bed and get 1-3oz to top during the night or in the morning .

Originally posted on elvie.com
Secure when in use but difficult to pour
Livi . 4 months ago
I like that this is more secure than the Hakka so doesn't get kicked off by baby. However it is much more difficult to pour all of the milk out of especially at night in the dark.

Originally posted on elvie.com
Only Okay
cabby . 4 months ago
I bought the Elvie curve about a month ago and was excited for it as an alternative to the haaka which I kept knocking over. But honestly I'm fairly disappointed. It doesn't have as good of suction. Also, I think for ladies with bigger boobs, the boob is like too heavy for it or something and it falls off a lot. Again tied to the suction. Finally, there is no great way to pour the contents into a bottle. I've watched all the hack and how to videos, but some of the milk still gets stuck in the little valve section, and I want every drop of milk. So overall, it's just okay to me.

Originally posted on elvie.com
Disappointing output and difficult to pour
mswanson . 5 months ago
I was excited to use this as an alternative to the haaka, but have been quite disappointed. I tend to use haaka on contralateral breast when feeding baby for first few feeds in am (when I am more engorged), but don't really like design of the haaka and was hoping this product would do the same thing with better design. Unfortunately, where I would get 3-4 oz w haaka, I get less than one ounce, sometimes only drops, with this product. I have tried on each breast at various times of day and have been consistently disappointed. It looks great and the suction feels strong, sits well in the bra, but the output is nothing like haaka. Also, nearly impossible to pour, so hard to conserve the disappointingly low output when pouring out. The product looks great, easy to use and clean, but it doesn't work nearly as well as the haaka.

Originally posted on elvie.com
Life safer for exclusively breastfeeding mum
Liquid gold . 5 months ago
I bought only one initially, it was great for collecting milk in the frist 6 weeks when I was always engorged. I used during night feeds on one breast , while nursing on the other breast . It collected a lot of milk that would have otherwise be wasted on breast pads. My baby is now 2months and I purchased another one. Was brilliant , I used both when I was away from my baby for 5 hours. I didn't feel engorged at all as it collected milk. This was while I spent most time lying on my back getting my eyelashes done, no spills very secure. No one can tell it's in your bra looks natural , but makes your boobs look bigger .

Originally posted on elvie.com
Honestly, worth it!
Nicole P . 5 months ago
I bought this to build up some extra milk and it's been nice. It's comfortable, effective, and my 6month old can't kick it off. Would HIGHLY recommend!

Originally posted on elvie.com
Much more convenient!
Jemiller820 . 5 months ago
I bought this for middle of the night feedings, where I was in gorged and didn't want to lose any extra milk. This was great because it was much more slim than the haaka and I didn't have to worry about baby kicking it. Suction was a lot less painful than the haaka as well.

Originally posted on elvie.com
Fantastic!!
Jennywren . 5 months ago
I love this product, it's so simple, easy to use and comfortable to wear. I put it on and can carry on with my day or feed my son from my other breast and it doesn't get in the way. I would highly recommend this product, it's been worth every penny!

Originally posted on elvie.com
Showing 1 - 20 out of 420 reviews