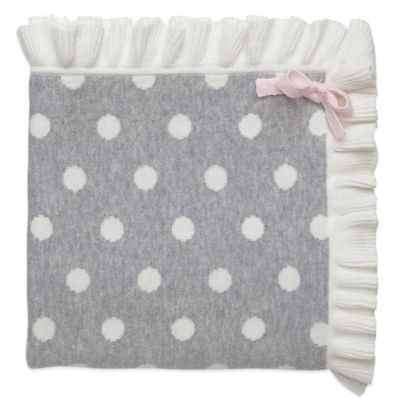 Elegant Baby® Dot Blanket with Ruffle in Grey
$31.99
Get 20% off your entire purchase with coupon!
Enroll Now
customer reviews
Showing 1 - 5 out of 5 reviews
This the most beautiful blanket I love it
Alba . 2 years ago
The material is great

Fancy
Marigel . 2 years ago
Love it! So soft and perfect size
Thick,warm cute
KayOh . 5 years ago
Simple but so adorable
Soft beautiful blanket
Sharksfan . 6 years ago
I bought this blanket as a gift for my first grandchild, a girl, prior to her birth. I just loved the colors, the design and the little pink bow put the touch it needed to made it a girly blanket. I wasn't sure if it would be as soft as it said it would be, it was very soft and so pretty! I just was so happy and excited! Couldn't wait to give it to my son and his fiancé . I think it was one of the first gifts I gave them before she was born. It's not a huge blanket, but perfect for putting around the baby while holding her or while in car set or stroller. I would definitely recommend this to anyone looking for a nice gift for acexpecting mother or for there own baby! Just love it!

Originally posted on bedbathbeyond.com
Beautiful blanket!
Mommyofmany . 7 years ago
I purchased an Elegant Baby knit blanket for my son over two years ago. It was beautiful and has held up so well, that I decided to purchase this one for the little daughter that we are expecting. The quality is wonderful and I hope she will treasure it like our son treasures his!
Showing 1 - 5 out of 5 reviews