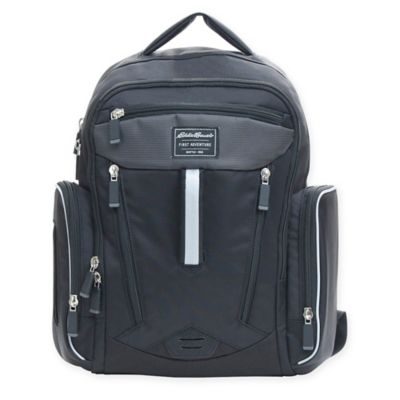 Eddie Bauer® Places & Spaces Sporty Backpack Diaper Bag in Black
customer reviews
Showing 1 - 20 out of 24 reviews
nika . 11 months ago
Shipping takes so long. Could've ordered somewhere else for the same price and received it a lot quicker
Horrible
Andrea . 1 year ago
Very small diaper bag - with it being Eddie Bauer, we thought it would be a good bag. Hardly anything fits and we've had like 3 of the zippers easily break. Ended up purchasing an ErgoBaby diaper bag instead.
Too small!
BB&B Customer . 2 years ago
Okay so I have a 2 month old boy and I really wanted a diaper bag that would look nice for me to carry and for my boyfriend too and when doing out registry the diaper bag looked like the perfect one. Once i started using it i was not impressed, it has a lot of pocket but nothing fits in it. I pack about 2 outfits to change baby plus diapers and bibs and bag is all ready full. I just don't like it anymore and I'm looking for a new one all ready, i wished we didn't included it kn our registry.

Originally posted on bedbathbeyond.com
It ripped badly with hardly use
marianne . 2 years ago
It ripped badly with hardly use
Horrible quality
Erin . 2 years ago
Disappointed in this diaper bag. After just 6 months the zippers broke, the handle is coming off, and it's ripping at the seams.
Long-lasting
Nicolle . 2 years ago
We have had this for 2 years now and it has worked great for all phases of baby/toddler life. Still in almost perfect condition, will use again for next baby.
Great Daddy Diaper Bag
smisch . 2 years ago
This works as a great "daddy" bag for our family. Holds a decent amount of things.
Would not recommend. Fell apart.
Sarah . 2 years ago
Fell apart. One of the snaps came defective and never fit together properly. Fabric started ripping at the seems and a zipper broke. Had to buy a different one. Used it for about 6 months and not very often. Would not recommend.
Very good looking waste of money
Banana . 2 years ago
Seek and beautiful looking bag. Lots of pockets but it's just all too small. The changing mat doesn't even fit in any of the pockets. The inner flap of all EB bags I've found is a gaping mouth with no clasp so any time you put stuff in, it gets stuck on that inner flap, not the inside of the bag. Zippers are difficult to close and on the go, it makes me want to rip a zipper off and throw the bag in the trash. Returned.
Small and not very sturdy.
Andrea . 2 years ago
Zippers broke, grey handle on front ripped, smaller than expected. Love the book at idea but was not happy with this Eddie Bauer style. Did buy a different one by Eddie Bauer and have been happy with it so far.
Great bag
Stace . 2 years ago
After reading the reviews I was kind of skeptical to order this, but I really liked the bag and thought my boyfriend would enjoy something more sporty or masculine to use as well so I ordered it anyhow. Was definitely bigger than I expected after reading other reviews, slightly smaller than a normal backpack but definitely a lot bigger than a mini, lots of cool storage pockets, I really like the wipes compartment. Haven't put it to use yet as I'm not due until September but so far it's a beautiful bag
Jamie . 2 years ago
The straps hurt my shoulders it's a very rough material. Bags a little small and it tips forward anytime you place it down. Wasn't impressed.
Too small
Lynn . 3 years ago
I really like the look of this diaper bag, however it is VERY small. Packing it for one child makes the zippers almost burst at the seams. Now I'm expecting baby #2 and having to get a larger bag. The plastic wipe dispenser dries out wipes.
Functional and practical diaper bag
Kaasha . 3 years ago
This diaper bag is so practical and functional. I've received several compliments about the bag already.
Great bag
Fbarron . 3 years ago
I love this bag. It's on the smaller side but that's exactly what I wanted. No complaints about this product from me.

Originally posted on bedbathbeyond.com
Too bulky
Misha . 3 years ago
The bag is so padded you can't actually fit much.
Falling apart
Sarah . 3 years ago
To start one of the clips to attach to stroller was wrong and wouldn't snap closed from the beginning. Manufacturing issue. Soon after one of the zippers broke and I could no longer close the pocket. Final straw was this past week when a large hole busted at the seems and a zipper handle broke. Very disappointed. I've been using for about a year. In my opinion it should have held up longer especially since I'm not someone who uses it every single day.
Good diaper bag
Jenn . 3 years ago
I've been using this diaper bag for about 4 months now and it's a good bag. I really like the style and design. It doesn't hold quite as much as I thought it would, but I bring a lot of stuff with me every day. I love the wipes pocket on the side and the 2 separate larger pockets. I also really like the clips to attach it to the stroller! One thing I think would make this bag even better is a water bottle pocket on the side as well. My only dislike is I don't think it's amazing quality and I don't foresee it lasting a really long time. There are a few threads coming off of some of the zipper areas and the handle on top is almost completely ripped off due to normal wear and tear. I would still buy it again, but am slightly disappointed in the quality for being Eddie Bauer.
Nicer in person
JStClair2019 . 3 years ago
Very nice for me and my husband

Originally posted on bedbathbeyond.com
Love all the pockets - Easy to Organize Everything
MomSarah . 3 years ago
My husband and I love this Eddie Bauer backpack, it has so many pockets to help make organizing so much easier unlike other diaper bags we've owned! Love the side pocket for wipes too - they've come handy many times in emergencies.

Originally posted on babybrezza.com
Showing 1 - 20 out of 24 reviews