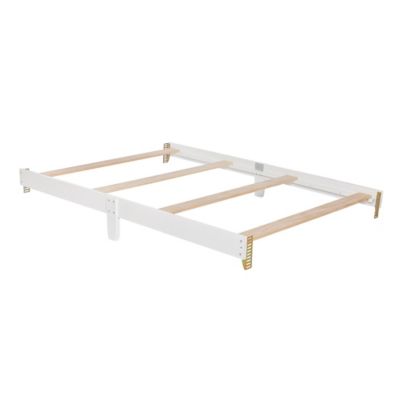 Dream On Me Universal Full Conversion Rail
$143.99 - $151.99
Get 20% off your entire purchase with coupon!
Enroll Now
customer reviews
Showing 1 - 4 out of 4 reviews
Dream on Me Cinvertible crib
BB&B Customer . 5 months ago
I was excited tobset this bed up for my toddler but was left quite disappointed the rails didn't line up as the advertised picture. The side rails stick out and don't flush in with the head and foot boards. Please see attached pictures. Also, the side railings are sharp on the corners. My toddler and I have hit our foot a few times on the side rails.


Originally posted on bedbathbeyond.com
Great value
Ivette13 . 8 months ago
Our little one needed more space in her bed so we opted to upgrade to the full size bed and it is great. The rails matched the crib perfectly, it is sturdy and easy to assemble. She loves her new bed.

Originally posted on dreamonme.com
BB&B Customer . 3 years ago
I feel like it is a little on the cheaper side but overall my daughter loves her new big girl bed!
Rails did not fit correctly
Deb . 3 years ago
Purchased this conversion kit to fit the Ashton crib that we have, the slats/connectors did not correctly fit into the head and footboards. We had to put screws in it to get it to hold. Disappointed especially considering the cost.

Originally posted on bedbathbeyond.com
Showing 1 - 4 out of 4 reviews