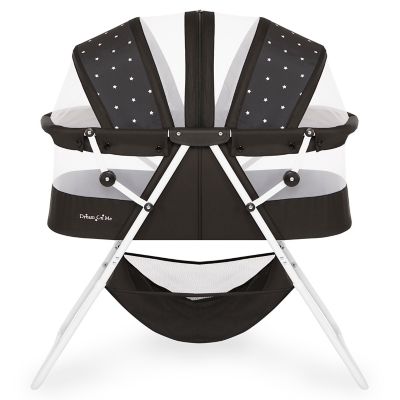 Dream On Me Karley Bassinet in Onyx
$71.19
Get 20% off & earn 5% back in points with Rewards™+
Enroll Now
Most Helpful Positive Review
Sturdy and safe
undefined
.
2 years ago
I don't have our baby home yet but I'm happy to have a safe sleep space ready. The canopy is strong and perfect for supervised naps to keep our kitten away (he's lightening fast and don't know how my reflects will be so the canopy will help me in a fast second). It was very easy to set up and doesn't have a bunch of unnecessary gadgets. I also love how firm the mattress is. Please read the manual! The manual states (as all bassinets and cribs should) not to add additional padding because a flat firm surface decreases the risk for side. I also love that the promote safe sleep ABCs (alone meaning no toys or blankets, on their backs, and in a safe regulated crib or bassinet).
Most Helpful Critical Review
Okay
DonutQueen
.
2 years ago
This bassinet is functional, a good size and a great price. We bought it to use next to our bed.Things I don't love : the zipper top isn't removable and when folded down creates a lip at the top that makes it difficult to see into which combined with the height made it awkward to navigate from the bed at night and the mesh sides are hard to see through in low-lighting. These issues negated the benefit of having the baby at eye level next to the bed and led to us replacing this with another model inside of 2 weeks. We still use it in our living room for naps and if we were to travel this would be very convenient to take with. I wouldn't recommend it as a primary bedside bassinet.
---
Thank you for sharing valuable insights from your experience. We take customer feedback very seriously and. this has been shared with our design and product teams. We are glad you continue to use our Karley.<br />Team Dream On Me for the DOM Family <img src="...
customer reviews
Showing 1 - 20 out of 102 reviews
Great bassinet!
Thomas . 2 weeks ago
This bassinet has been the perfect bassinet for our family. First off, it is plenty roomy. Our daughter was never cramped in the bassinet. Second, the zippered canopy is cat proof. Our curious cat was unable to nap in the bassinet because the zippered canopy was plenty strong to keep him out. Third the bassinet is very convenient. It is lightweight enough to easily move from room to room but very sturdy as to not cause concern. It folds up for travel if you so desire. We highly recommend it and are using it again for our second child.

Originally posted on dreamonme.com
Great Product
Carlos Y . 4 weeks ago
Purchased this item for my baby girl and it's great quality and looks awesome.

Originally posted on dreamonme.com
Perfection!
Virginia08 . 1 month ago
My baby has been using this since we brought her home 2 months ago. It's a great size and we love that we can zip the cover up to take her outside and know the bugs won't get to her. A great choice!


Originally posted on dreamonme.com
Gift that keeps on giving
Comfort at its best . 1 month ago
I feel in love with this for my grandson and now have passed it on to a good friend. Good quality and reliable. Easy to assemble and simple.


Originally posted on dreamonme.com
Wonderful product!
Heyyyitsisa . 2 months ago
I absolutely love the height bassinet and how there is a zippered mesh that keeps everything away from the baby. I also really like the hammock at the bottom to hold all the essentials for diaper changes and nightly needs.

Originally posted on dreamonme.com
Perfect size!
HappyHappy . 2 months ago
I've only had it about a week BUT my daughter has slept in it SOO good! Im very VERY happy with it. Also it is a perfect size for our room!

Originally posted on dreamonme.com
Perfect for bedside and cats
Danielle E. . 2 months ago
At first, I bought this bassinet specifically because of its canopy. I have two cats and wanted to make sure they would not bother my newborn. It's perfect in that respect. I also love that it fits perfectly by the bed and is spacious enough that my little one seems happy and yet cozy. I would highly recommend this bassinet for parents with pets and for those who wish to have easy access to their newborn while keeping their newborn comfortable.

Originally posted on dreamonme.com
Great gift !!!!!!!!!
BB&B Customer . 2 months ago
The baby looks comfortable and the bassinet is sturdy yet stylish. I highly recommend this bassinet.
Karley Bassinet
Yara95 . 2 months ago
I've had my Karley Bassinet since I had my eldest 6 years ago and I've used it with all three of my kids and I absolutely love it and i just had my third baby 3 weeks ago

Originally posted on dreamonme.com
Great bassinet!
AL . 3 months ago
We use this as the primary sleeping spot for our now 3 month old and we've been very happy with this bassinet. It's light enough to move around the house but sturdy enough and high enough off the ground to not worry about full time use. The primary reason we bought this was the canopy to keep a curious cat out. Turned out we didn't necessarily need it but it's still nice to have.


Originally posted on dreamonme.com
Baby bassinet
BB&B Customer . 3 months ago
Love this bassinet. So easy to put together and has breathable sides. Baby loves it too.
A bassinet so nice we bought it twice!
Momof2under1 . 3 months ago
We got the Karley bassinet for our first child, and it was our single favorite baby item. We love the zippered mesh dome and the the ease and slimness of the fold to keep it stored and out of the way when not in use. We loved it so much and it held up so well despite constant use for almost a year that we were going to use it for our second child—born less than a year after the first!—but my husband decided since it's so economically priced (literally the cheapest you can get on Amazon!), we would get a brand new one for the new baby. So she got her own in a different color scheme. We are definitely a Karley Bassinet family for life.

Originally posted on dreamonme.com
Very convenient but mattress pad is no good.
Rocio . 3 months ago
Folds easily, is very portable, and the canopy is nice. Mattress pad that comes with it is not washable and is not water proof so it got very dirty after just a few days of use and I had to buy a new mattress which was very difficult because they claim the mattress size is 15.5 x 31.5 but when I contacted customer care they told me to buy a 32 x 16 mattress. Annoyed that I have to buy a mattress for a product that is really supposed to come with one but I like the other features enough to recommend this bassinet to others. Just buy a mattress cover or backup mattress with it.

Originally posted on dreamonme.com
Very practical!
Kelly . 4 months ago
This was my first time buying a bassinet and I love it! It's perfect and cozy for our newborn baby girl! Easy to put together and move around. The optional canopy is a great addition too! It's a little on the shorter side, but it's not a big deal to me. If you have it next to your bed, it's the perfect height if you're sitting. I would definitely recommend! The rose color is a great price compared to the others. :)

Originally posted on bedbathbeyond.com
5601 Fairview stThis is the address where package
BB&B Customer . 4 months ago
5601 Fairview stThis is the address where package Goes

Originally posted on bedbathbeyond.com
Excellent customer services
Ajh577 . 4 months ago
Sheen was fantastic and very understanding. Quick responses and resolutions

Originally posted on dreamonme.com
love it !!
jazzy . 5 months ago
Love this item, it comes in handy, easy to setup and easy to travel with !!!
lightweight and folds easily
Ch29 . 5 months ago
The bassinet is lightweight and folds easily. The mattress is a little weak, but otherwise it seems fine. We have not used it yet, but I imagine this would be a convenient product for travelling parents or parents who want their little one to nap nearby without being tied to the nursery.

Originally posted on dreamonme.com
Great Product and Customer Service
DS . 5 months ago
This product worked great for my first kid and we needed a new mattress for our second kid. So the company was able to find another one and send it our way. I really appreciate it!

Originally posted on dreamonme.com
Easy to set up- perfect size!
Bre . 7 months ago
So happy I put this bassinet on our registry! We are first time parents, so the amount of things we need was a bit overwhelming but we are so happy with this bassinet. It was so easy to put together, and it's the perfect size. The price is also so reasonable! Not only do we love the bassinet itself, but the company's customer service is incredible! I wanted to make sure I purchased the correct size sheets so I sent an email on a Sunday (not expecting a reply right away) and within minutes a representative emailed me with sheet options! 10/10 would recommend this specific product to people, and also this company as a whole. Thank you!!

Originally posted on dreamonme.com
Showing 1 - 20 out of 102 reviews