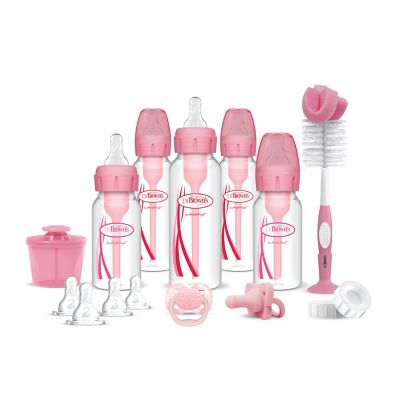 Dr. Brown's Natural Flow® Options+™ 17-Piece Complete Infant Starter Set in Pink
$34.39
Get 20% off your entire purchase with coupon!
Enroll Now
Most Helpful Positive Review
Very happy grandma !!!
Debra
.
7 years ago
I'm so in love with the new "OPTION BOTTLES" because it solved my leaky problem I was having as you can see from the pic below, my grandson and I always got so wet with formula dripping all over us, and then I spoke with Diane a wonderful lady and she worked with me til we came up with a solution and we did when she told me about the new "OPTION BOTTLES" and immediately the bottles NEVER leaked 1 time, and my refrigerator doesn't look like this picture anymore. Thank you Diane for helping, and I'd recommend Dr. Browns "OPTION BOTTLES" to everyone, I LOVE THEM.
Most Helpful Critical Review
Leaks!!!
DisappointedMom
.
7 years ago
I bought the Options Bottle about a month ago. At first, I thought it was great. It was the only nipple my son would latch onto. Now, every single bottle leaks! I've tried labeling the ones that don't leak and thought maybe the ventilation system and nipple only truly fit the bottle it original came with. But with trying all the different combinations to prevent leaks all my bottles still leak. It's just a big mess and I'm so dissapointed because I do not have any other options in terms of my son latching onto a different brand nipple. And I have read all the solutions to a leaky bottle on the Dr.Brown's website and none of them worked! I'm truly disappointed!
customer reviews
Showing 1 - 20 out of 852 reviews
babyrivera . 3 months ago
It is the best bottles for babies,
Came open with missing items
BB&B Customer . 5 months ago
I received this directly from BuyBuyBaby in an open package with missing items.
PLEASE SUPPORT THIS COMPANY
Jackie D . 6 months ago
I received this as a gift for my newborn and he was having trouble eating from these bottles. it seems they fed him to fast for his speed BUT I contacted customer service and they couldn't have been more helpful. They truly care about their customers and their babies. They tried helping me troubleshoot which didn't help my babies feeding issue so they are sending different bottles and nipples to try that should better suit my baby. This company is amazing and everyone should buy from them because they really care and go above and beyond to help you be successful with bottle feeding!

Originally posted on drbrownsbaby.com
My baby loves it
HB V . 7 months ago
I'm currently using these bottles for my baby .. I tried many but my baby likes Dr.Browns

Originally posted on drbrownsbaby.com
Doesn't leak and reduces gas
Justin . 9 months ago
We've used Dr Brown's through 2 kids. The old bottles would leak from time to time but the newest version has not leaked once. We tried a wide range of bottle and Dr Brown's stands out among the rest. Highly recommend over other brands.

Originally posted on drbrownsbaby.com
MickandDuke . 9 months ago
It's what my daughter wanted to help with her upcoming baby so she doesn't get colic
Great for colic troubles
Diani85 . 9 months ago
This bottle is amazing the system helps a lot to my baby gas problems and she accepted the bottle pretty well. The system do works, we change from other brands and we are in love with this ones . No more than thanks to the creators of this bottles that just make my baby smile. Thank you Dr Brown

Originally posted on drbrownsbaby.com
Saved us!!
Dmar . 10 months ago
My son came home from the hospital so colicky. I tried everything!! I went to the store desperately looking for anything and grabbed these. They helped him so much burping became so easy and he stopped having as much gas pain. They aren't terrible to clean and they don't leak! I am one happy mama

Originally posted on drbrownsbaby.com
Great, then not great
Nena . 11 months ago
I bought 8 4oz and 8 8oz vented bottles and initially loved them. Baby took to them well and colic was minimal however at about the 3 month mark almost all the bottles started leaking from the rim. I did everything they mentioned that could be the problem. Tightened them, loosened them, didn't heat them, took the venting system out when heating etc. nothing worked. Every bottle is now leaking and I am doing nothing different than I did for the past 3 months. I can only assume they don't last, which is a bummer since a spent a pretty penny and now have to buy all new bottles not to mention the amount of breast milk I've lost. So disappointed.

Originally posted on drbrownsbaby.com
Awesome bottle but leaks
Iholcomb . 12 months ago
My newborn baby has tried to many different bottles and we always seem to come back to this one! Dr browns bottles are amazing with my baby latching on perfectly. Only issue is they leak all over her and me.

Originally posted on drbrownsbaby.com
I got a variety of bottles!
Twin Mama . 12 months ago
These were gifted to me and really hold up well! They're durable and I've found customer service to be extremely kind and helpful as well!

Originally posted on drbrownsbaby.com
Easy to use!
Mandyleighv . 1 year ago
Super easy to use and clean! Very durable. The only bottles both my sons use

Originally posted on drbrownsbaby.com
Not for smaller newborns
Katrina U. . 1 year ago
We purchased this product 3 days ago and we tried to train our daughter to latch on them but she was not able to. The Nicole seemed to narrow for her liking and it kept leaking all over her. We changed the Nipples and tried the different bottles but nothing worked. More milk and formula on her shirts and bibs then her stomach.

Originally posted on bedbathbeyond.com
Love these so much!
Pandapoof . 1 year ago
I got these and the wide mouth version. They are absolutely amazing. It's nice to have the option to not use the spout or not. I was also gifted the original versions of the bottles( my sister used them with my niece now 5 and nephew 1 and a half) None of the bottles have ever leaked on us. What I have noticed especially in the beginning of life that our daughter didn't know how to suck and would often spit back at the nipple and it would follow down to the ring and drip. Now that our daughter is 6 months we don't necessarily need the smaller ounce size however we bought the handle sleeves for the bottles. She can't really hold a bottle yet but with the small ounces and handles she's learning to. We also use them with water and a straw to start drink training. Thank you so much for making an amazing and versatile line of bottles

Originally posted on drbrownsbaby.com
I love these bottles, BUT…
Mom of Luca . 1 year ago
I absolutely love these bottles. I've noticed a significant difference between THESE particular ones, and the other ones. One of those differences just so happens to be leaks! Before I proceed, I'm just going to call the bottles as I see them as I do not know the terminology for them. Now, the bottles with the blue ventilation system appear to be the same as the bottles with the green ventilation system, and I made that assumption as well. And then the leaking started with the bottles that had the blue ventilation system. I tried everything. Using the ventilation, not using it, nothing worked. I then realized the bottle caps that held the nipples were different. They were shaped differently, seemed more secure, and most importantly didn't leak. I experimented the blue ventilation inside of these bottles and they worked wonders so my BUT from earlier is WHERE CAN I BUY JUST THE TOPS? No, not a bottle cap cover, not something for storage, THESE particular tops because that is all I need

Originally posted on drbrownsbaby.com
Best bottle that we have tried!!
AshleyCT . 1 year ago
Dr. Brown's gave me this product to try and we are so thankful. This is one of the best bottles that we have used. I helps my son avoid gas and colic. It is easy to assemble and take apart and clean. It travels well to daycare and does not leak. We have purchased additional and I highly recommend. Thank for for making wonderful products that work as described!

Originally posted on drbrownsbaby.com
Amazing bottles
Zobo02837 . 1 year ago
Bought these for all 3 of my kids and they helped so much. My kids tended to suck down their bottle quick once we started using dr.browns bottles they drank slower and helped them take in more then have it all just run down their faces. They are kind of expensive but well worth it

Originally posted on drbrownsbaby.com
Awesome product
Angela l . 1 year ago
Dr. Brown gave me the wide neck options nipplesto try out and I love them. They are more like a mothers breast and no gas on my baby's stomach. If your looking for a great product to try thisis it.

Originally posted on drbrownsbaby.com
Worth it!
Gaby . 1 year ago
Dr. Brown's gave me this product to try. I must say out of all the brands I've tried, Dr. Brown's seem to work best. This one precisely, I noticed reduced colic. It's leaking proof and reduces amount of air my son sucked in, if any. Love the design and efficiency of it.

Originally posted on drbrownsbaby.com
The Best Bottle
ZMama906 . 1 year ago
We've been using the Dr. Browns Options+ Bottle since my little guy was a few day old. They are the only bottle that he would take. Dr. Browns was so kind to give us one of the bottles for our honest review.


Originally posted on drbrownsbaby.com
Showing 1 - 20 out of 852 reviews