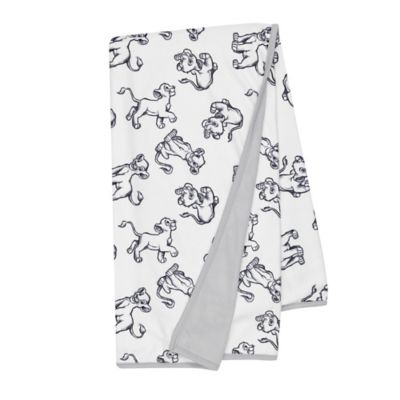 Disney® The Lion King Sketch Receiving Blanket in White/Grey
$23.99
Get 20% off & earn 5% back in points with Rewards™+
Enroll Now
customer reviews
Showing 1 - 4 out of 4 reviews
Baby blanket
BB&B Customer . 1 year ago
My one year old loves this blanket. She can't go to sleep without..the material is soo soft and not heavy at all
Love it
BoyMama . 2 years ago
The print is adorable and brings us back to our childhood to share with our soon. Nice size and super soft!
My daughter's favorite!
Xsolngngoodnitex . 3 years ago
[This review was collected as part of a promotion.] I have a 3 month old that's very fond of and particular about her blankets. She has a few that she loves to snuggle with when I hold her. But me being the huge Disney fan that I am, I saw this Lion King blanket from lambs and ivy and fell in love. In person, even more so. It is beautiful and looks like Simba is sketched right on it. It is very very soft and keeps your kiddo warm without being overly warm. Washing was very easy and it didn't ruin the fabric at all. It washed well and definitely didn't lose its softness. We have received so many compliments from family and friends when they see it. It has, hands down, become my daughter's favorite to cuddle with when we have our snuggle time. I definitely recommend this gorgeous blanket. I want an adult one for me!
Originally posted on Lambs & Ivy
Soft and Cute Design
kh88 . 3 years ago
[This review was collected as part of a promotion.] This blanket is perfect for baby. It is very soft, not too heavy and keeps baby warm. The Lion King design is super cute and I have already received lots of compliments. It is well made and will hold up very well.
Originally posted on Lambs & Ivy
Showing 1 - 4 out of 4 reviews