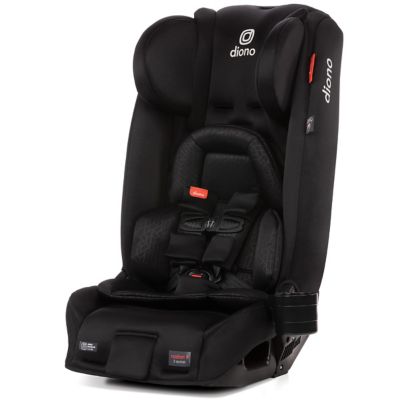 Diono™ Radian 3 RXT All-In-One Convertible Car Seat in Black
Most Helpful Positive Review
LOVE!!!
Boy Mom
.
4 years ago
I have purchased a total of 6 of the Radian RXT's and would gladly purchase more if needed. They are super easy to get the kids in and out of from our 6 month old to our 2.5 year old. We live in Texas so it gets quite hot here in the summer and so many of the car seats these days are super plush and thick. The Dionos are the exact opposite - and I love that about them. The kids aren't squished in on all sides - there is room to breath and get air all around them. Yet these things are super safe with their full steel frames. I said that I've purchased 6 of these, and the reason is that my husband totaled his car with our kids in it just last week. We had one rear and one forward facing in the back seat. The impact was from behind (car was going full speed on service road and simply didn't slow down for my husband who was stopped yielding for traffic coming off the highway), and neither boy had a hint of an injury even though the backseat was actually moved inward from the impact. Can't say enough good things about these seats!!
Most Helpful Critical Review
Difficult to use
Jklonow88
.
4 years ago
I had high hopes for this seat but I was really disappointed with it. It was really difficult to install and I wasn't able to get it tight enough to feel like my baby was secure, I tried the LATCH connection as well as using the regular seat belt. I even bought the foam wedge for it. The harness straps were also difficult to get tight on my daughter, I really don't know how you could have a smaller baby in it. It's HUGE, it's supposed to be one of the space saving seats and it's relatively slim width wise but it's ridiculously tall. I think you would have to have an SUV for this to fit with a front seat passenger. I have a tiny car so I knew I was going to have issued with most seats but this was worse than expected. I'm trying to return it and get a different car seat.
customer reviews
Showing 1 - 20 out of 86 reviews
Beautiful, but not for us
Jennie . 2 years ago
This seat is made beautifully. It is super sturdy. Actual install is fairly simple. That said, we could never get it tight enough to feel confident it was safe... none of the ways to install it, kept it from being "sloppy". No more than one inch of movement, we were not able to achieve that. We both were practically in the car seat itself, while pulling the Latch belts and the anchor straps. We were installing in a 2008 Jeep Wrangler.
Absolutely Best Carseat I have owned
Joyce . 2 years ago
I have had several high end car seats that honestly cost more but this is a very sturdy car seat that for the footprint gives my daughter more room than anything else. I wish I would have bought this when she was a newborn.
I love this car seat
Doula Momma . 2 years ago
Pros: First off I never write reviews .Having a 16 year old and now a 4 year old I have seen car seats change over the years. I could never find a good one that was easy to install . I LOVE this car seat. First off I have long nails , its a breeze to get my daughter in and out. It is very comfortable for her to sit in as well , our other car seats had her head jerk while falling asleep ( this one does not). Other car seats are always too tight around her tummy (this one is not) . My parents even have a better time with the seat belt and unfastening it is easy on their hands . The best part is the easy pull for the anchor hooks (genius) . I can not tell you how her old car seat took hours to install ( without long nails . It's plush , light weight and slim!!! Cons: I had to figure out how to assemble by myself and did not do a good job. I could not find instructions to save my life ! That was very frustrating , a simple google search on YouTube lead me to the companies instructional video . That was life saving ! After viewing I found out where the instructions were and how to anchor the seat properly.. My parents are now going to buy one. I will also suggest this to my maternity families ( I am a doula and RN) .
Great quality! But not safe for my 2 yr old!
BB&B Customer . 2 years ago
I loved this car seat until my 2 year old learned how to loosen the straps and gets out! I have tighten it as my as I can but he is able to loosen it with the bottom. I will have to start looking for another car seat. Unfortunately I called Diono and all of their car seats are made the same so I have to go with a different brand.
We love this seat
Margaret . 2 years ago
awesome seat. fits well in car. daughter loves being able to see plus i can nurse her in it! :)
Sturdy, clean design, need angle adjuster
Patrick . 2 years ago
The chair is nice, narrow, heavy and sturdy. It feels safe which is the most important thing, The directions for installing and installation process itself are not very intuitive. Moving the seat buckle is incredibly difficult given where it is placed. We have a 1 yr old and in the rear facing setting in a Jeep Grand Cherokee you have to push the front seat all the way forward. I had to purchase the angle adjuster separately which I think is pretty ridiculous given how dramatic the angle is. If it doesn't fit in a Jeep, I can't imagine it in a smaller car. With all of that said, now that we have the angle adjuster it's much better and seems like a fine chair.
Nice
Leslie . 2 years ago
This product is very well made. It seems super durable yet very comfy. My rear faced 11 month old looks comfortable. The only thing I did not like was that I needed to spend an additional $25 on the "wedge" accessory so that it didn't recline all the way back hitting the front seat. I really feel after paying this amount it should come with that accessory. Other than that it's as great as everyone raves.
Good Seat
Momof2 . 3 years ago
Good seat seemingly, haven't used very much or very long yet. I do love how narrow it is!
Excellent choice!
Michelle C . 3 years ago
Love the Diono car seat. We have one in yellow and one in blue!
very easy to use
Cass . 3 years ago
Fits with two infant car seats on either side. Great so far!
Great carseat if space is limited
Sabina . 3 years ago
I was looking forward to this car seat since I've heard so many great things about it. Once I got it I soon discovered it's a pain to install, it does not stand on its own (needs to be leaning on something for the car seat to stay upright). This car seat also has straps that must be rethreaded so that's a bit annoying since I have to uninstall it every time and rethread straps. Other than that I did get this car seat so I could fit 2 car seats in the back of my sedan so that a 3rd person can sit comfortably. I may not like its installation or straps but it allows me to fit multiple car seats in my sedan without compromising the safety of my children. However, if I did have a bigger car I probably would not get it, but that's not the case for me and this car seat does a great job for what I need it to do.
Great buy
BB&B Customer . 3 years ago
I've made this purchase a few weeks ago and it's a great buy. Very sturdy and well built especially considering that it's made to carry precious cargo ☺️
Michelle . 3 years ago
Looked at a few different brands of car seats in the store and tried them out. This one was by far the best quality and easy to use. Very happy with the purchase!
Car seat in a Prius
Mmbklyn . 3 years ago
I love the car seat. My son hates it for the first few seconds but doesn't mind it after (1 y.o). The only reason why I am giving this 4 stars is because the car seat in reverse takes up a lot of space and the "angle adjuster" is out of stock. The front passenger seat in my Prius has to be pushed forward a lot. I do love the width of the car seat in the back row.

Excellent car seat!
Alex . 3 years ago
Love this car seat! But installing it is another story! Woof! I have it for my husband's Jeep Grand Cherokee because we wanted something slim yet safe. It just isn't easy to install. The latch system is great but how it wraps around the back doesn't seem too sturdy. But my daughter loves it and is comfortable.
Maria . 3 years ago
Bought two, one for my toddler and one for my 10month old babaygirls and let look so comfy on it.
Perfect for small vehicles
Rebecca . 3 years ago
I spent a lot of research trying to find the most safe carseat that could fit in my tiny 2010 Toyota Corolla. This is wonderful. I would be able to fit three across without much problem. Very heavily built and super secure. I highly recommend it!
Excellent product
Ruby . 3 years ago
We got this car seat for my 21 month old and I simply love it. It was super easy to install and it fits perfectly it my middle size SUV. I love how sturdy it is and my son seems to be very comfortable in it. Would definitely recommend.
Baby loves it!
Blanca . 3 years ago
Clean, simple and stylish cars seat.
Best car seat I've had!
Fallon . 3 years ago
This car seat is very sturdy and if explained to you ( very easy to operate). My little girl loved it turned backwards and loves it now facing forwards!! She is very comfortable in it and my older kids love that they can easily maneuver around it because it's not bulky. It's fairly new to us still, but I have no complaints!

Showing 1 - 20 out of 86 reviews