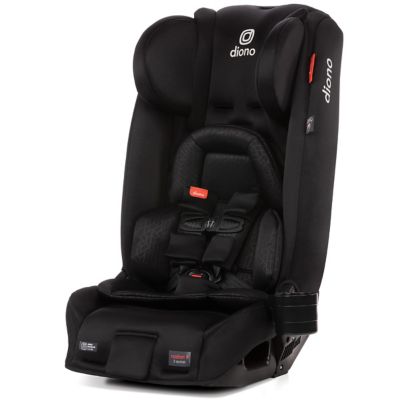 Diono™ Radian 3 RXT All-In-One Convertible Car Seat in Black
Most Helpful Positive Review
LOVE!!!
Boy Mom
.
4 years ago
I have purchased a total of 6 of the Radian RXT's and would gladly purchase more if needed. They are super easy to get the kids in and out of from our 6 month old to our 2.5 year old. We live in Texas so it gets quite hot here in the summer and so many of the car seats these days are super plush and thick. The Dionos are the exact opposite - and I love that about them. The kids aren't squished in on all sides - there is room to breath and get air all around them. Yet these things are super safe with their full steel frames. I said that I've purchased 6 of these, and the reason is that my husband totaled his car with our kids in it just last week. We had one rear and one forward facing in the back seat. The impact was from behind (car was going full speed on service road and simply didn't slow down for my husband who was stopped yielding for traffic coming off the highway), and neither boy had a hint of an injury even though the backseat was actually moved inward from the impact. Can't say enough good things about these seats!!
Most Helpful Critical Review
Difficult to use
Jklonow88
.
4 years ago
I had high hopes for this seat but I was really disappointed with it. It was really difficult to install and I wasn't able to get it tight enough to feel like my baby was secure, I tried the LATCH connection as well as using the regular seat belt. I even bought the foam wedge for it. The harness straps were also difficult to get tight on my daughter, I really don't know how you could have a smaller baby in it. It's HUGE, it's supposed to be one of the space saving seats and it's relatively slim width wise but it's ridiculously tall. I think you would have to have an SUV for this to fit with a front seat passenger. I have a tiny car so I knew I was going to have issued with most seats but this was worse than expected. I'm trying to return it and get a different car seat.
customer reviews
Showing 1 - 20 out of 84 reviews
DO NOT BUY
BB&B Customer . 4 months ago
Incredibly bad. When I got this installed it moved so much I didn't feel safe to even use it once. I would not ever trust this product enough to put my child in it and use it. I would highly discourage anyone from going through the hassle of buying this product. I feel this seat is very poorly designed and not safe.
Would not purchase another
KrissyS . 4 months ago
I purchased the Diono to replace my daughters Cybex infant car seat. Worst mistake! The car seat is ok, nothing special or anything. It was extremely difficult to install, for the instructions are not the best, so that was annoying. Overall, I just find the product to be cheaply made. The strap covers have velcro, and I cannot tell you how many dresses and outfits have been ruined because of those cheap velcro strap covers! Literally snags everything! You would think the designers would have considered that, but they did not. I also tried to leave feedback through their website, but there was no way to do so.
Disappointing
Gabby . 9 months ago
I have never been so disappointed about a car seat. It is impossible to install. My husband and I have both tried to install it in our vehicles. We have tried the latch system as well as the seatbelt. It wiggles way more than an inch from side to side at the base and at the top. We currently own Britax, Chicco, and Graco car seats, and we have never had this problem with any of those. We purchased this simply because we felt our child was ready for a car seat that wasn't so bulky. I even did a virtual install with Diono and they told me that the seat was "fine" because once a child is sitting in it, it wouldn't wiggle as much. Even with him sitting in it, it wiggles to the point where we cannot safely transport our child in this car seat. At this point, we wasted $400 because we will not be using this.
We have bought 5 of these so far!
Daniel . 10 months ago
We have 5 Diono Radian seats of a couple different models. Things to know first before you select a seat. 1. The 3R and 3RX are IDENTICAL except the 3RX has an extra newborn infant insert. If you like 99% of people have a traditional infant seat, you won't need the "X" at all since you will use that until your child outgrows it. So I would not recommend the 3RX since you're paying a benjamin for literally a square foot of fabric padding and a removable cupholder! (you could buy the cupholder separately if you for some reason need it) 2. ALL OF THE DIONO SEATS OFFER SIDE IMPACT PROTECTION and are equally safe and secure. The RXT, this one, adds these wings next to the kid's head, which are headrests for comfort, primarily important while napping in the car. If you aspire to take longer trips with your kid in the car, you may want this. We bought it for this reason in hopes that we can travel now that the virus is hopefully in retreat. Hopefully? If you don't do long trips or your kids don't sleep in the car, you should probably save the considerable money and buy a 3R instead. 3. Many car seats (including these) advertise how they can be converted into a booster for big kids. Really, you should just ignore this. A regular booster is so light and easy and cheap - under $30 - you're not likely to want a big bulky converted car seat once a booster is an option. All that out of the way, here's why we have purchased 2 of these for each of our cars, and one for grandpa! 1. narrow design which is still PLENTY wide for preschoolers. It's also so easy to get them in and out of it because it's not a giant throne that surrounds the kid like every other brand. This doesn't block the center console in our backseat so our kids can use that to place toys and cups in easy reach. An incredibly determined and thinly-built parent COULD sit between these in our midsize sedan; in a big SUV it would probably be "acceptable" for more medium-sized adults. But the main thing they advertise is you can of course put THREE in your car if you need that. 2. Easy to install 3. Moderately easy to pull off all the fabric and launder it (of course you do have to remove the seat from your car to do this, but it's fine). Realistically you might do this monthly if you're a diligent parent. Or when you have a particularly bad spill! 4. Useful for rear facing and forward facing stages. 5. The seats are nice-looking and come in a lot of pleasing colors.
Can fit 3 across
Samantha . 11 months ago
Great car seat if you have a smaller car
Great looking and best car seat
Bri Good . 1 year ago
Looks good. Okay to clean. Not huge, so it let's people sit next to baby in back. Getting seats and go back carefully. I like to remove the cup holders. I would buy for next baby.
love it
conchita . 1 year ago
Grandson loves it very comfortable
Amazing Car seat
Yeni . 1 year ago
I absolutely love this car seat. My only regret was not purchasing sooner so that my 1 year old could have used it as a baby. I loved it so much that I ended buying 2, one for each car. It is heavier than your standard car seat however, it is made out of steel. I wish that the headrest was easier to move along the tracks. I found myself watching several videos on YouTube trying to figure out how to do it. Other than that it was pretty easy to assemble the care seat and use it face forwarding option. Car seat feels super comfortable and sturdy.
We love it!
BB&B Customer . 2 years ago
So, it's still not that long that we have it. But we really like this car seat!
Great Carseat
BMarrier . 2 years ago
This was purchased as a secondary seat for my husband's truck. I would definitely buy another when we have a second child especially since it is more narrow than most carseats. It's a great value.
Missing instruction manual/installation guide
Danielle . 2 years ago
This seat was recommended to me by a friend and it looks sturdy and comfortable. However there was no manual or installation guide included in the package which makes me wonder if I was sold a used/returned item.
Poor quality cover
Kaitlin . 2 years ago
Cover tore on the back, on the crotch buckle cover, and the clips that attach it to the bottom of the carseat tore off. Diono customer service would not replace as the extended warranty was put into place 7 months after purchase even though the product is only 1.5 yrs old. Horrible service and product quality. Will not be purchasing from them again!

Fantastic car seat
Danimal . 2 years ago
I bought this as a second car seat for my 3YO and I wish this was the first (and only) car seat I bought. Its very sturdy (heavy!) but has a slim profile. Installation was easy and my daughter is comfortable in it. Highly recommend!
Best Carseat Ever
Alaina . 2 years ago
I have five kids and I could never justify spending this much on a car seat until I broke down and bought one. Now I want to replace them all with these! They feel super safe and the fact that you can fit three in a row is amazing.
Awesome seat!
Bed Bath and Beyond Customer . 2 years ago
We love this seat. It's heavy but sooo worth it!
Didn't fit in Honda Insight
Julia . 2 years ago
Quality looked great. It was an attractive car seat. After spending hours researching convertible car seats for compact cars I bought this one. It didn't fit. Wish it had -it was a pain to return
Not safe for a booster seat!!
Diono customer . 2 years ago
This seat was great as a car seat, but as a booster seat it is definitely not safe!! The headwings slide down onto my sons shoulders and the seatbelt clip doesn't does not allow the belt to retract properly. After sending videos to the company and a lot of emails,diono has admitted to the defects, but has not offered to replace with a safe product . I purchased 3 very expensive Diono carseats and I am very disappointed with the ciusotmer service!
Diono fan
Ann . 2 years ago
Thankful for a seat that gives peace of mind. Easy to install when you've had a diono before or read manual. Customize to fit your growing child. A breeze to clean and fitting two across so far.
Great for middle seat
Justin . 2 years ago
This car seat is a tank. We got it for fitting in the middle seat while still leaving enough room for a second car seat and a passenger.
Beautiful, but not for us
Jennie . 2 years ago
This seat is made beautifully. It is super sturdy. Actual install is fairly simple. That said, we could never get it tight enough to feel confident it was safe... none of the ways to install it, kept it from being "sloppy". No more than one inch of movement, we were not able to achieve that. We both were practically in the car seat itself, while pulling the Latch belts and the anchor straps. We were installing in a 2008 Jeep Wrangler.
Showing 1 - 20 out of 84 reviews