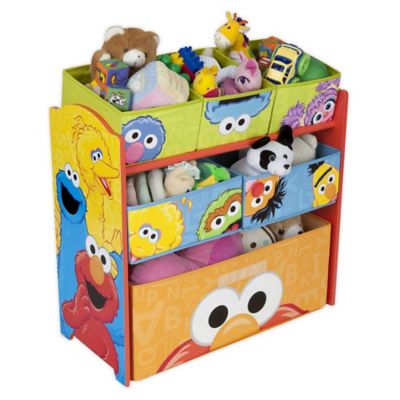 Delta Children Sesame Street 6-Bin Design and Store Toy Storage Organizer
$35.99
Get 25% off & earn 10% back in points with Welcome Rewards™+
Enroll Now
customer reviews
Showing 1 - 14 out of 14 reviews
Sesame Toy Storage Organizer
BB&B Customer . 3 months ago
My son LOVES moving the glass stickers from one side to the other! Easy for my son to open and close. Small and compact, love the tall design versus wide.
Son loves it!
ShaytheDragon . 7 months ago
My toddler son is obsessed with Sesame Street so this makes cleaning up his toys fun. It is nicely made even for a rough toddler just have to watch them trying to climb it if the boxes are out. He loves the reusable stickers. So many toys can fit in here without it getting dumped out when toddler wants that specific toy. Definitely a must have for every play room.

Cute, but cheaply made
NJmomNdad . 2 years ago
The boxes warp very easily so after a few times of pulling them out they are deformed. It also comes with vinyl clings that don't really go anywhere on the product itself.
Six bin organizer for the win
Becky S . 2 years ago
This product is so adorable for your Sesame Street loving child in the family. I love that it is very well made and the drawers are very easy for my children to use. It is light weight and sturdy and that is a huge plus 4 me. I love that Delta children is all about safety! This organizer was the perfect addition to my boys play Room. I highly recommend it!
Six bin organizer for the win
Becky . 2 years ago
This organizer was perfect for my boys play Room and their toys. It is very well made very sturdy light weight and the design is super cute! I needed something to organize my boys toys and this was the perfect addition to add to their play Room. Very happy all around!
Super cute, functional toy bin!
Bed Bath and Beyond Customer . 2 years ago
We got this adorable Sesame Street toy bin organizer for our babysitter's house. Our toddler daughter is obsessed with Sesame Street and our babysitter was in need of more toy storage. It's super easy to assemble and features all of her favorite characters. The height is perfect for 1-4 year olds and I think makes putting toys away, well, fun!
Great Quality
Daza . 2 years ago
I love the quality of organizer. It is sturdy and my son loves the Elmo bins! This is my second time purchasing a Delta Children product and I have not been disappointed!
great for toddlers !
parisa . 2 years ago
My two year old son loves this product! He enjoys taking the bins out and filling them up with his toys. I definitely recommend!
So cute
Liliana christine . 2 years ago
It's cute, sturdy & high quality. There's six fabric bins and colorful images of the whole Sesame Street gang.
We love it!
Jessa . 2 years ago
We are creating a school type area for our 3 year old and we were looking for some type of storage that would match well with his desk chair, and this was so perfect! We love that there's a variety of storage container sizes, and that it's really sturdy and well-made. It was extremely easy to put together, it took maybe 10 minutes. Best of all, we love the fun Sesame Street theme, our son was truly elated when he saw it! I highly recommend it!

We love it!!!
Claire . 2 years ago
Our sons room needed a toy organizer and this just came so perfect! I love that there are 3 different sizes and we can for just about anything. I especially love the bottom bin because it's big! You can't tell but my 2 year old son is hiding in there. The best part about this product is how easy and fast I was able to put it together! Less than 10 minutes with 10 pieces to attach together. Talk about having it easy! I recommend this for all the parents out there that need a toy bin! Totally worth every cent!
It is affordable, sturdy and adorable!!
Bed Bath and Beyond Customer . 2 years ago
Bigger than expected but small enough for my almost 11 months old to reach. Easy to put together. It is affordable, sturdy and adorable!! My baby girl is so happy with it so am I.
Awesome for Sorting and Storing Toys!
Samantha . 2 years ago
My toddlers love Sesame Street and this organizer has all of their favorite characters on it! It was easy to set up, it only took a couple minutes! It's awesome for sorting and storing their toys in a cute way!
Easy to assemble.
Brittany . 2 years ago
Was easy to assemble. But came with vinyl clings that didn't really have a place on the item. As you can only stick them to the sides which already have graphics. Also my box had a strange piece inside that looked like part of production equiptment.
Showing 1 - 14 out of 14 reviews