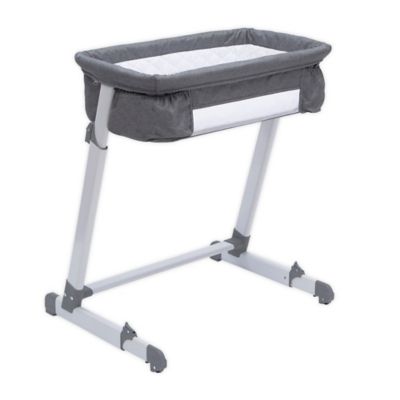 Delta Children By the Bed Deluxe Sleeper Bassinet in Grey
$111.99
Get 20% off your entire purchase with coupon!
Enroll Now
customer reviews
Showing 1 - 20 out of 20 reviews
Loved it.
BBB Customer3 . 4 months ago
I have owned the twin and the single bassinet. I loved that everything is washable. I kept it at the foot of the bed, so when I sat up I was right next to my baby. I love that it overlaps the bed; giving more room to move if you don't have extra space in your room.
Does its job but could be better
Jayembe . 8 months ago
Got this as a gift at my baby shower, have been using it for 3 months. The bassinet does its job, and our baby sleeps in it but nothing to rave about. Cons: This thing is so high, our bed is pretty high as it is and even on the lowest height setting its still to high. Have to sit all the way up to see or get the baby. Cant see anything through the tiny mesh sides, not sure why they made them so small. This thing is tiny, from the beginning our baby was 21 inches and it seemed small then. Now at three months we have to buy another product because his feet hit the end of the bassinet. The pockets on the sides are not that big and hold barely anything, stretch out easily, and wake baby cus they make noise when reaching into them. Save your money, buy a different product. I wish I had.
stinks
Britt . 11 months ago
Wow!! As soon as I took it outta the box it STUNK sooo BAD smells like puke and makes ya wanna puke!! It doesn't even roll with the wheels it has..so if you're In Bed and want to get up to pee there's NO way to push it back!
Strong smell-might not be able to use
Becky . 1 year ago
We haven't used it yet as baby isn't born yet but we set it up. Upon opening, we noticed a foul smell like puke. I have let the sheet and mattress air out and the smell has gone away from those pieces but the bassinet itself still has a strong puke smell. If it still smells like that once baby is here, we won't be using it which is unfortunate because we really need this. Hopefully BuyBuyBaby can help us with an exchange.
Convenient
Ivana . 1 year ago
I used this alot when baby was first born, it came in handy being close to baby and having a safe place for him to sleep. One thing I did have trouble with was the leveling it was always coming out of place when we moved it when I think it should lock in place rather then easily come up but other then that it's great.
Great Bassient
TheWyldCat . 2 years ago
We love this bassinet! It's gone camping in our camper with us, and it's currently where our son sleeps at night until he eventually moves to his room, but it does everything we need it to! We're actually in the process of getting a second one for our 5th wheel because we love it so much!
Decent, does its job..
Tye . 2 years ago
I got this one because it said it would support up to thirty pounds which i'm not doubting if that is true or not but your child will outgrow the length way before that! My baby is moving to his crib full time at three months because he practically touches all 4 sides! The bassinet is not as stable as like a 4 legged one but this kinda works to your benefit so you can move it back and forth a bit to help the baby possibly go back to sleep.
Just great
Donna . 2 years ago
From first night till now, baby was sleeping great , and having her so close was relaxing.
great product
Penn . 2 years ago
It fit perfectly beside my bed. Good for tall beds. Easily to wash and assembly . Great product for a good price.
Great product
Bed Bath and Beyond Customer . 2 years ago
Very sturdy and good quality. I love that you can roll it under the bed so the bassinet is literally right next to you. Has 2 pockets on the side which will be great for diapers and a pack of wipes since they are very spacious.
Easy Peasy
BB&B Customer . 2 years ago
My husband and I love this bed side bassinet! It has made our night time routine, and night time feedings so much easier! With my daughter we didn't have anything like this and it was always a hassle getting her to sleep for long periods of time. My son, who is 11 days old has already begun sleeping 4-5 hours through the night and I'm sure it's due to the comfort of being close to momma, yet safe and snug in his own bed!
Best Bassinet!!
Bed Bath and Beyond Customer . 2 years ago
We love this bassinet we purchased for our baby girl due this month! It so conveniently slides under our bed so we will have her secure and close by to us! I also love the speed design and stylish look! I recommend this bassinet to everyone now!
Love this bassinet!
Annie . 2 years ago
Seriously such an amazing bassinet- highly recommend! After having our first baby brought home, you worry so much about everything! This bassinet having it RIGHT next to me and easy access to grab her, able to adjust height, and bring it right in the bed is so important to us. Very amazing quality!
Perfect for co sleeping
BB&B Customer . 2 years ago
I love the sleekness of this product. The storage space around the sleeper is perfect for storing essentials needed for baby. Being able to adjust the height is very convenient.
Broken
Yanchia . 2 years ago
BROKEN MISSIC SCREW
Nice bassinet
Djmc . 2 years ago
Overall, I am pretty happy with this bassinet. I wish the sides were mesh to the top so you can see in better. It is a bit heavy and bulky and not the easiest to move from room to room. Other than that, it is a nice bassinet.
Perfect Bassinet
Ara . 2 years ago
I absolutely love this bassinet. I love the modern look of it and it's function. It is easy to assemble and perfect for keeping a close eye on your little one. It was easy to assemble and very functional. Love the sturdy legs on it.
Love this bassinet
Brittany . 2 years ago
This bassinet is so convenient during the night with a newborn ! It pulls right up to the bed and the height can be adjusted. It was the perfect size and I love how it has storage on the side for extra wipes and diapers!
Great Bedside Bassinet
Rachel . 2 years ago
I've loved this bassinet! I wanted something that could roll right up against our bed and be easy to reach into at night, and this is just that. I have thick carpet in the bedroom, so you have to lift a bit to get it to roll, but if you have hard floors I would be it slides easily. I also love that the sides are mesh, so I can see my baby without having to sit up. This is perfect for an in between cosleeping and having your baby in their own bed. Love!
Most Convenient Bassinet!
Rosalinda . 2 years ago
I got this bassinet for my SIL earlier this year as she welcomed her second child. It's perfect for any mom and new baby! It pulls up so close to the bed so baby can have mom's comfort and we love that the height is adjustable! My new niece loves it, too. I'm so glad I chose this one for her and I'm getting one for my next child, too!
Showing 1 - 20 out of 20 reviews