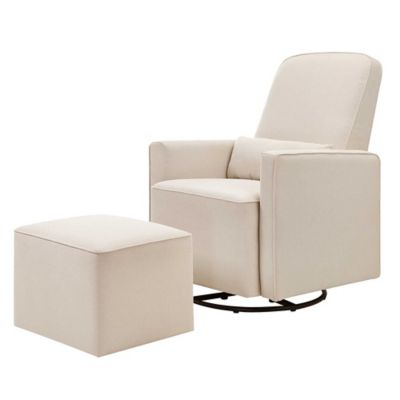 DaVinci Olive Upholstered Swivel Glider with Ottoman in Cream
Most Helpful Positive Review
better than expected
mybbyboy
.
6 years ago
I bought this online without viewing in person, main selling point was the price. I had looked for so long at chairs but they were crazy expensive and i didn't think it was worth spending that much on. This chair turned out to be wonderful. style is nice, pretty comfortable, right size. i had read that it is good for tall people, and that is correct i am 5'9 and husband is 6'2 and we can rest our heads, now to wait for baby
Most Helpful Critical Review
I am going to keep looking!
MommyOf1
.
6 years ago
I loved the look of the chair when I first seen it. Once it was delivered (which was a day before the actual time frame), I sat in it and thought it was okay. I do love the face that it spins and SOMEWHAT reclines. However, once I got it set up in the nursery it looked tiny compared to everything else and it was not all that comfortable to sit/sleep in. I have a newborn, which was the reason for purchasing this item. After sitting in it for a little while I stood up with my back KILLING me. You are basically sitting straight up.
customer reviews
Showing 1 - 20 out of 218 reviews
Awesome chair
A Gutierrez . 1 month ago
Great produtc… love it and super satisfied with it. My daughter loves to be rocked in that chair
So comfortable!
Bed Bath and Beyond Customer . 2 months ago
This chair is the perfect size, not too big , I won't have a hard time getting up with a sleeping baby in my arms. Great height for nursing.

Originally posted on DaVinci Baby
Best nursery purchase
Heather . 2 months ago
I love this glider! So worth the money for a comfy place to sit while I spend hours feeding my baby. I love that the arms of the chair are extra padded, a great design feature for a nursing chair. I've had it for months now and I use it daily.
Rocker/glider
Angela . 2 months ago
Bought this for my daughter for my newest grandson ! It's perfect in his nursery as it fits perfectly in the corner !!! We love it !!!
DaVinci glider and ottoman rocking chair
BB&B Customer . 3 months ago
My Son loves this rocking chair for his baby daughter.
Don't fall for the My funds
Bluechair . 7 months ago
chair is good, color looks great on the website it stated that any purchase customer would recieve $50 my funds, then it disappeared after I purchased the item. False advertisement.
Great features
Dmr87 . 9 months ago
Very comfortable when rocking or feeding the baby or just needing to sit and relax

Originally posted on DaVinci Baby
So comfortable, perfect height.
KasiJB . 9 months ago
I bought this back in October 2021 and have been using it since December 2021. We love it. It is comfortable and the right height (I am 5' 8") for me to be able to rest my head.

Originally posted on DaVinci Baby
Easy to use and convenient
Hucke2020 . 9 months ago
We had to purchase online because stores didn't have much. For an online purchase, it is good. The ottoman would be better if it glided too, especially for the price. I use the back pillow to prop my LO up to nurse on. I have washed the pillow cover countless times, such a convenient feature. It is a comfy chair for how long you may be sitting in it.
CHEAP
BB&B Customer . 10 months ago
I WOULD NEVER RECOMMEND!!! I bought this as a gift for my brother a sister in law and I am so embarrassed. This cheap crap came bent and the box wasn't even damaged. The ottoman wasn't even the correct one for the chair. The chair felt so flimsy that my brother was pulling it out of the box and it was bending even more. They ended up setting it up just to take a picture of it. I was so embarrassed I ended up driving to the store and buying them a lazy boy instead. DO NOT BUY!!!! The quality on these must have gone to hell!
LOVE!!
GRAMMYto Waylon . 10 months ago
Love it, I purchased it so I would have a rocking chair in my home when my first grandchild arrives in March 2022. It looks perfect and is very comfortable. It will be a chair to make many memories in with my sweet grandson.
Horrible
BB&B Customer . 11 months ago
Not sure how you rock a child in this! Cannot believe I got this as a gift for someone

love it !!
Genn . 1 year ago
My favorite gift off my registry!! So comfy and perfect size for my baby's small nursery. I'm 5'7 and have wide hips and I'm super comfy in it! Perfect rocking chair
Wonderful
BB&B Customer . 1 year ago
Buying sight unseen was unsure. This is a wonderful chair and ottoman.
Not the same quality as before
Sara . 1 year ago
Purchased this exact glider and ottoman set in 2018 for our son's nursery. Loved it so much, we just bought it again for the nursery for our new baby, and opened the package last night. Overall size of this chair has shrunk, and it's not as nice looking or comfortable as the exact same one we bought a few years ago. The original one we bought is 28" across from arm to arm, while this one is 24". That's a pretty big difference with regards to the armrests, they're much more narrow and flimsy looking now. The seat itself went from 21" width to 19", so definitely not as roomy and comfortable to sit in. If it wasn't such a bulky item, we'd return it. I previously recommended this glider to many of my friends, but will warn them against it now, unless you go and see it/sit in it in person.
Trash
Kristjana . 1 year ago
Ok, I am so upset with this purchase. I bought this about 2 1/2 months ago I have been using it for one month. It started making noises every night I rock my daughter to sleep the chair makes horrible horrible horrible HORRIBLE NOISES. don't waste your money!!!!!!!!!!!!
Love it
Aro-twoateone . 1 year ago
Very comfortable. Perfect for pregnant and tall. Oh her husband likes it too.
Life (back ) saver
BB&B Customer . 2 years ago
I purchased this glider to keep in my granddaughters room At my house. It's just the right size, comfortable, quiet. And most of all it saves my back from standing and rocking. We both love it!
Perfect
BB&B Customer . 2 years ago
We have a small nursery and I thought there was no way I could fit I glider in it, but the size is perfect. I am 5'6 and can lean my head back. It is very comfortable and perfect for night feedings.
Comfortable and Quiet
Megan . 2 years ago
Love this chair. It's comfortable and quiet. The baby loves to me rocked in it
Showing 1 - 20 out of 218 reviews