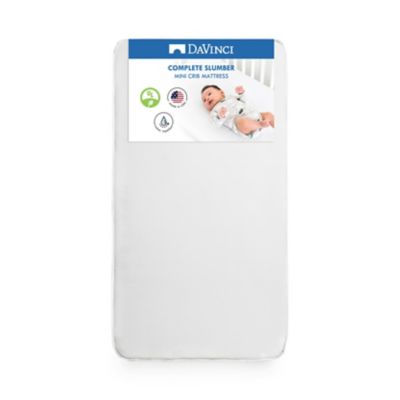 DaVinci Complete Slumber Waterproof Mini/Portable Crib Mattress
customer reviews
Showing 1 - 10 out of 10 reviews
Comfortable Mattress
Laney . 4 months ago
This mattress fits perfectly in the mini crib. It is a firm mattress which is perfect for my granddaughter. I took about a half cup of water to test if the mattress was truly waterproof. The water just pooled on the top and didn't penetrate the mattress. I highly recommend this mattress

Originally posted on bedbathbeyond.com
Mattress
Gma58 . 10 months ago
I bought this crib and mattress for my Grandson when he stays here. It is very firm and he loves it.


Originally posted on DaVinci Baby
Good quality
BB&B Customer . 1 year ago
I bought this for my nephew and it looks great
Works Well
Kate . 2 years ago
The mattress works well with our mini crib.
Dented after 1 month
Chris . 2 years ago
I Loved this mattress upon arrival, but after just a few short weeks of using with my newborn baby the mattress is pitted where she sleeps. You can actually see the indentation in the mattress / outline of her body when she is not in the crib, resulting in unsafe sleep conditions.
Baby sleeps great in it
Jamie . 2 years ago
This mattress fits very well into our mini crib. It's quite comfortable and the baby sleeps very well in it. Best thing is it's waterproof so that makes things easier!
DaVinci Mattress
MsChica . 2 years ago
Great quality, excellent price.

Originally posted on bedbathbeyond.com
Great Mattress
MJG . 3 years ago
I like the size of the mattress.
amazing.
BrendaKayVince . 3 years ago
I 100% love this item ! It's super soft an is perfect for my two month old son's pack an play. Now I can't wait till the Mini Crib is sent an i receive it because I'm super excited to use this mattress in it ! Yes, People this item is really great an the price is awesome too go along with it. It's a must buy for anyone tired of using the hard cardboard mat that comes with your pack an play. . .

Originally posted on bedbathbeyond.com
Poor Quality
Stephanie . 3 years ago
After only 2 nights of our baby sleeping on this mattress it is permanently pitted where he slept, especially his head area. It does not seem firm enough to be safe. I will be calling the company for a refund via the 25 year warranty.
Showing 1 - 10 out of 10 reviews