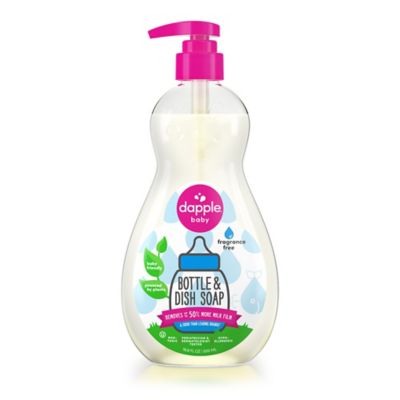 Dapple® 16.9 oz. Fragrance Free Bottle & Dish Soap
$4.79
Get 20% off your entire purchase with coupon!
Enroll Now
customer reviews
Showing 1 - 20 out of 38 reviews
Peace of mind
Neeks . 8 months ago
I love that this soap is fragrance free and it does the job perfectly. will use till we ween of bottles and pacifiers.
Quality
Sharmin . 12 months ago
The bottle came broken & the soap was spilled all over.

Great Product
Melody . 1 year ago
My bottles seem to be much cleaner using this soap.
Only soap I will ever use for baby bottles!
Alessa . 1 year ago
I have been using this soap since my daughter was born. I was very happy with the way it was cleaning her bottles. The moment I really realized just how amazing it is was though was this summer when we were in vacation for 2 weeks and I was using different dish soap. The bottles began looking mush less clean. I was using the same bottle brush I use at home. The only difference was the soap and it was night and day. This brand has my trust. The high chair cleaner is also a really nice product. I do quite a bit of research on products with clean, less toxic ingredients and these products are safe which gives me one less thing to worry about! 100% recommend!
Love it
Jesira . 2 years ago
Excelente producto, deja todo muy limpio sin residuos de leche. No tiene olor y rinde mucho! Ya encargué la bolsa grande para hacer reposición! LO SUPER RECOMIENDO.
It's good
Claudia . 2 years ago
I believe the first few weeks this is general. I like it.
Great for washing baby dishes
Mimi . 2 years ago
Cleans effectively. We use it to pre-wash baby's dishes before going into the dishwasher and then the sterilizer.
Love!
Andrea . 2 years ago
This soap is the best and it's plant based! Zero fragrance snd cleans the bottles so well. No complaints. Make sure to stock up if you have an infant!
GOOD PRODUCT BAD DELIVERY
Arianna . 2 years ago
I love the Product. But what I received was not what I pay for. bottle were half empty!
Cuini . 2 years ago
Great product, those what is advertised
A must!
Isabel . 2 years ago
Love washing baby bottles with this. No grease or bad smell left in
Love it!
Share . 2 years ago
I love that it seems to be a safe and gentle product, but also effective. It lathers really well. I love that it doesn't have fragrance; so no bitter taste is left on the baby dishes. The NICU that my daughter stayed in used this product which is how we learned about it.
Bottle soap
Kay . 2 years ago
I love this soap! It gets all leftover residue and cleans the bottles amazing
Dapple
Danielle . 2 years ago
Dapple is a wonderful product to use for newborns. It also smells very nice
Love this Product!
Sarah . 3 years ago
Dapple cleans the baby bottles and breast pump and leaves no milk residue like other cleaning products.
Go dapple!
Claire . 3 years ago
Love all dapple products!
Clean !
A Taylor . 3 years ago
Price is good & works great cleaning bottles/dishes and breast pump parts !
mrsmilerico . 3 years ago
It is a good product, clean well, remove the fat from the milk and remove the smell
Great product
Panna . 3 years ago
Amazing product. No after smell with bottles and cleans very well.
MamaKeeks . 3 years ago
I'm a first time mom so of course I'm going to do the upmost. I must say, I really do love this soap. A little goes a long way, and also is my saving grace when my forgetful husband leaves bottles to be washed for when I get home. It's probably not a necessity but I do enjoy having it for my baby's bottles.
Showing 1 - 20 out of 38 reviews