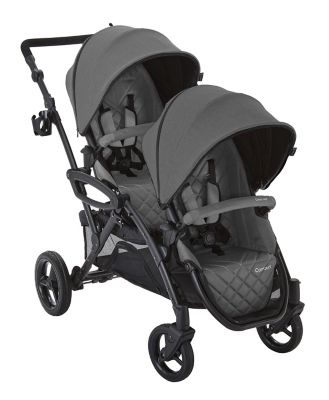 Contours® Options® Elite V2 Tandem Stroller in Charcoal
customer reviews
Showing 1 - 20 out of 45 reviews
like it...
Nahid . 4 weeks ago
i was trying to cancel my order but didn't happened .then i was thinking I'll return this .after setting this stroller i just love it...very easy push..my toddler and infant sleep peacefully..,l

Originally posted on bedbathandbeyond.ca
Perfect Disneyland stroller!
BB&B Customer . 3 months ago
Took it to Disneyland 2022. It was perfect size and we had plenty of room for all of our needs. We had two adults, two teens, two toddlers. My diaper bag and all of our souvenirs and things fit perfectly!

Originally posted on bedbathbeyond.com
Great stroller for our family!
BB&B Customer . 5 months ago
We have been so pleased with this stroller. We bought it when our oldest was 20 months old and youngest was 2 months old. We love how you can adjust the seats and fold it down nicely. It was a little hard to figure out how to smoothly open and close it, but we eventually got the hang of it! We are able to fit it in our Honda Civic trunk as long as we take the two seats off. Overall, we are pleased with it and will recommend it to others who have young children close in age!

Originally posted on bedbathbeyond.com
Sturdy, safe, and easy to handle
DJames94 . 1 year ago
[This review was collected as part of a promotion.] We received this stroller over a month ago and have put it through its paces several times. First, this stroller was extremely easy to assemble and set up. Contours did an excellent job in that respect. Probably the best feature about this stroller is the multiple seating positions. We are able to face the kids back to back, face to face, or both forward. The recline feature was also an excellent addition! The canopy is large and shades both kids easily. As with any double stroller, it's large. But the size when folded enabled it to easily fit in the rear of our SUV. Folding and unfolding the stroller were easy after reading the instructions and watching the video. There is plenty of storage on the stroller; something we all need when carting two toddlers around. Maneuvering and pushing the Contours stroller was a breeze on a paved surface. The design, construction, and attention to detail make this stroller a must have for parents. In the short time we have owned this stroller, we have chalked up probobly 40 hours of use on vacations and day trips. Trips that would have been MUCH more difficult had we not been using this stroller.
Originally posted on Bazaarvoice Sampling Community
This Double Stroller is a Winner!
Felix . 1 year ago
[This review was collected as part of a promotion.] Contours has constructed a very durable double stroller that's not only easy to assemble, but easy to use! Of all the strollers that we have owned, this is the one my kids love the most! One of the main reasons is all of the versatile seating positions! My two toddlers love facing one another while riding but if they ever begin to argue or fight, all we have to do is switch their seating positions to tandem or face them back-to-back. This is a great option to diffuse the situation and it also gives them a different viewing perspective. We also really like the Contours tandem/back-to-back position as it allows our toddlers the freedom to nap without disturbing one another if we are out on a day trip. The canopy provides great coverage and the recline feature works smoothly. Despite the size of the stroller, it's quite easy to navigate and it glides smoothly on paved surfaces. This probably isn't the best for any off terrain strolling but otherwise handles very well, even in tight spaces. Things to keep in mind, while this makes for a great double stroller, be sure you have a car that will fit this monstrosity of a stroller because it's massive! It takes up 66% of our trunk space (standard size SUV with the 3rd row seating down). If you detach the seats on the stroller, you may be able to fit it in smaller vehicles but if it's fully assembled, I can't imagine getting it into a sedan. Possibly more likely user-error, but re-opening the stroller was not as intuitive as I thought it would be. It took me several tries before I understood the flow of how things worked (despite reading the manual and watching videos). However, once you've done it several times, it becomes much easier open and close. What can you look forward to with the Contours Options Elite V2? Large and spacious stroller that seats two little ones comfortably up to 40 lbs. per seat. Many different seating arrangements with an abundance of storage, and all of this while maintain smooth and comfortable ride. What you should expect as with any double stroller is that it's very big and quite heavy. I think this stroller is a winner, hands down without a doubt. This is our go to stroller when we go for full day outings as it gives us options. It's not easy carrying around two toddlers, so that's where Contours Options Elite V2 saves the day! It's an excellent value and honestly feels the most stable and balanced amongst the ones that we've owned/tested.
Originally posted on Bazaarvoice Sampling Community
We love our new stroller
One happy stroller . 1 year ago
[This review was collected as part of a promotion.] This stroll is awesome, we are so happy with it. It has so much room for our children and babies diaper bag, my purse, all our shopping bags when we make trips to the mall or while on vacation. Oh my goodness, I could just go on and on listing all the things that make me happy about this stroll but the best thing I can tell you is go out and purchase one for yourself and babies/ little ones and you'll see what I'm talking about. We are so very beyond pleased with it.
Originally posted on Bazaarvoice Sampling Community
Best Stoller for 2 kids!
Kaleyb996 . 1 year ago
[This review was collected as part of a promotion.] This stroller is AMAZING! LOVE LOVE how the seats rearrange. Easy to maneuver and work! Wheels are nice and smooth. Nice sleek look to it. Good amount of storage space. Would ABSOLUTELY RECOMMEND. The handles are also adjustable! Super convenient if you're shorter. The stroller pops up easy and is fairly easy to open. Super great!
Originally posted on Bazaarvoice Sampling Community
Cadillac of strollers!
cawlyn89 . 1 year ago
[This review was collected as part of a promotion.] What a beautiful stroller! I was so pleased with the quality when I unpacked this. It was easy to assemble and is easy to fold up as well. This has so many useful features that you don't think about when buying a stroller but wouldn't want to live without once you have it, such as the adjustable handle (good for different height parents), deep cupholders (not the shallow ones built into the handle), and zippered extendable canopies. The space underneath is really roomy, and I was concerned it would be difficult to switch the seats around but it isn't at all. The fabric feels really nice and is great quality. If you are in the market for a solid stroller that feels luxurious but doesn't break the bank, this is an excellent choice!
Originally posted on Bazaarvoice Sampling Community
Durable Family Stroller
Jakep . 1 year ago
[This review was collected as part of a promotion.] I have been using this stroller for our family for a little over a month now. This was a great addition for our family walks and outings. The stroller is very durable and there is ample storage underneath the back seat. My favorite feature is the different seating configurations and the collapsible awnings. The stroller is quite heavy at almost 40pounds, but as I stated previously it is very durable. There is a 5 point harness on each of the seats and it helps me keep the littles in their seats at all times. It is easy to clean with a damp cloth and vacuum. I would recommend this double stroller to other families.
Originally posted on Bazaarvoice Sampling Community
Must have
Nickop14 . 1 year ago
[This review was collected as part of a promotion.] This is my first ever double stroller and I must say it's a must have! Where have you been all my life? It's so easy to assemble, it's so durable! I love all the features on it.i took my kids to the pumpkin patch and with this double stroller, it was like a walk in the park. So easy to maneuver. It fit perfect in my mid SUV. I absolutely love it.
Originally posted on Bazaarvoice Sampling Community
Great stroller
Rana . 1 year ago
[This review was collected as part of a promotion.] This is the best double stroller we have ever used! The contours options elite vs double stroller is a must have item for anyone with more then one baby! It was super easy to put together each piece clicked in easily without much effort! I love all the different options this stroller has to face kids toward each other as well as forward and back! The back wheels are bigger and more like a jogging stroller which makes this double stroller alot easier to push with 2 kids than any other that I've used in the past! Each seat comes with a shade that opens up and also has a mesh area to be able to see kids through while pushing the stroller! The seat belts are very secure to keep kids in the seats while moving and easy to clean if needed! It is very easy to close and glides right to folded down position! It is also very easy to open and doesn't cause any struggling! I love how the hand bar is adjustable and can change levels to different heights! It also comes with a cup holder for mom or dad! The bottom basket is huge and has plenty of room for 2 kids belongings! The basket is made very well and sturdy than others I have had before! This stroller is built very well and is super easy to use for anyone! The overall weight of the stroller is also lighter than other ones I have used which makes it easier to move and transport when needed! I love that this stroller also has the option for a newborn seat attachment, snack trays, and rain covers for the seats! I will be buying all of the accessories as this has become our new family favorite stroller!
Originally posted on Bazaarvoice Sampling Community
Amazing!!!
Sburke2 . 1 year ago
[This review was collected as part of a promotion.] YALL!! this stroller is literally perfect. I have a 2-1/2 YO and a 6MO and this is perfect for them. It could not have come at a better time for me. It's so much easier taking two into a store with this. I have a small/midsize suv and this fits into the hatch. It folds down nicely and it's easy to fold out. It's the best thing ever. I'd definitely recommend it! I love it!!
Originally posted on Bazaarvoice Sampling Community
Excellent Mom Hack!!!
courtney31798 . 1 year ago
[This review was collected as part of a promotion.] This product may be one of the best things created for busy moms with more than one child. It makes travel and every day movement a breeze The assembly was very simple and fairly quick. There is enough room for my 4 year old and 1 year old. I am excited to use this stroller. It has eliminated the need for extra strollers on our trips. Folding and storage are great features as well. This is one of the best strollers for moms!
Originally posted on Bazaarvoice Sampling Community
Difficult, but still good!
LivDamaris . 1 year ago
This seat is one of the only tandem seats that would fit my Britax Endeavors car seat. It's a very well made stroller and I do like the look and feel of it. It is easy to maneuver despite being long. It is a little difficult to unfold/refold, but definitely doable! My only complaint is that I cannot recline the front seat at all when our Britax infant carrier is attached. It is too long to allow any kind of recline. My daughter doesn't seem to mind, but it does look slightly uncomfortable for her! I cannot wait until my son is old enough to ride comfortably in a regular stroller seat. I know my kids will love it!

Originally posted on bedbathbeyond.com
so heavy
Bobbyyyyy . 1 year ago
Hard to navigate. Soooo heavy
Love it
BB&B Customer . 1 year ago
This carriage was very easy to put together and strolls very nicely

Originally posted on bedbathbeyond.com
Amazing stroller!
Krystal . 2 years ago
My kids and I have very much enjoyed being the proud owner of this awesome stroller. I have two daughters age 2 and 3. What reallly stands out to me with this stroller is that the person who created it tried to be very intuitive to the needs of parents. I love that the seats are adjustable that is my favorite feature. My daughter doesn't like the sun in her eyes so I am able to cater to her needs and my kids also love being able to look at each other while in the stroller. There is a storage basket on the bottom and it is very easy to access and there is a lot of room. It Glides very smooth even on a dirt road! This is a stroller well worth the price tag with unmatched quality.

great double stroller
Michelle . 2 years ago
This is a durable double stroller and has great storage. It's easy to assemble and great for walks. I don't enjoy taking it in and out of my trunk because it is a bit heavy but I still do and I use it as a single stroller when needed as well when I have just on child with me.
Absolutely difficult to work on your own!
JessicaRose617 . 2 years ago
I got the Contours® Options® Elite V2 Tandem Stroller Contours® Options® Elite V2 Tandem Stroller in Carbon to try and assess. I liked it an it was great until I was alone at the mall with my children. I tried for over 20 minutes to get my stroller to fold up into place properly and it just would not do it. Thank heavens that a compassionate passerby stopped and offered her assistance. It even still took us about 10 minutes to get everything into an upright position and to get all the parts, pieces and seats clicked in properly all while my lovelies were in emotional distress waiting over 30 minutes to be put into their seats in the stroller. I like and enjoy the stroller when it's already put together and the seats are in place and I am not struggling to get it upright. It drives smooth and rides smooth in all surfaces i have ran into.

Originally posted on bedbathbeyond.com
Very durable
Denise-s . 2 years ago
I really love the stroller an the kid's seem to love it too, it has to much room for storage and that's great for trips to the park, the wheels are very good they go smoothly even while running also the optional seat arranging is one of my favorite things about this stroller.
Showing 1 - 20 out of 45 reviews