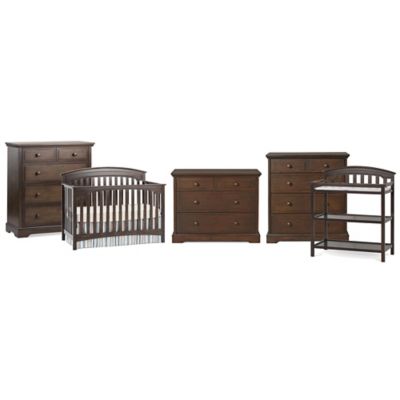 Child Craft™ Wadsworth Nursery Furniture Collection in Slate
$53.59 - $127.99
Get 20% off your entire purchase with coupon!
Enroll Now
customer reviews
Showing 1 - 20 out of 21 reviews
Poorly designed building.
BB&B Customer . 1 month ago
When we assembled this dresser the pre installed preset nuts where very difficult to start all the screws wanted to cross thread, we had one of the inserted nuts break through the wood and leave a whole in the side of the dresser. You could only use the tool that was given for assembly as they designed it to go in a pre cut whole and 80 percent of the time the screws where cross threading, then they have pre assembled pieces on the front part of the drawer and the wood blocks where not cut correctly so i had to hand cut them so the bottom panel to the drawer would slide into the groves. Lastly the drawers did not line up in there spots correctly and they rub on each other and over time will cause issues, yet another Modification that i had to make so it would not rub the paint off or mess with the structure of the wood. With the price of this unit should not have any issues with this product and major structure issues at that. Would not recommended purchasing this item.

Originally posted on bedbathbeyond.com
Crappy
Rebecca . 3 months ago
Have had for less than 1.5 years and already two drawers broken

Originally posted on bedbathbeyond.com
Don't buy it !
Not happy . 11 months ago
So, I ordered this Chest drawer for my future grand niece. I have put furniture together for years. This my far was the very worst each of the four drawer backs are twisted/warped. Putting the side panels together-good luck they too do not match with the holes. I've got to try and get it back in the multiple boxes and then in two and ship it back. I can't express how disappointed I am. I've never seen anything so poor design that doesn't fit. Unfortunately I can't rate this without zero stars

Originally posted on bedbathbeyond.com
horrible to put together
Nicole . 1 year ago
pieces were cracked, didn't line up, curved so you couldn't slide in the drawers. Would not recommend dresser.
cannot rate product just service
Linda . 1 year ago
The product was probably okay but I never opened the box because as I had notified BBB that it would have to be returned because it was the wrong color. Will never purchase anything from this company again, after numberous attempts to get it returned my granddaughter spent an hour on the phone getting this solved and did finally get it shipped back for a refund. Will not deal with places that will not work with me in returning an item.
Didn't fit
BB&B Customer . 1 year ago
Product didn't fit my crib. I attempted to return to the local buybuy baby store and manager refused to accept it in return. I then went back home to use the online return process which recommended returning it to the local store. Very frustrating experience.
BB&B Customer . 2 years ago
Imperfection at the top of the rail

Originally posted on bedbathbeyond.com
Aweful- Drawers have many issues
Megan . 2 years ago
Ignoring the fact that this makes use of a small Allan key, making 1/4 turns because the screws are in little nooks (which was a nightmare), the drawers were the biggest issue. First one, fine. Second one the wood on the side was warped/curved, so it would stay on the track and go into the dresser properly. Third one the crack that you need to slide the bottom of the drawer into was covered by the small white block, making it unusable. So upset.
Beautiful dresser
BB&B Customer . 2 years ago
Spacious drawers. Arrived in perfect condition. Easy to assemble.

Originally posted on bedbathbeyond.com
Good value, solid piece
NewChiccoFan . 3 years ago
Sturdy and a great value. I am always wary of buying "cheap" dressers because having unstable/sticky drawer glides is so annoying, but this is a solid piece of furniture. It is VERY heavy and looks great. I am replacing the drawer pulls to make it a little less generic looking but I am happy with this purchase.

Originally posted on bedbathbeyond.com
Beautiful
clewing27 . 3 years ago
Took less than an hour to put together, pretty simple instructions. Such a beautiful color!

Great crib for the price!
erica . 4 years ago
This is a great crib for the price. Loved the design and convertible feature. It was fairly easy to assemble.
Fantastic quality and looks amazing!
AnnaJ . 4 years ago
We bought this with a Chidcraft Abbott 4 in 1 Crib in brown as a set. Quality is fantastic! Sturdy. Beautiful. Solid. Great choice for the money! Looks like a high end furniture! Definitely will serve many years till the Lil one goes to college!
dimensions listed are incorrect
MomToBe . 5 years ago
The dresser is nice quality, but please note that the top drawer is not felt-lined as noted in the description and the dimensions are all off by 3 inches. The dimensions are ACTUALLY 42" L x 17.5" W x 33"H NOT 45.3" L x 20.3" W x 36.2" H, which is what BBB lists on their site
Great Features
Annie . 5 years ago
We purchased this crib for our grandson and are pleased with the versatility and style.
Crib
Tina . 5 years ago
The first crib delivered unfortunately was broken but customer service was great and he next crib was perfect looks awesome in the nursery!
Great storage
Scriptureintheyard . 5 years ago
The drawers are big and deep. Holds a lot. The drawers glide easily. Also heavy and would be hard to tump over.
Minor issue, great quality overall!
AverysMomma . 5 years ago
Nice size for our nursery. The drawers are also great quality and open/close easily. Assembly was generally easy except for placing the top and bottom on since the pegs didn't line up very well, which was frustrating, but we got it to work! Also comes with equipment to anchor to the wall which is definitely a plus since we plan on having it for a while.
Great Crib
Sara . 5 years ago
We got this crib a year ago for our first son. It has held up perfectly and is very easy to adjust. Happy with this purchase.
Love the look and versatility this crib offers.
Grandma . 6 years ago
Not the easiest thing to put together but I appreciate all the safety features built in for our little man. Don't know about ease of use yet because the baby will not be here for two months. So far we love it.
Showing 1 - 20 out of 21 reviews