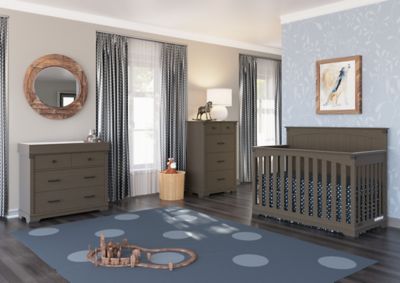 Child Craft™ Redmond Nursery Furniture Collection in Cherry
$159.99 - $329.99
was $159.99 - $379.99
(13% off)
$127.99 - $263.99
Get 20% off your entire purchase with coupon!
Enroll Now
Most Helpful Positive Review
High quality, worth the price
Katie
.
7 years ago
I am expecting. My husband and I received our crib and put it together last week. Putting it together is definitely easier with someone to help (I mainly just held things in place while my husband was assembling). It took a few hours, just as must assembly required furniture does. I like that it is actual, high quality wood and not particle board type material like a lot of other similarly priced furniture. I look forward to using it once baby arrives. The wood color is really cool too - something a little different than the standard dark wood or white. I was worried since the color is listed as "cherry" that is may have more red tones, but that was not the case. The actual color is very close to what is pictured on the website.
Most Helpful Critical Review
Looks and Feels cheap
Jamie
.
7 years ago
Unlike the matching crib, which is solid wood, this is cheap particle board and laminate. The BuyBuyBaby description doesn't include those details but after looking it up from other sellers (Target, Wayfair), their descriptions are clear that this is a "engineered wood finished in a decorative laminate." The drawers don't slide out smoothly and feel light and flimsy. I am very disappointed.
customer reviews
Showing 1 - 20 out of 65 reviews
Not Good
Diane . 2 months ago
Crib came with unaligned holes and could not be properly assembled. Had to return to Buy Buy Baby in Allentown as directed on line, clerk was not happy. Ultimately got a different crib from dame company and that one was fine.

Originally posted on bedbathbeyond.com
Perfect dresser
Paula K . 2 months ago
Study, looks nice. Wide enough to put a changing pad on top with room to spare . Drawers slide easily and deep enough to hold more than I expected. A year later and it looks and works as well as the day we put it together. No issues. Recommend if you are looking for a nice looking dresser that doesn't break the bank.

Originally posted on bedbathbeyond.com
Pain in the BUTT!!!
lumberjill . 5 months ago
I should have just listened to previous reviews about this dresser. Although it is pretty and is in the matching set with the crib (only reason I bought it), I thought my husband was going to just end up smashing it to pieces while putting it together. The drawers are complete junk. They do not slide in, like AT ALL, no matter what you try. Pretty sure the bottom drawer broke in the process. And the product also was damaged on delivery. Several scratches, dings, and paint chips. Boo.
Previously opened, damaged, and missing pieces
World's Best Dad nominee . 7 months ago
We are due in about 7 weeks, ordered this set from. Bed bath and beyond online. The crib came and there were signs it was previously opened but I thought oh well as long as they aren't damaged. Well the metal frame the mattress rests on was scratched a lot (clear evidence it was previously opened) and one of the springs were missing all together. The box it came in was beat up but we assume that was normal from shipping. However, when customer service told us we had to box the crib back up and ship it back… well there was no way I could put it back together the way it was originally packaged. I am extremely disappointed at the quality of the crib and how stressed it has made both my wife and me.


Originally posted on bedbathbeyond.com
!!! DO NOT BUY THIS!!!
Kcor1217 . 11 months ago
This dresser is not Child Craft dresser like it says online! It's very low quality and not real wood. We bought the Child Craft crib in cherry thinking this would match great, it doesn't match at all. Once it was put together the drawers don't match up or slide in easy. Don't waste your time or money on this dresser!
not child craft brand as advertised
Sarah . 11 months ago
I was excited about this dresser as it matched the Redmond crib I purchased as well. This dresser IS NOT CHILD CRAFT brand as BBB is advertising it. It is not solid wood as child craft things are and is made from particle board. However, it matches the crib nicely. It's just not the quality or the brand I expected.
beautiful crib!
Sarah . 11 months ago
This crib is absolutely beautiful and exactly what I was searching for!!
Poor quality on stain
William . 11 months ago
Crib seems fine structurally but the quality on the stain is poor. If you your not very concerned with how the crib looks then this is the product for you. If you want something that looks good, look elsewhere.

Horrible customer service
BB&B Customer . 12 months ago
I ordered this product for my daughter. When it arrived they sent two of A box instead of an A and B box. We had to return the entire order and they were going to ship a new one out in 5-7 days. Currently I'm 12 days I. They have my money and the two boxes and I have no replacement. When you call you get put on hold for upwards to an hour. When I finally get a dresser or my money back I will NEVER shop here again
Crib
BB&B Customer . 1 year ago
Love it. Beautiful crib and future bed.

Originally posted on bedbathbeyond.com
Changing table
BB&B Customer . 1 year ago
The to-be parents loved it and actually put it together while I was there! They were very excited about it!
Does not come with patented safety feature.
BBB Customer Fudd . 1 year ago
After assembling this dresser I couldn't fine the safety T stop hardware. After calling Sauder manufacturers the informed me that this feature hasn't come with this dresser since 2015. But Bed & Bath still feature this option in the description of the dresser.

Originally posted on bedbathbeyond.com
Doesn't match set
BB&B Customer . 1 year ago
The dresser wood unfortunately doesn't match the crib or changing table. It's like the pattern and color make it look like it is from a completely different set. It's not solid wood, it is compressed. As with what everyone else is saying the edges are sharp compared to the nice sanded soft edges of the crib and changing table. Yes there are a lot of pieces but it's a dresser with drawers, that is expected. If you follow the instructions assembly is easy. By itself and for the cost on sale with the 20% discount it's not all that bad. Just not what was expected out of the lovely Redmond set.
cheaply made sold at a premium
Caitlin . 1 year ago
It's flimsy cheap material and unstable. Glued saw dust and it doesn't match the crib and changing table. It's a lighter colored wood. It will due for now but won't last very long especially with having a boy.
Crib
Wendy . 2 years ago
This will be perfect for our grandkids!
Great quality!
Ashley M . 2 years ago
I am always skeptical when ordering online and not seeing an item in person. Per the reviews it looked like a good choice. It came exactly when they said it would, box was in good shape on arrival. No damaged parts! Instructions were Ok, but some of the end pieces had the wrong labels and I ended up disassembling it 3 times before getting the end pieces on the correct side. Everything is all hardwood, no junk pressed board. I assembled it myself and had no issues! My husband loves the crib, it is very sturdy and well built. VERY happy with my purchase. Waiting for the changing table to come back to stock to order next.

Not childcraft
Carlin . 2 years ago
Saw some reviews that said the colors of the nightstand and chest don't match with the crib and changing table. After ordering, it seems that the cause is that the nightstand and chest aren't actually from child craft. Shouldn't be sold as child craft when it's made by another brand
Not great quality!
Bed Bath and Beyond Customer . 3 years ago
This is not solid wood. The night stand and the dresser do not match the crib at all. The crib with the same name is awesome quality.

Originally posted on bedbathbeyond.com
Looks are deceiving
Mamaoftwo . 3 years ago
I was hoping to love this set! I purchased the dresser, the crib and the changing table......And I unfortunately don't love it! I actually don't know how this furniture is made to be in a child's room! The corners are so sharp that I now have to watch out for my toddler when he walks by or plays, and even the drawers when pulled open the edges are sharp as well!!! Not what I expected at all. So dangerous. This also came in a million pieces each piece ordered from this set. Once my husband put these together, we ended up keeping it, mostly bc we weren't going to take it apart and have the hassle of returning it. Oh also, the crib does not fit through a standard size door !!! So beware if you move Or move furniture like this piece ..... like we did- it had to be taken apart just to get it back out of the doorway and into another room! Absolutely horrible! Like I said, we so wanted to love it- but it just isn't suited to be safe for a child's room without constant supervision!!!! It scares me all the time! So we ended up getting the little rubber stoppers to put at the end of the corners- which helps. But it doesn't help when the drawers are opened because you cannot stop the sharp edges or you would not be able to shut the drawers!!! Beware when buying and please take this review into consideration!!! sincerely - from a mother of two!
Great match, moderate quality
BB&B Customer . 3 years ago
This dresser isn't as high quality as it's matching crib, but it looks great. We did have a drawer break about a year in and the customer support was fantastic! The maker of the product sent us all new parts, no questions asked. I was impressed. We've had it now for three years, and it's still in good shape. The drawer handles get loose a lot and they aren't smooth to pull out. Good match for the crib though.
Showing 1 - 20 out of 65 reviews