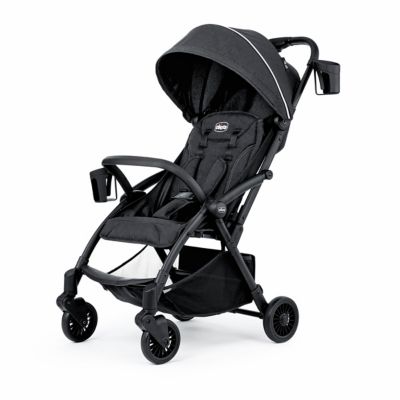 Chicco® Presto™ Compact Stroller in Graphite
customer reviews
Showing 1 - 18 out of 18 reviews
Not to comfy
Karla . 1 month ago
It is easy to fold but sometimes it get stuck when you want to extend it, my baby is one year old but it is not to comfy for him, and my 4 year old is 45 pounds but his legs touch the ground even sit. We expect more from the stroller.

Originally posted on chiccoshop.com
A must for first time Mom
BoyMom . 1 month ago
As new parents its hard to decide which stroller/car seat is perfect for you. We decided to go with the Bravo Primo set which includes the KeyFit35. After we receiving the set we came across the Presto. We loved how quickly it folds, and how light weight it is. Its most definitely a "Umbrella" style stroller, but we love how it adapts to our carseat. This stroller has been a life saver for doctors visits, and quick errands. Its a registry must in our book!
Perfect airport stroller, not as great otherwise
BostonMama . 2 months ago
When we fly with our baby, we always buy a ticket for him so we can bring the car seat on board (I know some people prefer to save the $ and go the lap child route, but if your budget allows, it is so helpful to have the car seat for naps and for turbulence). After flying with our Uppababy Cruz earlier in the year, we knew we needed something smaller and as low-fuss as possible for holiday travel, which involved multiple layovers. I chose the Presto because I wanted something as compact as possible that didn't require a car seat adapter, but would instead just let us click the car seat in and go. We just got home and the Presto was absolutely essential to making our flights as smooth as possible. We use a Chicco Fit2 car seat and it was easy to just pop the seat in and out of the stroller. The one-handed fold is really cool and easy to do, and the belly bar makes a perfect carry handle. We were able to just roll down the jet bridge with the car seat in the stroller, pop it out, fold the stroller, leave it at the door, and carry the seat onto the plane; it was just as easy to reverse when getting off. Note that it is too big to carry onto the plane as luggage (at least it was for Southwest and American) so we had to gate check it each time and pick it up at the end of the jet bridge. A tip: make sure you clip the harness together before you leave the stroller for gate checking; we forgot to and ended up losing one of the shoulder pads. I wouldn't say that this was a great stroller for actual walking around at our destination with the baby. He's used to the Uppababy which is a lot more comfortable, and I found he slipped down a lot. It doesn't fully recline for naps and there's not much calf support or padding, but we really bought it specifically for use with the infant bucket style car seat, and for that purpose, it was fantastic. For our next child, I will keep it in the car for when they're a little baby to make doctor's appointments easier. It makes a great cart for your car seat, essentially. Oh, and for tall parents, you definitely will kick the rear axel bar. It's a stroller that serves a purpose and serves it well.
Best Value ever!
ToddlerMommy . 3 months ago
Absolutely love the lightweight factor of the stroller, extremely easy to maneuver, easy assembly and perfectly compact. Perfect for Disneyland, and Parades, definitely a great investment!!!
Great Lightweight Stroller
MamaFox1011 . 4 months ago
Really great on-the-go stroller. Lightweight, compact, and super easy to assemble/disassemble, plus the storage underneath is bigger than expected. The sun canopy and cup holder are nice added features as well.

Originally posted on chiccoshop.com
Great on the go stroller!
Abigail . 4 months ago
Purchased for my three-year-old for quick in and outs of the car for outings. We are on the fourth stroller for her and this is by far the easiest one to close while remaining compact. She seems to have plenty of room while loving being able to be completely upright to see. Our true test will be a theme park visit in the near future but so far very pleased especially for the price.
Quick, Light and Versatile
mtm184 . 5 months ago
We have a 2yo and a 3mo old. We have a double stroller for when the whole family goes out for a walk but needed something for when it's just 1-on-1. This was perfect because the toddler can hop right in, or we can drop the car seat in, depending on who's going for a ride. It was quick to assemble and quicker to fold up. It's a smooth ride, with ample storage underneath and is super lightweight. The grandparents love this stroller, as it's easier for them to use than the double stroller. They can get it in and out of their trunk with relative ease. This stroller is a great addition; it made everything easier on the entire family.

Originally posted on chiccoshop.com
GENIUS!
Kiely C . 5 months ago
Chicco really out did themselves with this one! This stroller is incredible! The engineering on it blows my mind. The ability to make it so compact makes it easy for those parents that are on the go with limited space. My favorite feature is the ability to use Chicco carseats to attach without any other adapters necessary. It makes the transition from car to stroller seamless, not to mention the ability to use the stroller for many years to come!

Originally posted on chiccoshop.com
Easy for on the move parents!
Shouck11 . 5 months ago
I was a little skeptical of this stroller, as I am used to a large jogger that works in any terrain. I can honestly say I was very pleasantly surprised when I tried this stroller on our unpaved neighborhood roads! It is surprisingly smooth for a four wheel stroller. I have a two year old son who is SO busy. We went to an event, and in the matter of seconds I was able to pull this stroller out of the trunk and have it ready to load my son. The straps on this stroller are so soft, they are not like the older straps in the car seats, they feel like butter. Per my toddler "it's nice!", and you know toddlers can't lie! I love that Chicco made this option in their strollers, it has been a game changer for this busy mama.

Originally posted on chiccoshop.com
Look no further; here is the perfect travel stroller
Schills21 . 5 months ago
We have the Fit2 Adapt infant and toddler car seat and this seat fits perfectly into this easy to use travel stroller without having to add any additional attachments. Whether limited for space or planning a trip this quick to flip stroller accommodates your needs in every way. The reliability and ease of use are what you would expect from a full size stroller. Highly recommend

Originally posted on chiccoshop.com
Grandparents loving the durable Presto easy to use and light weight stroller
MarcheAscoliP . 5 months ago
We got the Chiccos presto stroller to use for our one year old granddaughter. We were pleasantly surprised by how light and easy it was to open and fold with one hand as well as the durability and smooth ride on our uneven sidewalks. Strapping her in and out was just as easy. She seems to like the ride and the sippy cup holder. My only complaint is where was this stroller when my kids were young? I have and would recommend this stroller to anyone looking for a quality, all around versatile stroller for home and travel. I also just noticed today that the adjustable cover was spf 50. Nice touch!

Originally posted on chiccoshop.com
Compact and Easy
BetsyH . 5 months ago
If you are looking for a quality (umbrella-like) stroller this is it! It folds down very compact and then is a one push of a button release and it pops right up. It has great back support and is light weight! I would recommend this stroller to everyone!

Originally posted on chiccoshop.com
Easy to use and practical
BMCG . 5 months ago
This compact stroller is sturdy, lightweight and so easy to use! I highly recommend!

Originally posted on chiccoshop.com
Great Compact Stroller!
Mamabear18 . 5 months ago
I got this stroller to use when traveling with my daughter. The stroller was easy to put together and still feels secure despite being lightweight. The self-folding feature worked like a charm at the airport! Highly recommend!

Originally posted on chiccoshop.com
The engineering!!
Shana Y . 5 months ago
This stroller will blow your mind. It is our 3rd chicco stroller and it is fantastic. Features we love is how easily and simply it folds up for storage. This is the perfect stroller for taking on car trips, vacations or for those with very limited storage. The fact that is can condense so tightly is a great feature, however, it doesn't sacrifice space for your little one, comfort and safety. It has 2 front swivel castors and an adjustable back. Lapbar and cup holders and removable! Lightweight, high quality! 5 stars for this one Chicco!


Originally posted on chiccoshop.com
Perfect lightweight stroller
Smack443 . 5 months ago
I needed a lightweight stroller for walking to the bus stop with my older kids, using for the zoo/amusement parks, or when I didn't have enough room for my full size stroller (chicco corso). This stroller is perfect! I put it together in less than 2 minutes and have used it several times. The quality is excellent, it is very functional, and folds up so easily with one hand. It can fit in a very small size trunk (which I needed for grandma's car!). I can even click the car seat right in. I am so glad I have this stroller for my son!

Originally posted on chiccoshop.com
Great lightweight stroller
KailaP . 5 months ago
This is a great lightweight stroller for my toddler! It sits more upright which is great since we noticed a lot of other strollers don't and she likes being able to sit up! It also folds automatically which is easy and convenient! Definitely recommend.

Originally posted on chiccoshop.com
Perfect stroller for on the go toddler living
casmyt . 5 months ago
This stroller is perfect for living our best toddler life. It's lighter than other versions- great for traveling and scooting around our urban jungle. It's easy to maneuver and we love the two cup holders. Once again, Chicco has hit the mark.

Originally posted on chiccoshop.com
Showing 1 - 18 out of 18 reviews