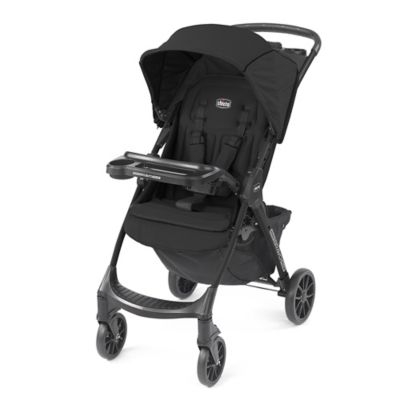 Chicco® Mini Bravo® Plus Stroller
Most Helpful Positive Review
Awesome stroller
SunnyDay19
.
5 years ago
We had purchased the Bravo travel system for our son's arrival, so I've been using the standard Bravo for over a year now, and I've loved it. I have to say the Mini Bravo Plus is better in just about every way! Although the product specs don't show a significant difference in weight, the Mini feels so much lighter. It was quick and easy to assemble (no tools!), and it's a breeze to maneuver. The canopy has coverage all the way to the child snack tray, including a zip-open mesh panel for better airflow. The parent tray has deeper cupholders than my Bravo and the storage section is also much deeper. The storage basket underneath is roomy, too. The Mini Bravo opens and closes easily. Our Fit2 car seat locks into the stroller, even with the child snack tray (no adaptor required). I would recommend the Mini Bravo Plus to anyone - there's nothing I don't like about it!
Most Helpful Critical Review
Squeaking front wheels
Kaylee56
.
5 years ago
Bought this stroller everything worked amazing then about 2 weeks later the front wheels start squeaking and it's so annoying! And till this day it's still squeaking! Please don't waste your money on this stroller I loved everything else about it except the wheels!
customer reviews
Showing 1 - 20 out of 104 reviews
FL rain storm tested
SRey . 2 years ago
I recently took this stroller to SeaWorld for the LO to ride in. It was awesome pushing it around and was LOADED down with a stuffed diaper bag, additional cup holder pouch for me with 4 sodas/waters in it, and everyone's cell phones. It did awesome. Of course at 5pm the FL skies opened up and we found ourself darting to the front gate sloshing through puddles that were a foot deep in some places. The stroller did great, no wheel issues, and the LO didn't get ejected from it. It did take about a day for it to dry fully do to the cushions in it (since the LO was holding up the rain cover the entire time), but I was very satisfied with it's performance. I still haven't had issues with it since. My only negative is you sometimes have to lay the front tires flat when closing it to make it go completely flat... but when I say that out loud it is hardly a negative.
great lightweight stroller
BB&B Customer . 2 years ago
The salesperson at BuyBuy Baby in Rockville showed us this stroller and it was just what we wanted. It would really be helpful if the stores had more stock on hand, since ordering items online is still a bit of a gamble.
We love it!
Kera . 2 years ago
Purchased it for my daughter because we needed it and I also wanted to upgrade from the babytrend stroller we were gifted at the baby shower. It was super bulky and did not fold as compact as I would've wished for my truck. I'm so in love with our new stroller. I can fold it with one hand, my daughter loves it and it's just all around amazing. I put it together myself and she was ready for a ride immediately after.
Very chic and lightweight to handle
Jessica . 2 years ago
It rolls smooth and is lightweight enough to open and close with one hand.
love this
Destiny . 2 years ago
I bought this because my daughters old cheap stroller broke and she loves to sit all the way up when we're out and then often falls asleep. And I drive a Corolla so not a whole bunch of trunk space. And I love this stroller it's often just me and her and it's so easy to fold and it took 5 minutes to put together. It's by far my favorite worth the money
It's a good stroller !
Maricela C. . 2 years ago
It's a good stroller !

Originally posted on chiccoshop.com
Perfect and convenient
Mamaof3 . 2 years ago
This is superb and the price is right! Easy to fold down and it's small enough to fit into my trunk( I have a 2017 Hyundai Elantra) my husband and I can both easily fold this stroller down and baby's car seat locks right into it. Originally I wanted the chicco caddy but it would've taken too long for shipping so this was definitely worth getting!
I've had mine for 4 yrs, no issues
emmie . 2 years ago
I'm not really sure why there are so many negative reviews. I've had mine for years and absolutely no wheel issues. It's been to all day trips to Disneyland so many times I can't even count. It's perfect! It's light weight and easy to move around one handed, basket is huge I can get my jujube brb in it, comes with parent tray and kid tray without extra purchases. I have the one with the stretchy canopy which is super comfy and cradles my kids head as she grew a bit to big for it. The shade provided is soo good! My only slight inconvenience is the tray doesn't swing out but it really isn't a deal breaker. I also have a Joovy Qool (double/triple) but I find myself using this one more as it is so easy to use. I love the fold and stand feature it makes it easy for me to get situated before I head up my stairs or get on the Disneyland tram.
Great stroller! Folds up easily
Jinger V. . 2 years ago
Great stroller! Folds up easily and doesn't take up much room in the back of the car. Perfect for flying as well. Lightweight and easy to fold down with one hand. Compatible with the infant car seat as well. Very pleased with this purchase!

Originally posted on chiccoshop.com
Great overall
Emily G. . 2 years ago
Light weight, folds up easily, newborn car seat easily clicks in. Good price for a good product.

Originally posted on chiccoshop.com
disappointed!
Jaime . 2 years ago
As many people that have reviewed this product, I was very excited to have this as my everyday stroller. It's super lightweight and easy to fold but for your actual use.... it's terrible. You must have both hands on the stroller or it will lean to one side because the front wheels are so unstable. Pulling it in and out of my truck my left wheel has popped off a few times as well. After only 3-4 months use, I'm buying a new stroller already!
Does the job
jwolf . 2 years ago
Overall, it's a decent stroller. The canopy is great and can go very far down which helps on the sunset walks when the LO is leaned back. Major downside is the wheels. They are squeaky and they rattle if you go anything faster than a stroll - like jogging across a 2 lane road, you'd think this stroller is falling apart. Otherwise it's fine and has a decent undercarriage.
Don't Buy!
Cassandra . 2 years ago
I was so excited to get this stroller for my daughter. I really wanted the tray and comfort for her. I figured it would be an investment considering the price and I would get great use out of it. I purchased this stroller july 25th and after about 3 weeks the front left wheel will not turn. I literally had to play with the wheel constantly to get it to move. I went to the store to show them and ask for an exchange and they literally told me I have to go through the manufacturer. I'm really disappointed with buy buy baby as I've been purchasing so many items from them since my daughter was born. Think twice before buying this!
Greg . 2 years ago
This place sucks ripping me off . Sending me on wild goose chase
Practical
Me Jean . 3 years ago
I haven't used yet cause of social distancing. But what I see I love. Easy 2 handle. Perfect for me
This stroller is the best
Kamola A. . 3 years ago
This stroller is the best

Originally posted on chiccoshop.com
Excellent stroller
Grnadma . 3 years ago
This stroller is so well made and has many compartments to hold bottles, bags, phone, toys. The canopy covers almost the whole stroller and with a zip out mesh section in the middle to see the child in the stroller. We bought this to walk our grandson and it's incredible. Again, it is so well made. Very easy to assemble, just put on the wheels and canopy.
Good with me
Anabel . 3 years ago
Other than a loud squeak on one of the wheels, I like this stroller, easy to fold in to put in the trunk. No complaints!
Good milti-function stroller
Jennifer . 3 years ago
Stroller is lightweight and easy to store. We bought with the car seat, so easy click in for infant car seat. Wheels are plastic, so likely will not stand too much usage but good overall. We have used for a little over one month.
Ivana . 3 years ago
I am so satisfied with them.
Showing 1 - 20 out of 104 reviews