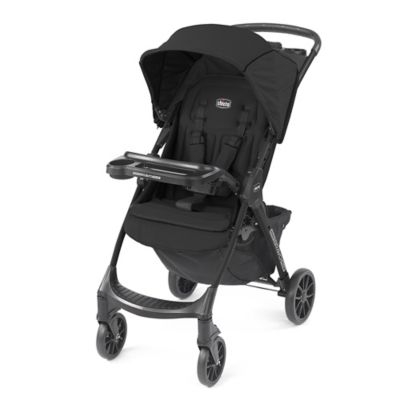 Chicco® Mini Bravo® Plus Stroller in Storm
Most Helpful Positive Review
Awesome stroller
SunnyDay19
.
5 years ago
We had purchased the Bravo travel system for our son's arrival, so I've been using the standard Bravo for over a year now, and I've loved it. I have to say the Mini Bravo Plus is better in just about every way! Although the product specs don't show a significant difference in weight, the Mini feels so much lighter. It was quick and easy to assemble (no tools!), and it's a breeze to maneuver. The canopy has coverage all the way to the child snack tray, including a zip-open mesh panel for better airflow. The parent tray has deeper cupholders than my Bravo and the storage section is also much deeper. The storage basket underneath is roomy, too. The Mini Bravo opens and closes easily. Our Fit2 car seat locks into the stroller, even with the child snack tray (no adaptor required). I would recommend the Mini Bravo Plus to anyone - there's nothing I don't like about it!
Most Helpful Critical Review
Squeaking front wheels
Kaylee56
.
5 years ago
Bought this stroller everything worked amazing then about 2 weeks later the front wheels start squeaking and it's so annoying! And till this day it's still squeaking! Please don't waste your money on this stroller I loved everything else about it except the wheels!
customer reviews
Showing 1 - 20 out of 100 reviews
Piece of Junk
Bill . 3 weeks ago
I bought this stroller in July. It sat in a box until September. My son was born in the middle of October, prior to which the stroller had only been taken out of the box it was shipped in. Here I am in the first full week of November (he's 3 weeks old) and I am writing to say what a piece of junk this stroller is. The wheels squeak incessantly anytime it moves more than 6 inches. Some soothing ride they claim. I strongly discourage anyone from purchasing this product. My wife reached out to Chico about the problem to which they responded with their need for multiple pictures, videos, etc. basically trying to dodge the blame for a junk product. Dear Chicco USA, I have a 3 week old I can't do a photo shoot of the crappy stroller to prove it's a piece of junk for you. I have my receipt/proof of purchase let me know how we remedy this.

Originally posted on chiccoshop.com
Lightweight stroller
Jenna . 2 months ago
Love this stroller so much! Super easy to fold and carry. Definitely recommend
Awesome Products and Greater Customer Service!!
Carlos . 2 months ago
Awesome product and the customer service is amazing!! First we got the wrong product shipped to our house, everything was fixed on the first call, they sent us the right product the same day and was delivered within the 4-5 days. We love the products and will continue using them! Highly recommended for new parents if you are struggling to find safe car seat and stroller!

Originally posted on chiccoshop.com
Amazing stroller worth the money
Mandy . 2 months ago
This is my second stroller I have purchased. Bought it for my 3 year old a few years ago but accidentally broke the side when slamming the trunk on it. So I've purchased it again and still love it. I love how the shade completely opens up so baby is fully covered from the sun when out. It reclines all the way back at just the squeeze of a button and sits up also just as easy. My favorite function of this stroller is how it opens up and folds away with just one hand. When I'm by myself I can take my baby out and while holding him with one arm I can fold away the stroller and place in my trunk all with just my one free hand. So I never have to leave baby unattended in his car seat up front to put the stroller away. My only complaint is the buckle is a little tedious to put together and buckle, but overall the other qualities of the stroller make the complicated buckle worth it.
Happy
Nicole . 2 months ago
Love this stroller it is so convenient light weight and a joy to use. Love the look and material used on this stroller. I would recommend this to anyone. I have had no issues at all. Great product
Everything I wanted in a stroller!!
Trinity P. . 6 months ago
It's lightweight, folds up compact, fashionable, great quality, comfy padding for my son, has a huge basket, has a little pocket for phone & keys. It's literally perfect. I'm 5'9 and it's tall enough for me while being able to fold super small. When folded, it's a little taller than our diaper bag. I'm obsessed!!

Originally posted on bedbathbeyond.com
Amazing with one downside
ahydem . 6 months ago
I've had this stroller for about 7 months now and I am in love with it! It's very lightweight and has awesome features like an extended canopy (all the way to the snack tray!) which is great for when you're out shopping and need to block out the light, the hand grip and the storage compartment! The only downside is the wheels! About two months ago they started squeaking and it's very hard to use outdoors. So far, they're still holding up which is great but I'm hoping they do something about the tires. I've looked around at other strollers and there's nothing that compares to this stroller. I'm 5'0, slim side and I can hold my baby on one side and still pick up and open the stroller on one all on one hand. I use this stroller with the Keyfit 30 Air car seat (one of their heavier car seats) and holds up well! It's a breeze pushing the stroller with it.
LOVE THIS STROLLER
DezNicole . 6 months ago
So I bought this stroller a year ago. We had a cheap Kalocraft stroller that we got from Walmart but our daughter hated it. We just so happened to go to buybuy baby and saw this and I fell in love. They had it out of course so we put our little girl to see if she liked it and she loved it. We have a small car too and it gives us so much trunk space still. AND our little girl isn't so little anymore so she almost too big for it now (but we got it late in the game so it's not their fault) BUT Im pregnant so we bought the Chicco keyfit 30 to go with our favorite stroller so we'll have even more years with it
Game changer
Whitty . 8 months ago
We love our Chicco keyfit 35 car seat. I really wanted the option to "click" in while my baby is little. I searched for a long time and finally decided that the Mini Bravo Plus was the right one for us. It is such a nice stroller, it's very easy to fold up and unfold. It's going to grow with my youngest child and that's a dream come true. I took it to the pediatrician and everyone was commenting on "how smart" the design is. (Also saved my back post surgery to be able to click in the car seat!) I highly recommend it. BuyBuyBaby shipped the stroller in 24 hours, and I received it very fast afterwards! 10/10 recommend.
Great stroller for smooth surfaces.
Dianah S. . 9 months ago
Great stroller for smooth surfaces. Very easy to use! Baby's mémère is able to pick up, fold easily, and lock his car seat in

Originally posted on chiccoshop.com
Squeaky, sticky wheels!!!
BB&B Customer . 11 months ago
I love love love this stroller but after only a few uses, the front wheels started squeaking. Very loudly might I add. They also sometimes get stuck and I have to move the stroller a bunch if different ways to straighten them out again. Overall I love this stroller so much but if the wheels get worse I'll have to get a different stroller. Oh yea, I've only had it for a little over a month.

Originally posted on bedbathbeyond.com
Great stroller!
BB&B Customer . 12 months ago
Great stroller! When you put a heavy car seat in it, it becomes light as air! You can push it with one finger! The car seat goes in and out very easily! If you have a Chicco car seat, you should really consider buying this stroller.
Great at first
BB&B Customer . 1 year ago
This is one of my favorite stroller size & comfy wise, but I wish they would do something with the front wheels, they start to squeak a lot after just a few uses, also The front wheels stop working for some reason!!!! You can't push the stroller because the wheels get stuck & don't move it's so weird. The stroller is An amazing size & super comfy for my toddler but the front wheels are horrible & do not last long. Please fix this!!!
Love everything but…
V Fam . 1 year ago
We were very excited and very happy with our new stroller for our toddler. Very convenient, room for him to grow into, cup holders and my fav part the zipper bag. Unfortunately, we have realized the front wheels are too small and hardly ever go over anything. Causes our toddler to jolt forward when we can't go over basic sidewalks. Love everything about it except for that HUGE inconvenience. Wish the front tires were just as big as the back ones.
Approved!
Jillian . 1 year ago
This stroller is great, and I'm super particular. I love how it folds down with one hand so I can hold my kiddo or groceries or whatever else and pick it up and fold it and put it in my car one handed! The roll is smooth and it can handle gravel or well-packed dirt trails (tho I like it best for going into stores). The storage on bottom is roomie and the snack and beverage tray for kiddo is perfect. My 12 month old used to use it as a footrest but could also use it for its intended purpose. The drink and item holders for parents are great. I really have no complaints about this thing! We took it on a plain and it was great-we saw another family's stroller had a piece broken off by the airline workers but there isn't anything really to get snapped off this thing. It was also easy to fold and unfold to get out of the way on the tarmack. The one thing you have to watch for is if the wheels aren't straight when you fold it down it doesn't collapse fully, but I'm really happy with this thing! It's the one I have in my car for whenever a stroller is nice.

Originally posted on bedbathbeyond.com
Better than I thought
Thais L. . 1 year ago
This stroller has so many good features. I love how the car seat clicks into place, easy wheel lock, the material it's made in is nice and soft, easy to close and put away and I love how the canopy expands to cover all the way to the tray. The only thing I wish it had was a larger storage space in the bottom of the stroller. I haven't had it for long so I can't say if its durable or not. So far so good though!

Originally posted on chiccoshop.com
FL rain storm tested
SRey . 1 year ago
I recently took this stroller to SeaWorld for the LO to ride in. It was awesome pushing it around and was LOADED down with a stuffed diaper bag, additional cup holder pouch for me with 4 sodas/waters in it, and everyone's cell phones. It did awesome. Of course at 5pm the FL skies opened up and we found ourself darting to the front gate sloshing through puddles that were a foot deep in some places. The stroller did great, no wheel issues, and the LO didn't get ejected from it. It did take about a day for it to dry fully do to the cushions in it (since the LO was holding up the rain cover the entire time), but I was very satisfied with it's performance. I still haven't had issues with it since. My only negative is you sometimes have to lay the front tires flat when closing it to make it go completely flat... but when I say that out loud it is hardly a negative.
great lightweight stroller
BB&B Customer . 1 year ago
The salesperson at BuyBuy Baby in Rockville showed us this stroller and it was just what we wanted. It would really be helpful if the stores had more stock on hand, since ordering items online is still a bit of a gamble.
We love it!
Kera . 1 year ago
Purchased it for my daughter because we needed it and I also wanted to upgrade from the babytrend stroller we were gifted at the baby shower. It was super bulky and did not fold as compact as I would've wished for my truck. I'm so in love with our new stroller. I can fold it with one hand, my daughter loves it and it's just all around amazing. I put it together myself and she was ready for a ride immediately after.
Very chic and lightweight to handle
Jessica . 1 year ago
It rolls smooth and is lightweight enough to open and close with one hand.
Showing 1 - 20 out of 100 reviews