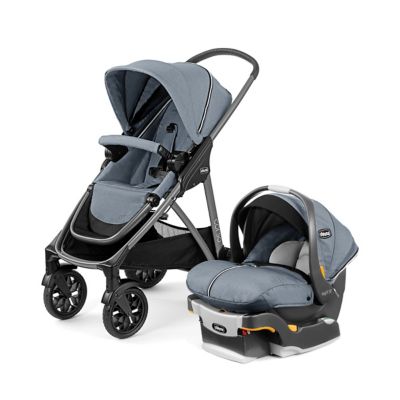 Chicco® Corso Modular Travel System in Silverspring
customer reviews
Showing 1 - 20 out of 34 reviews
its nice until…..
beebeeval . 2 months ago
I like the stroller how versatile it is and the different options you have to use it. I fell in love when i saw it. But i have had a bit of issues. 1. Being how dirty it gets and how difficult it is to clean. I had to purchase a vacuum to clean the carseat with a wet/dry steam vacuum since fabric doesn't come out carseat. Any water or moisture stains the carseat gets makes it look dirty which at times can be embarrassing. 2. I was religiously using the base to hold the carseat but when we got to using the stroller seat we never realized until then that the part to insert into the stroller base was not aligned which makes it very difficult to use and inserting it is nightmare at times especially when you're in a rush. then I have to remove everything cause it doesn't fold properly when seat base is on. Since insert ends are basically unaligned and croocked, Maybe its just my stroller but for the price point I shouldn't have these issues. Tires also loose tread pretty quickly. And sometimes brakes don't lock properly making stroller to move on its own especially on a windy day so I constantly have to be cautious.
Great travel system
BB&B Customer . 6 months ago
Love this travel system. 9 months, still going strong! Very agile. Decent storage. Car seat is very easy to install and adjust as needed. Super lightweight. Easy to fold and swap out pieces. Wouls recommend for families on the go! I've taken this on gravel and on travels, tires do fine! Not great in sand, but thats to be expected!

Originally posted on bedbathbeyond.com
Love
Michelle . 9 months ago
I love this travel system. It looks nice, is easy to put together and folds up easily. The car seat is easy to attach to the stroller and easy to install in the car. The stroller rides well and seems very durable!
Worst stroller I've purchased
Ashley . 9 months ago
First let me say I am very unhappy with my purchase I have owned many strollers as we have 5 children. I tried to get something a little simpler with our last child and I though this was it my baby is now 2 months old and my stroller tires look like I've owned the stroller for 10 years the quality of this travel system is garbage the car seat is nice the detachable seat is ok we haven't used it yet since he is still very tiny my carriage bag is all stretched out and the only thing I use it for is to hold the diaper bag. This is by far the worst stroller purchase I have made I will go back to britex city select or uppa baby save your money and spend a little more to get a better quality


Originally posted on bedbathbeyond.com
Great first stroller for us!
LoBBB Customer . 10 months ago
My baby is a month old and so far we love the stroller. It is very easy to take out if the base and place into the stroller and vice Vera. It is extremely easy to fold up and easily fits in the trunk of my Honda Civic. Would definitely recommend to any first time moms!

Originally posted on bedbathbeyond.com
Travel System
Jessica . 10 months ago
First, I would like to say overall I really like this purchase. I like the look of it while I do wish this model came with the brown looking leather though. Some things that I would suggest to improve on would be to have a cup holder and area at the top of the handle bar would make it more convenient. I think that the stroller and car seat are both very easy to use and the car seat is definitely easy to get out of the stroller so I'm not really sure about that other review because it is super easy. It is also easy to switch from the car seat to the stroller seat back-and-forth. That is one reason why we didn't go with the Grayco stroller because it was hard to switch back-and-forth and put the car seat in the stroller without having to get it a lineup but this is not that way it is very easy to use. I would like the stroller to be able to set up a little bit more it does recline back nice but I just wish it set up just a little bit more forward sometimes so it was easy for my son to see you like when we were at the zoo etc. other than that I love this purchase and I'm glad that I went with this.

Originally posted on bedbathbeyond.com
Great Stroller
Christie . 11 months ago
We really like this stroller. While there are a few tweaks to the design we would recommend, we like the stroller overall and are glad we bought it over a larger model. What we like: - Size of the storage basket under the seat - nice and roomy to carry all of baby's stuff! - Seat is nice and high/closer to parent; easier for baby to see the world when facing out or interact with caregiver when facing in - Ability to face in or out with car seat and stroller seat - Stroller seems to ride nicely; smooth and easy to turn/navigate - Easy to close/collapse for transfer/storage - Cupholders in storage basket prevents spills when carrying beverages - Easy to change direction or change seat when desired What we'd recommend improving: - Wheels sometimes get in the way of collapsing the stroller; have to maneuver them to make sure the stroller closes completely for storage - Recline is a bit awkward for baby; feet rest higher than the rest of him when seat is reclined due to the shape of the stroller seat - Would like a cupholder higher on the stroller - Would like the ability to attach a snack tray/toy tray - Would like to be able to store stroller seat or car seat holder on the stroller itself so they are both readily available when out and about
cool lightweight
Beatrice . 1 year ago
pretty good stroller just wish the carseat go with the stroller like the good old days

Great Buy!
babytres0927 . 1 year ago
This travel system is a great buy. The stroller rolls excellent and is really easy to use. The carseat/base is easy to use as well. Definitely worth the money.
Not easy to use
BB&B Customer . 1 year ago
This system is not as easy to use as it claims. It's also not a very smooth ride. I received this system as a gift and we've use it a couple of times snd we do not like it. It's not easy to use by yourself. Getting the car seat out of the stroller by yourselves is very hard. I am trying to return this and get a better stroller but the company is being very difficult.

Originally posted on bedbathbeyond.com
Can someone who is 5'2 1/2" use this stroller.
Michelle Lisanti registry . 1 year ago
Have not used yet as my daughter not ready to give birth yet,but reading reviews and they all say you have to be 5'7" to use this stroller. Should I return. She wants to use as a jogger stroller.

Originally posted on bedbathbeyond.com
Smooth Ride & Comfy Carseat
Nora . 1 year ago
We received this travel system as a gift. We couldn't be more thrilled. We have been using it for months now with no complaints. Our daughter is very comfortable and secure in her carseat. We are able to move her from place to place without waking her up. We use the stroller on many different surfaces and find it quite easy to maneuver. It folds very easily and is lightweight. It stands on it's own which allows time to place the baby in the car. I highly recommend this Travel System to any new parent.

Originally posted on bedbathbeyond.com
Missing parts
BB&B Customer . 2 years ago
I bought this car seat and stroller combo, the package comes with missing parts to assembly the stroller. I call multiple times customer service and every week they promise me they will ship it and I will receive an email with tracking number . It's been 3 weeks now and I can't use the stroller. Very frustrating with a new baby.
Great stroller!
BBB customer T . 2 years ago
I originally got this stroller because I wanted wheels that weren't plastic. I spent hours researching lots of strollers before finally settling. I really would have loved to buy the uppababy but I couldn't justify the $1000 price tag that comes with it especially because I wasn't sure I am having another baby to use it again and make it worthwhile. I got excited about this stroller the minute chicco announced they were releasing it soon (right before my baby arrived). I've been using this stroller for 2 1/2 months and I love it! Smooth ride for my baby boy and I live in a city. The zip cover and extra extension canopy are so useful as the cover helps me shield my baby from the majority cold days we get in the year and the canopy helps keep any sun out of his face but also blocks some of the cold air. There's s plenty of storage below and the carseat seems comfortable and fits my son fine. It was easy to install the carseat base into the car which is obviously a huge plus. Though my husband hasn't pushed the stroller yet the handle seems it will be comfortable for him too, I'm 5'3" he's 5'11" The only thing I really wish it had was a cup holder and a place to put my phone attached to the handlebar. There is a fabric cupholder attached below but I definitely wouldn't put a cup of coffee down there, only sealed bottles. Overall a solid stroller and I'm very pleased with it!
Was hesitant at first
Leslye . 2 years ago
Was hesitant to order because handle doesn't adjust and I'm 5'1 but honestly I love it car seat fabric is great so soft and stroller has great suspension can't wait for baby to be here
Lightweight and easy to use.
BB&B Customer . 2 years ago
This travel system is lightweight and easy to push. The carrier comes out easily and is easy to use.
Very sleek
Mariela . 2 years ago
Very cute and smooth travel System. I haven't actually had baby in there yet but it was easy to assemble and is lighter than other travel systems. Only thing is that I'm pretty short (5') and the handle is not adjustable but that's not really a problem. Feels smooth and sturdy and looks great.
Fits what we were looking for!
Rekaa . 2 years ago
We were told at the store this a new model from Chicco. Below are the pros and cons of the stroller, however I am unable to comment on the durability yet as we have not started using it. Pretty much fits all the criteria that we were hoping to find in a travel system stroller! Pros: - Super lightweight both the stroller and the car seat, which was one of our main criteria; - Tires seems sturdy; - One hand fold; - Removable toddler seat. Cons: - Only one for me is, that it doesn't come with a snack tray or any cup holder.
Quality travel system
Prathap C. . 2 years ago
First impression is the best impression, looking good, hoping that we can last this for few years

Originally posted on chiccoshop.com
Love this system BUT
MNeville . 2 years ago
I honestly truly love this stroller system. It's lightweight it's beautiful everything we were looking for. However, I do not like that in order to put the car seat into the stroller I have to take the inside out. Only fear is if we were travel anywhere (of course after COVID) I would have to carry the inside piece around. The thought of that is pretty annoying. Aside from that we truly love this system.

Originally posted on chiccoshop.com
Showing 1 - 20 out of 34 reviews