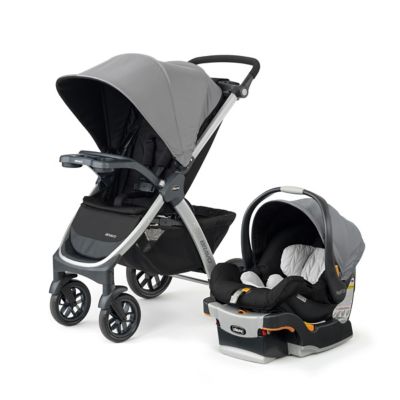 Chicco® Bravo® Trio Travel System in Camden
Most Helpful Positive Review
Love Love Love
Levesque Family
.
2 years ago
We got this combo set for our second baby. For our first, we got a Graco, which worked fine for him! But with a high energy toddler and a winter baby on the way, we wanted something that would be convenient. After going through every stroller carseat combo at Target with my mom, I fell right in love with this one. You literally pay for convenience when it comes to having a second child, or at least we did. The carseat itself has a very nice infant insert, plush and very soft. It is very supportive. The base is unlike any base ive ever seen for an infant carseat. It can recline and has the level which most do not have so you can actually adjust the carseat to where your infant needs, there are latch straps like a larger carseat with a simple pull strap at the top. No more fighting with the seat belt to install! Now to my favorite part, the stroller. You can easily fold this stroller with ONE hand, but, you can also open it with one hand. It stands by itself so when you take it out of the car, it will stand on the ground. You reach down, grab the handle and lift up. The stroller is up and ready for your baby. There are so many other amazing things about this travel system but these are the things that had made me go for it. My husband was on the fence about the entire thing, including the price, until he put it together and I showed him the features. He was amazed at how nice it is and how easy it is pack up. I think the ONLY downside I have found, is the tray for snacks or to snap the infant seat into, when folded, sticks straight up into the air. But It would still fold flat, just have more length, if that makes sense. I cant wait until we bring baby girl home and can actually start using this amazing travel system!
Most Helpful Critical Review
easy to use, but not right for adventures
heatherg
.
2 years ago
I did a lot of research on travel systems. I had a Chicco travel system with my first child many years ago. my 2nd child is now 7 months old. I was torn between this and one with more options for positions--like the bassinet. I ended up with this one, though I can tell you I quickly got a jogging stroller for everyday use by the time my 2nd child was 3 months. The car seat is GREAT. It's easy to snap the car seat into the stroller. The canopies are also awesome. But, it's a bumpy ride for walks and navigating it over small rocks or slightly uneven surfaces stinks. new moms, save the money. just get the chicco car seat and find a three wheel stroller the car seat is compatible with. you'll end up buying a different stroller for your older baby if you get this travel system and do more than going to the stores. the wheels also get a lot of wear, even with minimal use. if I had to choose again, I would not have chosen a travel system. I would have purchased the chicco car seat and a different stroller.
---
Heather, thanks for the thorough review of the Chicco Bravo Trio Travel System. We appreciate the compliments for our car seats (they're #1 rated) but are disappointed that you found the stroller less desirable. The Bravo stroller is not an off-road stroller. ...
customer reviews
Showing 1 - 20 out of 30 reviews
Practical and light
Marcelo . 1 month ago
High end product. High quality. Easy to use.

Originally posted on chiccoshop.com
Basic stroller.
Diane . 2 months ago
Not worth the price, but again they are all overpriced for plastic. A basic stroller and car seat, nothing impressive.

Originally posted on bedbathbeyond.com
Disappointed
Crystal . 3 months ago
I purchased this stroller 3 months ago and it's been sitting in my garage until I was ready to put it together because my baby is now due any day. Beautiful stroller, car seat combo but I'm so disappointed because the stroller squeak's it's really loud and I know I'm not going to be able to deal with it when walking with the baby in it. For being o pricy I was shocked that it squeak's. I don't know what to do now I can't return it because it's been 3 months since I purchased it but just opened it.

Originally posted on bedbathbeyond.com
A great car seat combo
KBrown . 4 months ago
We bought this for my son, and he seems to be enjoying it so far, he still uses primarily his car seat , but we will see how he does when he transitions to using primarily the stroller- the stroller can use some work in dirt, may transition to a cart/wagon when he gets bigger though
Easy one hand push
BB&B Customer . 4 months ago
I love the orange handles so you can easily tell what yo pull or push. easy to fold, and not to heavy. Very easy to push with one hand.

Originally posted on bedbathbeyond.com
Overall very pleased
Arielle . 4 months ago
Picking out which travel system to get really stressed me out - I'm happy with this one. I do wish there was the bassinet feature for baby, however we've been fine without it, I think this is the best product in this price point. Don't try and do off-roading In this - tried to go off a path a few times and it's not made for that. The car seat is light - easy to fold, cleans up well and the plastic wheels won't deflate. I wasn't a big fan of the plastic at first but the cup holders and pocket for parents outweighs that. A lot of the more expensive strollers don't have that feature and it's really handy. Also installing the car seat is almost too easy - I thought we were doing something wrong because I though "is that it?" Also compared to my friends with more (like $1000 more) systems, I feel like ours is better.

Good Value
BB&B Customer . 5 months ago
This has worked beautifully for my visiting granddaughter.

Originally posted on bedbathbeyond.com
So easy
Carol . 5 months ago
So glad we made this purchase. Its all so easy to use. Lightweight stroller. Excellent choice for us.

Originally posted on bedbathbeyond.com
great system!
lizBoggi . 7 months ago
Love the set! One thing is you have to make sure the canopy on the car seat is in the right direction! Or else it doesn't close up properly. The tight scrunched end is suppose to go in the back against the back of the seat. The front of the canopy is the other end. It pops off easily to fix. (I noticed a previous review was complaining about the canopy but it's backwards!)
Do not buy
Nene . 8 months ago
It is the worst infant carseat. Customer service of Chicco is disappointing. The canopy is a joke. Do not buy. Save money.

Smooth and easy to handle.
Ashley . 9 months ago
Light and easy to handle. Love it
Bed bugs in the box
Srini . 9 months ago
I received other items along with the stroller. Nothing wrong with the stroller wialiry, but, what I received was a open box with lot of cello tape around the corners which happened to look like it is a refurbished item. Not on this, I saw a bed bug immediately while loading it into car from my apartment mailing center (the box was inside the box when I tried examining why the box was empty). I was scred to death.


Originally posted on bedbathbeyond.com
Best Decision!
BB&B Customer . 9 months ago
I took my time researching different car seats and strollers prior to having my baby who is now 2 months old. I heard a lot of people who recommended I purchase the new trendy and super expensive strollers but, I was more concerned about quality and safety than fashion. I was happy to receive this product and use it! It is practical, easy to use, cute, and I would recommend this to any mom! The stroller rolls smooth on walks and errands and I love the size of the compartment below. Perfect!
Luxury stroller without the price
Jenese . 10 months ago
My family and I are thoroughly impressed with the stroller and car seat system. Absolutely love it. Super smooth ride. Baby falls asleep instantly in the car seat.
Squeaky Wheels
Rebecca . 10 months ago
For the first few weeks of use I would have easily given this stroller 4 stars, my only initial complaint would have been that it doesn't do great on bumpy roads, the whole stroller vibrates. However, one month into use and the wheels have started loudly squeaking the entire time we use the stroller. It's a really obnoxious noise, and frustrating that it happened almost right away. I expected better quality from the stroller. The car seat and base are great but I would only recommend those two parts. I want to say I like the stroller because it's easy to use but I can't get past the noise.
Super Easy Assemble and Easy Fold
RissaD . 12 months ago
I haven't been able to use it yet as I'm still waiting for my baby to be born. I'm 36 weeks but wanted to get everything ready. I had heard Graco strollers could be different. This was so easy to put together, open and fold up again, even with my big belly.
Love this travel system!
BB&B Customer . 12 months ago
It's lightweight and so easy to fold. I love the style and color. Chicco never disappoints.
Its a nice product
BB&B Customer . 1 year ago
Overall its a nice product. Easy to assemble.
It's a nice product
BB&B Customer . 1 year ago
Overall its a nice product. We brought calla. Easy to assemble.

Originally posted on bedbathbeyond.com
Love it
Erika . 1 year ago
I love this product especially the light purple color very satisfying beautiful
Showing 1 - 20 out of 30 reviews