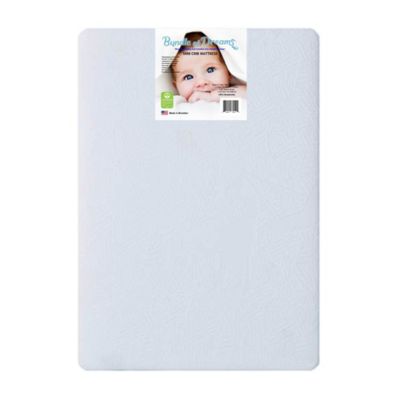 Bundle of Dreams® 100% Breathable 5-Inch Mini Crib & Toddler Mattress in White
$103.99
was $129.99
(20% off)
$72.79
Get 30% off & earn 10% back in points with Welcome Rewards™+
Enroll Now
customer reviews
Showing 1 - 13 out of 13 reviews
Great
BB&B Customer . 4 weeks ago
Love having a great safe mattres option for mini crib
Worth it!
BB&B Customer . 3 months ago
This mattress is high quality, very comfortable and firm. Definitely worth the extra $$. I'm pretty sure it's better than my own!
Very firm
mojicmom . 12 months ago
I ordered this mattress mainly because I didn't want to get a thin one, but it is very firm. Hard actually. even the toddler side seems like it might be too firm for comfort. I'm hoping baby won't mind it.
Poor directions
BB&B Customer . 1 year ago
Overall I like this crib. No real complaints other than the directions are garbage.
exceeded expectations
BB&B Customer . 2 years ago
zero offgassing smell, lightweight and easy to maneuver/change the sheet, and most importantly, our baby sleeps really well on it. It fits our mini crib perfectly, A great way to upgrade the Delta Children folding portable mini crib.
Great mattress/Exceptional Customer Service
deblynne . 2 years ago
The mattress is exactly as advertised with a soft breathable cover, a firm side and slightly softer side. It fits EXACTLY and snugly into the Babyletto Origami Mini Crib. The 5 inch depth is perfect for a newborn as it places baby in a similar position as a bassinet about 9 inches below the top of the crib in the higher of the two positions available in the Origami. My mattress arrived with a slight sewing defect in the inner part of the mattress when the cover was unzipped. I emailed Bundle of Dreams and a new mattress was immediately sent out with a label to return the defective one. The new one arrived in perfect condition. I am extremely happy with the mattress and my experience.
The perfect mini crib mattress
Adrien . 3 years ago
After extensive research we decided to buy this mattress for our Babyletto Origami Minicrib and we couldn't be happier. Quality and Safety is the most important when it comed to our little ones and this mattress matches all the requirements and more !
Great mattress
Laura . 3 years ago
Perfect mattress and an amazing company! The company really stands by their product and they make a great mattress. My son loves it!
Bundle mini crib mattress 5"
Jade . 3 years ago
I was looking for a high mattress for baby. This one is perfect 5". Fit perfect in my mini crib. I like the material and the easy way to clean. Is comfortable and provides support at the same time. Love it!
Happy wife. Happy life !
Lou . 3 years ago
I bought this product for our little girls and my wife and I have been so happy with the purchase. It hasn't been easy finding a mattress that is comfortable but also practical and safe for our children. Would recommend this to all parents.
Great mattress, love the water repellent feature
JESHET . 3 years ago
Mattress is very comfortable. The water repellent feature is very effective. I had a couple questions about the mattress for the manufacturer and they had excellent customer support.
Perfect!
AmandaZ . 3 years ago
Finally an affordable, breathable mini crib with all the features I was looking for!
Great value
rwein . 3 years ago
Great high end mattress for our mini crib for my granddaughter. Hard to find a mini with these features tab this price point
Showing 1 - 13 out of 13 reviews