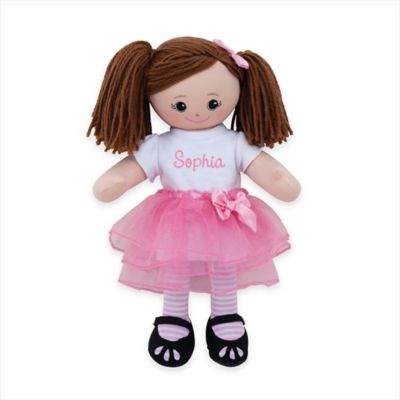 $27.99
Get 20% off your entire purchase with coupon!
Enroll Now
customer reviews
Showing 1 - 5 out of 5 reviews
Christmas present
Juan . 2 years ago
I ordered the brunette Doll with Tutu. i received a very cute very blonde doll. Because it was personalized I was unable to return it for the correct one or ever even talk to a human. Very disappointed If I had received the correct doll I would have given it 5 stars Will never know who made the error.
Love it!
Mini . 3 years ago
It is perfect! Exactly as pictured.
Makes me smile
Kitty . 5 years ago
This is such a sweet doll for a sweet little girl. I am glad that it is personalized making it even more special.
JOjo77 . 5 years ago
My neice loved this doll! She was so excited because her name was on it. Wonderful surprise for her. Thank you!
Adorable
Peppermint . 7 years ago
I ordered this doll for my great niece for her first birthday. It exceeded my expectations. It's very well-made and is well worth the money. The personalization is beautiful. The hair is perfect as well as all the facial features and the clothing. Also, cute shoes and just the right size. I can't imagine any little girl not loving this doll. I would highly recommend this doll to anyone.
Showing 1 - 5 out of 5 reviews