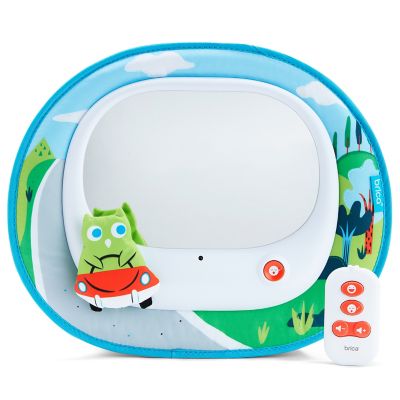 Brica® Cruisin™ Baby In-Sight® Back Seat Entertainment Mirror
customer reviews
Showing 1 - 10 out of 10 reviews
Does not last
Kara . 1 month ago
Less than two months after putting it in the car, one of the straps literally disintegrated in the heat. Now it's very difficult to get the angle perfect to be able to see your little one. Also, we turned the music on less than 10 times and the batteries are already dead.
My babygirl loves it
Becccvega . 12 months ago
Product is cute but very difficult to strap on the head of our seat. We recommend a better strapping system. Aside from that, the remote to turn on and off the mirror is very convenient and my little girl loves the music and lights
Love this product
Stephanie . 1 year ago
My baby loves his mirror. He didn't really start noticing it until about 3 months, but now he likes to look at the lights and listen to the music. It keeps him distracted enough not to cry so we can get to where we're going without stopping.
Strap broke
BB&B Customer . 2 years ago
Loved this product but after only having it for a few months the strap ripped in half out of the blue while I was driving luckily baby wasn't in the car so it did not fall on them.
Olha . 2 years ago
I received it as a gift and the remote does not work
Baby mirror
BB&B Customer . 2 years ago
Love this mirror. Helps keep the baby entertained while driving. Love that there is a remote too!
Don't love
RACHAEL . 2 years ago
I don't love this mirror because it's super hard to adjust to see the baby!
Made long drives enjoyable for the babies.
Andrea . 2 years ago
My grand babies both loved it.
Back seat entertainment mirror
Bed Bath and Beyond Customer . 2 years ago
If the button is covered then it won't get much connection between the remote to turn it on. I love that it plays music but because i have the doona stroller the handles sometimes cover it and I have to keep adjusting it which is a hassle and it takes too much time.
BB&B Customer . 2 years ago
Is nice music, good entertainment for the baby, when my is driving, and his wife.
Showing 1 - 10 out of 10 reviews