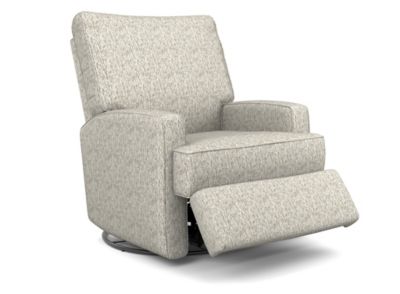 Best Chairs Inc. Kersey Swivel Glider Recliner in Oatmeal
Most Helpful Positive Review
Great chair!
LindsayT13
.
3 years ago
Love this chair! We got this chair for pumping and middle of the night feedings. It's comfortable and compact, so it fits in the corner by our bed. Love it!
Most Helpful Critical Review
Don't plan on quietly getting up from this chair
Zachairy
.
3 years ago
ESPECIALLY if the footrest is out! It makes the loudest BANG as the footrest latches closed, waking anyone in the vicinity. Speaking of the footrest, the release lever tends to slide under the opening mechanism and gets stuck in the pulled up position rendering the footrest stuck until you flip it over and fix this issue. It could easily be remedied by the manufacturer with a stop washer, however it's probably not in the cards. This chair also groans while rocking.
customer reviews
Showing 1 - 20 out of 50 reviews
Terrible quality
BB&B Customer . 3 months ago
This chair took months to arrive. I was happy with it for about a week. Then my baby was born and I realized when the chair is reclined it doesn't stay reclined. The cushion on the back part of the chair looks like it is several years old only after a month. Also, it squeaks whenever you rock. The quality is terrible and it costs way too much money for what you actually get. Highly disappointed.

Originally posted on bedbathbeyond.com
Colors don't match online at ALL
Tee . 3 months ago
Had to return this which was a huge pain. Ordered turtle dove which appears grey and it showed up almost white and like a fuzzy fabric. Its absurd that the stores don't have any swatches and the descriptions of the colors aren't realistic. There should also be photos of the actual fabric and not a digitized version.
Not Worth It
BB&B Customer . 3 months ago
Leans forward, cheap quality, bad reviews.
Huge disappointment
Ava . 3 months ago
Love the fabric and sitting and rocking in this chair. But the recline mechanism doesn't work. It was glitchy when we first got it but now it doesn't work at all. Don't waste your money on this item if you want to be able to recline.

Originally posted on bedbathbeyond.com
Worst chair ever! DO NOT BUY
BB&B Customer . 3 months ago
This is the worst chair ever. First of all I ordered it 4 months in advanced and then after the expected delivery date I got an email saying it was delayed for another 3 months (2 months after I was to give birth). Customer service is HORRIBLE!!! Wouldn't let me cancel the order because the order was "delayed" but then let me cancel it after 2 days but then couldn't find the order but then found it. Such a MESS! Fine, returned it online and bought it in person. So cons: - It reclines but doesn't stay reclined so the back bounces back. - It creaks when rocking. A lot! Wakes baby up, I can't use it for that purpose (which is why I bought it) - The back stuffing has a gap after a week of use - Makes a LOUD noise when putting the foot rest back in. Again, wakes the baby. - The recliner handle is on the inside and is really hard to pull up.

Originally posted on bedbathbeyond.com
squeaky chair
AmSo . 4 months ago
Chair rocker is super squeaky and the cushion springs are noisy. Wakes my baby up every time I get up or down. My sister purchased chair 6 years ago for her daughter and it was great, holly quality has definitely gone down. Pretty bummed about it. Not sure if I can return or exchange it but going to try
still no chair
Ashley . 6 months ago
While I would love to write a review on my new chair- I can't, because it was sent to the wrong state despite my shipping info being correct and then returned to the manufacturer. I have contacted the Ballwin MO store 2x for help, but Asia and Greg fail to follow through, and I have used the buy buy baby chat 3x checking for status updates. They gave me the number to Best Chairs- the manufacturer- to check the status myself! I called to do that, and they said to instead call the buy buy baby liaison. The total lack of ownership by buy buy baby is severely disappointing- as I the customer am spending all my time trying to track down my chair I paid for and never got while 8 months pregnant. I feel like with all the work I've put in to still not get my chair I ought to get paid $15 an hour because I'm doing more than your employees! Pregnant women should be focusing on bringing a new human life into the world not calling customer service daily- and Buy Buy Baby should be the one focusing on bringing a new chair into the nursery.
Terrible Chair
Marta . 7 months ago
I bought this chair in the store and they were going to ship it to me-in two months. I found out that they have one in stock about an hour away. I drove and bought the chair in the store and brought it home and set it up. It is HEAVY. From the start, one of the armrests creaked and groaned when I leaned against it. The problem lay somewhere in the wooden frame, but I could not get to it without removing the fabric. I searched online and found ANOTHER one in stock in another store and hour away in the opposite direction, so I drove there on Mother's Day. I exchanged the chair and brought the new one home and set it up again. This one's base CLICKED loudly with every glide back and forth. So I returned that one too and I'm done with this chair. 6 hours of driving plus gas and tolls, and I have no chair, just two days wasted. Two chairs back to back were defective. For this price, I expected so much more. Please, look for another chair, even if this one seems comfortable. I saw the bad reviews of this chair and took a chance. So sorry I did.
Great Chair
KatyLiz . 9 months ago
[This review was collected as part of a promotion.] I bought this for my brother and sister in law and they love it! They say it's perfect and very comfortable. 10/10 would recommend

Originally posted on bedbathbeyond.com
Highly recommended
TS . 9 months ago
[This review was collected as part of a promotion.] The chair was so easy to assembled. The material is durable and the chair is so comfortable. We love it.

Originally posted on bedbathbeyond.com
Chair is a big hit!
Cindy . 10 months ago
My son and daughter in law love their new chair. Comfortable, easy to assemble. Only negative was the length of time to deliver (supply chain issues) and the lack of timely communication with customer service which was a big challenge. Customer service seems to be outsourced from outside of U.S. and communication needs to be addressed. In store customer service was great!
Reclining function broke 2x
BB&B Customer . 10 months ago
The reclining function broke a week after use, we were shipped an entire new mechanism to install. A week after installation it happened again. Was a very comfortable chair, but the back does slouch super fast and obviously not worth the money.
So comfortable!
Stephanie . 11 months ago
I love this chair and even my husband who is 6'1 and 265 thinks it's great. So many nursery gliders aren't big enough for him. It has amazing lower back support which was my requirement.
Disappointed
Melissa . 12 months ago
I first loved this chair but after some use the seat piled like crazy and the springs are making horrible noises when we rock. It sounds like it's breaking. I loved that it reclined and rocked and it's very comfortable but my baby gets very startled with all the loud noises it's making. How could it break this soon after such gentle use?

Originally posted on bedbathbeyond.com
Best Investment
LBarb . 12 months ago
We were hesitant to spend a lot of money on a chair for a nursery after some friends mentioned that they hardly ever used the chair that they purchased. However, we went with our gut and purchased this chair for our first child's nursery and we are so glad that we did! I can't tell you how many daytime and nighttime hours we've spent in this chair. It's still extremely comfortable even after extensive use! The only thing I wish is for the foot support to be quieter when it's closed. It's pretty loud but our little one doesn't seem to notice if he's fallen asleep in our arms and we need to close it.

Whacks you in the Back and then Breaks DO NOT BUY!
Extremely Disappointed . 12 months ago
Extremely disappointed with this purchase. We were advised to order it early by the BuyBuyBaby staff at the store we went to because there was so many items held up in logistic/delivery bottlenecks. We ended up getting it 3 months before my son was born, and it just sat in his nursery unused until he was born in November. We were home for 3 days before the lever broke to pull the leg rest out. Even before then, it was extremely difficult to push the footrest piece back in, especially with how sore/weak my legs were those first few days postpartum. On a couple of occasions I didn't realize the footrest was not clicked back in all the way when I went to stand up and I was whacked in my, again, very newly postpartum bottom. Anyway, if you're going to spend all your money on a chair, buy one that won't make your recovery more miserable and then break as soon as your 90 day warranty is up.
Very very comfortable, color a bit misleading
Kelsey . 1 year ago
We love how comfortable this glider is. It has ample cushion without feeling too bulky, and we love the placement of the bar to recline the chair. It also has a nice high back, which works well for taller people. We also like that the chair's arms have a bit of padding on them for both our and the baby's sakes. We ordered it in smokey taupe because we couldn't decide if we wanted something in the gray or beige family, and honestly, it's basically just gray. It wound up working well with our nursery and home decor so I'm not complaining, but just a heads up in case you're considering this color.
SO SO Comfy!
BB&B Customer . 1 year ago
This has become my favorite chair. Nicely constructed, our navy fabric is beautiful, and the mechanisms work smoothly. Overall, a great buy.
The worst chair- do not purchase
lynn . 1 year ago
The fabric on this chair is defective- the chair is less than one year old and the fabric has several frayed locations on the chair. I contacted the store and the response was unbelievable- they claimed that we damaged the chair with a sharp object or a pets claws- so not the case. To add insult to injury, I was told that I could order another chair at a 30% discount or they would do nothing! Why would anyone spend their hard earned money on another chair??? Really poor customer service. They will never see another penny from me.

Originally posted on bedbathbeyond.com
Decent
BB&B Customer . 1 year ago
Very comfortable chair, but the back starts to sag after a while & it does not recline well at all. It will only stay reclined if you're all the way back. I wish I had tried the recline prior to purchase. It's quiet when rocking & overall comfortable

Originally posted on bedbathbeyond.com
Showing 1 - 20 out of 50 reviews